2021 in review: The top police news of the year
A roundup of the biggest stories impacting law enforcement in 2021
---
The year 2020 was so bad that the hopes of things changing for the better with the mere turn of a calendar page exceeded reality. The hope for 2021 matched the dread of midnight 1999 when the world waited for the internet to crash, bringing airplanes and banks along with it. Neither new year lived up to its expectations. 
Here's a roundup of the biggest news stories impacting law enforcement in 2021. What did we miss? Complete the box at the end of the article to let us know.  
January
A contentious Presidential election fomented an invasion of the United States Capitol building. A stunned nation and world saw unbelievable images of the inner sanctum of the building being occupied by crowds that swept through barriers, injuring as many as 140 police officers.
Off-duty police officers from around the country who may have participated in the crowd were investigated by their agencies, while Capitol Police were investigated for their actions. One protestor (the term itself is controversial) was shot and killed during the event. No officers died as a direct result of the attack, although several officer suicides followed the riot. Officer Brian Sicknick died from a series of strokes after the Jan 6th uprising. He was not attacked by a fire extinguisher-wielding rioter, although that was the initial narrative.
Police1 analysis: Public employee speech and consequence of unlawful action
The Aurora (Colorado) Police Department, which serves the largest suburban community in the Denver metropolitan area, got renewed attention-getting in what would be a long, hard year of nationally newsworthy behavior. A family filed a lawsuit from a 2020 car stop where officers were videoed putting four children on the pavement in a felony stop. The 2019 in-custody death of Elijah McCain would also haunt APD in 2021. Other APD officers were fired in 2020 after making a mocking parody of the death of Elijah McClain.
Kenosha, Wisconsin officer Rusten Sheskey will face no charges in the August 2020 shooting of Jacob Blake. The shooting of Blake who was armed with a knife and was escaping officers and attempting to get into an occupied vehicle, ignited protests around the country, including one in which Kyle Rittenhouse shot three persons.
Chief Kristen Roman of the University of Wisconsin-Madison said "hateful ideologies" run counter to the department's core values, banning the display of the blue line flag and imagery. The Santa Rosa (California) Police Department also came under criticism for a Facebook post showing two officers holding a thin blue line banner that had been donated by community members to thank officers for their service. In a message on the department's Facebook page, Santa Rosa Police Chief Rainer Navarro said the post was deleted because of community outcry and the banner removed from the front hallway of the Santa Rosa police station.
Police1 analysis: Should the thin blue line flag be banned from police departments?
COVID-19 becomes the leading cause of law enforcement deaths in 2021 with 42 in January according to the Officer Down Memorial Page (ODMP). Some agencies begin vaccinating their officers, with some making it mandatory, resulting in pushback from officers and police unions. January officer deaths include 3 struck by vehicles, 3 in crashes, 2 to duty-related illness including 9/11 service-related death, 2 to non-firearms assault and 4 to gunfire.
Top-read news article of the month: Video shows lead-up to fatal shooting inside US Capitol
---
February
LA cuts a third of its school district police officers in a move mirroring dozens of other cities and school districts across the country. Subsequent school violence reverses that decision in many school districts.
Police1 analysis: The challenges SROs face as children return to the classroom
Minneapolis faces a manpower shortage in advance of the Chauvin trial.
COVID-19 takes 21 more law enforcement officers. Other ODMP-recorded deaths in February include 2 crashes, 5 deaths by gunfire, 2 assaults, 2 duty-related illnesses and 1 officer stabbed to death.
Top-read news article of the month: Minn. police video contradicts college student who alleged racial bias
---
March
The trial of Derek Chauvin in the May 2020 in-custody death of George Floyd begins. Rep. Hank Johnson (GA-04) re-introduced the bipartisan Stop Militarizing Law Enforcement Act of 2021 that would place restrictions and transparency measures on the "1033 program," which allows the Department of Defense (DOD) to transfer excess military equipment to law enforcement agencies.
A shooter entered a Boulder, Colorado supermarket killing 10, including Boulder Officer Eric Talley who responded to the call. The shooter survived and was arrested.
President Biden tweeted, "I am pleased that the House will vote next week on the George Floyd Justice in Policing Act. I encourage the House to pass it. Following Senate consideration, I hope to be able to sign into law a landmark police reform bill." It failed to survive in the Senate.
ODMP reports 8 officer COVID deaths in March, 2 from crashes, 3 struck by vehicles, 4 assaults, 5 by gunfire and one duty-related illness death.
Top-read news article of the month: Video: Deputy narrowly avoids point-blank gunfire
---
April
Brooklyn Center, Minnesota Officer Kimberly Potter shot Daunte Wright during an attempt to arrest Wright on a warrant after a traffic stop. Video of the event showed Potter yelling "TASER, TASER, TASER" then firing her duty weapon instead of her TASER.
Police1 analysis: 3 recommendations to mitigate TASER/firearm 'capture' errors
Tucson Police Chief Chris Magnus is nominated to head the Customs and Border Patrol.
Controversy arises from the use of Digidog, a robotic device to aid police. NYPD ended its trial early after privacy concerns arose.
Police1 analysis: Should the NYPD have returned its robot dog?
Attorney General Merrick B. Garland announces an investigation of the Minneapolis Police Department. He later announces an investigation of the Louisville, Kentucky police.
A Washington, D.C. Capitol Police officer was killed and another injured after a suspect rams a car into a police barrier outside a building.
Former Minneapolis police officer Derek Chauvin is found guilty of murder and manslaughter in the death of George Floyd.
Police1 analysis: How will policy, training and police response change after the Chauvin verdict?
Police ID gunman who killed 8 people at an Indianapolis FedEx facility as a 19-year-old former employee.
Chicago police shot and killed a 13-year-old boy in what the department says was an "armed confrontation." Bodycam video shows the teen with a pistol just before the officer fires.
April's law enforcement death totals include 6 COVID deaths, 5 assaults, 2 crashes, 1 stabbing, 4 gunfire, and 4 duty-related deaths from illness including one 9/11 related.
Top-read news article of the month: Minn. officer meant to draw TASER in fatal OIS that sparked unrest
---
May
National Police Week in Washington, D.C. was truncated by COVID for a second year, with in-person events rescheduled to October. President Biden made a proclamation that included, "This year, we also recognize that in many of our communities, especially Black and brown communities, there is a deep sense of distrust towards law enforcement; a distrust that has been exacerbated by the recent deaths of several Black and brown people at the hands of law enforcement. These deaths have resulted in a profound fear, trauma, pain, and exhaustion for many Black and brown Americans, and the resulting breakdown in trust between law enforcement and the communities they have sworn to protect and serve ultimately makes officers' jobs harder and more dangerous as well."
A Colorado Springs, Colorado man kills 6 at a birthday party after not getting an invitation.
A federal grand jury in Minneapolis, Minnesota, returned two indictments against officers involved in the in-custody death of George Floyd. The first indictment charges former Minneapolis Police Department officers Derek Chauvin, 45; Tou Thao, 35; J. Alexander Kueng, 27; and Thomas Lane, 38, with federal civil rights crimes for their roles in the death of George Floyd.
Law enforcement officers will be banned from participating in NYC Pride events, including its signature Pride Parade, until 2025, the organization announced. NYC Pride is also working to reduce the New York Police Department's security and first responder presence at its events.
Police1 analysis: Why banning the NYPD at NYC Pride is unsafe and unprogressive
In Miami, two people were killed and over 20 others were injured in a mass shooting. Three people got out of an SUV and "began shooting indiscriminately into the crowd" of people who were standing outside a "scheduled event" at an establishment on 186th Street, in the Hialeah area west of Miami Gardens, Miami-Dade police said in a statement.
Ransomware hackers claim to leak 250GB of Washington, D.C., police data, including police personnel information, after cops don't pay $4 million ransom.
Police1 analysis: The growing threat of ransomware attacks on public safety agencies
Officer fatalities in May include 7 COVID deaths, 3 officers struck by vehicles, 7 murdered by gunfire, 1 duty related illness, 1 non-firearm assaults and 3 vehicle crashes.
Top-read news article of the month: Va. town votes to fire 'every officer in its police department,' including chief 
---
June
Los Angeles police attempting to safely detonate a stash of illegal fireworks significantly underestimated the weight of the devices before they exploded, injuring 17 people in a South L.A. neighborhood.
Police1 analysis: LA fireworks explosion is a sober reminder of the associated risks
Portland Police Bureau loses all its special crowd control unit to resignations from that assignment.
In the Denver suburb of Arvada, Colorado a shooter enraged by YouTube videos of officer-involved shootings ambushed and killed Arvada Officer Gordon Beesley, a 19-year veteran. An armed citizen intervened and retrieved the shooter's weapon which he was holding. Responding officers shot the citizen, believing that he was the active shooter.
Worcester, Massachusetts police officer Emanuel "Manny" Familia drowned while attempting to rescue a 14-year-old boy who was struggling in the pond at Green Hill Park. The boy also drowned in the incident.
Oakland, California Police Chief LeRonne Armstrong lamented city officials' recent decision to redirect $18 million in proposed police spending over two years, which Armstrong argued will hamstring a police force that is already stretched too thin with a 90% increase in homicides.
COVID claimed 7 more law enforcement deaths in June, in addition to 1 struck by vehicle, 2 firearm deaths, 1 9/11-related death, 1 crash fatality, 4 fatal assaults and 2 drownings.
Top-read news article of the month: Cops resign en masse from Portland's crowd control unit after fellow officer indicted 
---
July
Tucson, Arizona officer Danny Leon is credited with ending a deadly shooting spree that hurt two EMTs and a firefighter.
A gunman opened fire on a group of people in Fort Worth, killing one and injuring three others. A group of people grabbed gardening stones and stoned him to death.
Rep. John Thompson accused a St. Paul police officer of racism during a routine traffic contact in which Thompson was discovered to have suspended driving privileges. The department released a video of the contact, which included two short interactions between Thompson and a sergeant, showing Thompson telling the sergeant to stop racially profiling Black men. The officer, who is white, told him he was not profiling.
Four police officers testified before congress about the physical and verbal assaults they faced responding to the Jan. 6 riot at the U.S. Capitol in a highly emotional hearing. The four officers – Pfc. Harry Dunn and Sgt. Aquilino Gonell of the U.S. Capitol Police, and Michael Fanone and Daniel Hodges of the Washington, D.C., Metropolitan Police Department – each gave opening statements and answered questions from committee members.
Another deadly month for law enforcement with 16 officers dead from COVID, 7 from gunfire, 4 from duty-related illness, 1 vehicular assault and 2 fatal crashes.
Top-read news article of the month: Ariz. cop shoots gunman who targeted first responders
---
August
Grand Isle, Louisiana got hammered by Hurricane Ida, with wind and water pushing onto Louisiana's only inhabited barrier island before the storm's actual landfall. Staying on the island sitting in the town's government complex, Police Chief Scooter Resweber watched roofs fly off houses and a small shed blow apart an hour before Ida's eyewall reached land. Gusts as strong as 118 mph were recorded. "This is the worst I've seen in my lifetime," Resweber said.
Leaders never abandon their people or post. This is Grand Isle Police Chief Scooter Resweber. He reported winds at 148 mph as Hurricane Ida made landfall there and he's watching roofs fly into the air now. Rescue and recovery soon begins. This is courage. This is leadership. pic.twitter.com/L20lMnZM8A

— DrJoeSaviak (@DrJoeSaviak) August 29, 2021
A Pentagon police officer died after being stabbed at a transit center outside the building in an unprovoked attack, and the suspect, 27-year-old Austin William Lanz, of Acworth, died at the scene, according to the FBI.
New York, Chicago and Denver are among cities prepared to fire officers for failing to get the COVID vaccine.
Police arrest man claiming to have a bomb near the U.S. Capitol.
Two more DC police officers who responded to the January 6 attack at the Capitol Building die by suicide, bringing the total to four officers who have taken their own lives in the aftermath of the riot.
Chicago Mayor Lightfoot arrived at the hospital shortly after the shooting of 29-year-old Officer Ella French and her partner. French was killed. Chicago officers responded to the mayor's visit by turning their backs to her.
August was a spectacularly deadly month for law enforcement as COVID deaths totaled 67. A training accident killed 1, 1 drowned, 3 died on duty from illness, 4 were killed by gunfire, 1 one by vehicular assault, 1 was stabbed and 2 officers died in traffic crashes.
Top-read news article of the month: Mistaken for 'The Rock'? This cop gets it all the time
---
September
A 9/11 exhibit is the newest addition to National Law Enforcement Museum as one of many 20-year remembrances of the 9/11 attacks. The exhibit recognizes the 72 officers killed on September 11, as well as 236 officers who died of illnesses contracted while working in hazardous conditions at the WTC.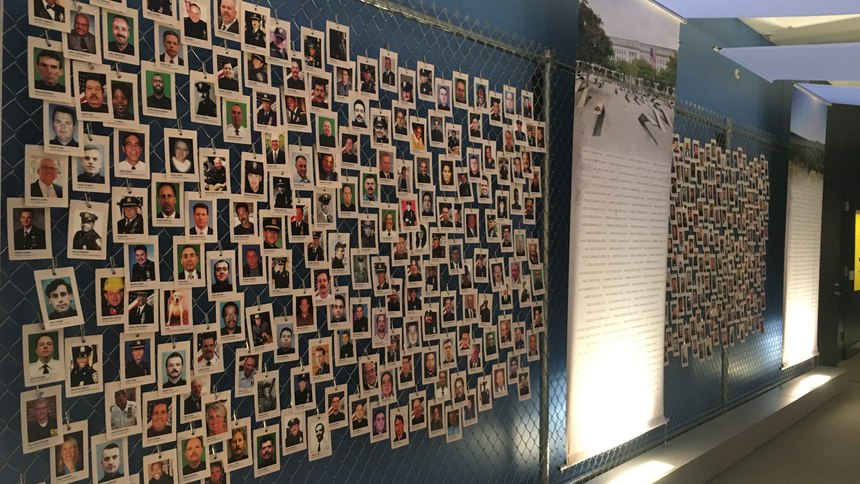 Police1 analysis: 9/11 reflections at 20 years
The decision by Portland police to hold fast to a hands-off approach to political skirmishes that ended with gunfire drew widespread criticism as the city continues to struggle with its response to unrest. Portland mayor wants to bring back retired police officers to help fill shortages, address gun violence.
A suspect believed to have shot a San Bernardino County sheriff's deputy was killed following a gun battle that left two police officers wounded in Highland, California.
Moab, Utah, will investigate the police response to Gabby Petito and her fiancé's domestic dispute after Petito is found dead.
COPS, the TV show, returns to the screen after being canceled in June 2020 following the death of George Floyd.
September losses of law enforcement officers were the highest toll of the year with 83 duty deaths. COVID exceeded its August death toll with 75 officers succumbing to the disease. A storm took the life of 1 officer, a pursuit resulted in 1 officer's death, 1 officer was killed when struck by a vehicle, 1 succumbed to a heart attack and 4 were murdered by killers with firearms.
Top-read news article of the month: San Fran program will pay individuals $300 not to shoot
---
October
The 33rd Candlelight Vigil honored 701 fallen LEOs during Police Weekend 2021. 
Philadelphia bans traffic stops for minor infractions, joining other agencies that have attempted to limit traffic contacts that might lead to violent confrontations.           
Police1 analysis: Do we need traffic cops?
Master Trooper Adam Gaubert of the Louisiana State Police was found dead in his car more than 12 hours after he was ambushed.
A 26-year-old police officer was shot and killed early Saturday morning while working his first shift for the Alamo Police Department in Wheeler County, Georgia.
The FBI raided the offices of the union representing NYPD sergeants. Ed Mullins resigned as the union's president at the request of its board. The union represents about 13,000 active and retired NYPD sergeants and controls a $264 million retirement fund.
The U.S. Supreme Court ruled in favor of police officers in two cases involving qualified immunity without dissent.
Police1 analysis: SCOTUS decisions on qualified immunity
COVID's assault on law enforcement resulted in 33 deaths in October. Gunfire killed 8, crashes 6, 1 fell to a heart attack, 1 was killed when assaulted by a vehicle, 1 accidentally struck by a vehicle, and 1 was assaulted by an inmate and died two days later.
Top-read news article of the month: Watch: Fla. trooper crashes into vehicle to save deputy's life
---
November
Kyle Rittenhouse found not guilty of all charges. Rittenhouse, 18, faced charges including intentional homicide and reckless endangerment and testified, "I didn't do anything wrong," Rittenhouse said. "I defended myself."
Seattle's Mayor Jenny Durkan bemoans police budget cuts saying, "City's Council's previous promise to defund SPD by 50%, their treatment of Chief (Carmen) Best and their previous layoff budget led to an exodus of 325 officers from SPD in the last two years. Multiple plans to address hiring and retention proposed by Chief (Adrian) Diaz and I have been repeatedly rejected by a majority of council."
Portland adds money back to the police budget after defunding cuts.
In Polk County, Florida, a man wearing full body armor fatally shot four people, including a mother and the 3-month-old baby she was cradling, and engaged in a massive gunfight with police and deputies before he was wounded and surrendered, a Florida sheriff said Sunday. An 11-year-old girl who was shot seven times survived. Polk County Sheriff Grady Judd said during a press conference that even after 33-year-old Bryan Riley was arrested Sunday morning, he was so aggressive that he tried to wrestle a gun from police as he lay on his hospital gurney. Judd said Riley, a former Marine who served as a sharpshooter in both Iraq and Afghanistan, seemed to have targeted his victims at random and appeared to be suffering from mental health issues.
Medaria Arradondo, who became Minneapolis' first Black police chief in 2017 and guided the Police Department through the worst crisis of its 154-year history, announced his retirement.
Minneapolis voters rejected a proposal to dismantle their police department.
In the wake of California's reducing penalties for shoplifting, epidemics of flash mob group thefts threaten the survival of some retail merchants.
EXCLUSIVE:

Smash-and-grab caught on surveillance cameras at Eastridge Mall in San Jose — shows 5 people walk into a jewelry store with hammers and grab as much jewelry as they can.

The heist took less than 15 seconds.

The mall also has cameras; police searching for suspects. pic.twitter.com/hIOxQJbpVR

— Maria Cid Medina (@MariaKPIX) December 3, 2021
A Tucson police officer was fired after he was accused of fatally shooting a 61-year-old armed man in a wheelchair. Police announced at a news conference that Officer Ryan Remington was terminated for excessive use of force. The man had threatened a loss prevention staff member with a knife when confronted for shoplifting.
November law enforcement deaths were the lowest of any month thus far with 9 COVID deaths, 1 officer struck and killed by a vehicle, 1 died in a car crash, 7 slain by gunfire, and 2 succumbing to cardiac arrest.
Top-read news article of the month: Off-duty cop getting a haircut kills gunman who opened fire on barber
---
December
Jussie Smollett is convicted of faking a hate crime. The reported assault he faked prompted a massive investigation that included some two dozen officers and 3,000 staff hours.
Officer Kim Potter goes on trial for fatally shooting Duante Wright while attempting to arrest him during a traffic stop.
A San Francisco restaurant apologizes after refusing to serve three uniformed police officers for carrying guns.
Las Vegas police arrest a man who breached airport security claiming he wanted to steal a jet so he could get to Area 51.
Officers in Stockton, California, fatally shoot an armed man as he charged toward them in the parking lot of a police department building, the local police chief said. The man "was armed with a handgun and was continually firing the gun it appears mostly up in the air but also could have fired toward some of the vehicles and other things in this front lot," said Stockton Police Chief Eric Jones.
Top-read news article of the month: School resource officer disarmed gunman at Mich. high school 
---
Conclusion
If 2021 taught us anything, perhaps it was to adjust our expectations. 2022 may or may not be a great year for the country and for law enforcement, but whether it will be a great year for you or me is largely up to us. 
What news did we miss? Complete the box below to let us know. 
What do you think were the biggest police news stories of 2021?