Top 5 LE game changers of 2021
From the continuing disruption of the COVID-19 pandemic to staffing shortages and rising crime, 2021 presented many challenges to policing
---
By Police1 Staff
After 2020 brought a seismic shift to all of our lives, we entered the new year hoping for a rebound into normalcy. But the ripple effects of the COVID-19 pandemic have had a far reach, with the recent news of a new variant bringing trepidation even as 2021 saw the United States inching back toward some semblance of "normal."
Overall, 2021 continued to be challenging for the law enforcement profession, presenting not just pandemic-related difficulties, but also staffing shortages, rising crime in some jurisdictions, and growing pains associated with reform efforts.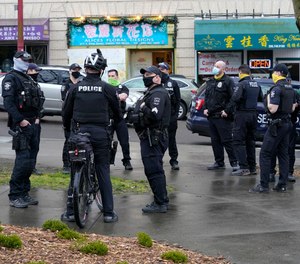 Here are the five "game changers" for policing this year.
1. COVID-19
The COVID-19 pandemic dominated 2021 just as it did the previous year, and it probably doesn't come as a shock that it tops this list. Tragically, it continues to be the #1 killer of law enforcement officers. According to ODMP, COVID-19 has taken the lives of 289 officers (as of December 2), vastly outnumbering the second and third-leading causes (57 to gunfire, 21 to automobile crashes). This year's numbers also surpass the total number of COVID LODDs in all of 2020 (253).
The deadly threat also continued to disrupt other areas of the profession. Academy classes were canceled, training events were moved online and major conferences were postponed. But arguably the biggest disruption was over vaccines. Cities like New York and Chicago sparred with unions over mandates for city workers, leading to resignations and legal battles. As departments waited for staff to get inoculated, some, like Seattle PD, had to alter their already-strained staffing model to account for the absences.
Some leaders pushed back; in LA County, Sheriff Alex Villanueva said he wouldn't enforce the mandate, Alaska Gov. Mike Dunleavy invited cops fired over mandates to join PDs in his state, and a sheriff in Washington pulled his SROs from schools over the issue.
No matter what happens come 2022, we are likely to see the ripple effects of this pandemic long after the case numbers dwindle. 
2. HOMICIDE SPIKES
Upticks in certain types of crime – particularly murders – were being reported back in 2020 and that trend, while not as high a spike as was seen last year, has continued to be alarming in some areas in 2021. The New York Times reported the homicide rate, which had its biggest spike last year since record-keeping began in 1960, was still trending up in 2021. Portland (Oregon) broke a grim record for the most homicides in a single year. Austin (Texas) also reached an all-time high. Cities like Las Vegas and San Diego are also grappling with a homicide spike. 
"Let's please untie the hands of our law enforcement officers," Don Osborn, a relative of a victim slain in Portland, told the AP. "I believe if the proper tools were in place for our law enforcement officers, this wouldn't even have happened."
Further complicating the issue is PDs facing mounting staffing shortages that they have been struggling with for years. In Portland this year, the city saw fewer cops per person than at any other point in the past 30 years. In Austin and other cities, PDs have been forced to re-route non-emergency calls due to severe staffing woes. 
3. POLICE-FREE CALLS
In the wake of the George Floyd protests last year, many cities looked at potential reform that would fundamentally change how police officers responded to certain calls or remove them from specific duties entirely – from traffic enforcement to non-violent incidents to "unarmed" response units. Among these, the reform policy that gained the most traction was changing how cities responded to mental health calls, either making them police-free or sending a police officer in tandem with a mental health professional to someone in crisis; the experiment has returned interesting results thus far.
Denver, which has had a form of the program since 2018, saw enough success that New York City modeled its efforts after them. The pilot program, called B-HEARD, reported early results this year. They found subjects accepted help in 95% of cases when mental health workers were involved, compared to 85% when police alone responded.
Other cities are following suit in growing numbers this year, with places like San Mateo (California), Chicago, and Garden Grove (California) launching similar programs. If the success of these pilots continues, it's likely that more and more cities will adopt this approach. 
4. THE DEREK CHAUVIN VERDICT
The George Floyd case sparked an important conversation about policing in the United States, and the Derek Chauvin verdict undoubtedly will strengthen calls for reform, for better or worse.
Duty to intercede and other self-policing training like early intervention and active bystandership are just some of the hot topics cities are exploring or already have implemented into police policy to develop a culture of accountability in law enforcement.
On the other hand, some reform efforts implemented over the last two years have seen results that have leaders rethinking the changes, which leads us to our last game changer of 2021...
5. FROM DEFUNDING TO REFUNDING
This year, some communities started to think twice about the police reform they approved, particularly when it comes to the "defund" movement. In Oakland (California), Mayor Libby Schaaf said she'd push to reverse funding cuts to the police department and hire more officers as the city grappled with a crime spike.
It was a similar story in other cities. In Portland, officials approved millions in funds for law enforcement amid the city's record shootings and homicides. In Minneapolis, the site of the George Floyd killing and epicenter for the ensuing summer of nationwide protests, voters shied away from the most radical calls for reform – voting against the removal of the Minneapolis Police Department. Meanwhile, in an effort to address the dwindling numbers of police officers in cities across the nation, the DOJ recently handed out $139 million in grant funding.
what Police1 readers, LinkedIn group members think had the biggest impact on policing this year:
I have been an LEO for many years now. I have seen the direct impact of budget cuts and defunding of law enforcement agencies. Bottom line...good officers are quitting, or retiring in record numbers and not being replaced. Many of the officers who remain are burned out, and as a result, are doing less proactive policing. One, as a result of being overworked and two, no officer wants to be hung out to dry for simply doing their jobs. They're good cops, just afraid! The lack of support, from either their departments, communities, local officials, the current administration, or all of the above is a real concern!

This seems to be the only profession where you are guilty until proven innocent, even after you are proven innocent in a court of law you are still guilty! Until we start backing LEOs nationwide and properly punishing/prosecuting criminals this downward spiral will continue. Society celebrates criminals and their actions and demonizes LEOs for doing their lawful duties. With no real consequences for criminals, it's open season on all of us regardless of our political affiliation, backgrounds, geographic location, beliefs, or professions. Get ready folks, if we don't change this anti-cop rhetoric soon, the crime is coming to everyone's doorstep... if it hasn't happened yet, it will.

The biggest impact is the resistance and inability to change hiring practices in policing. The second biggest impact is following unscientific principles such as the purported need for diversification in law enforcement. Common sense, judgment and emotional intelligence trumps ethnicity or gender every time.

The increased suicide rates, lower morale and decrease in applicants are unfortunate effects of decreased public support and respect for the law enforcement community.

As a former DEA TFO, gang investigator, police supervisor and now security consultant, I see the biggest challenge will be in the future of police training and training standards! Most law enforcement agencies across this country cut training standards because of budget restrictions within local governments. Now, we see and feel the effects of those cuts to improving our police training standards. There are so many retired experts in need of work. Let's get back to training our police officers to the needs of the community they serve and provide the tools to execute the safety protocols needed to respond to any threats to the community!

Not spoken about enough but the suicide rate is higher than most would think in law enforcement and from being a police officer for almost 10 years, mental health in the field needs to get some more attention more so now than ever.

Retention of members, for a lot of agencies across the country, mine included, members are considering earlier retirements, or lateral moves to other agencies if members still want to serve in policing professions. As staffing decreases for most agencies, that means remaining personnel are now working longer hours with mandatory overtime shifts to ensure cities have coverage for service. With that said, mental health, burnout, fatigue and exhaustion are all real concerns for officer safety, mental readiness for duty, capacity, etc.

Additionally: The decline in applicants. Fewer people are looking for a career in LE. We seem to be losing twice what we hire each month. And the trend appears to be a national one.

Motivating current officers and successfully recruiting new ones.

Lack of prosecution for crimes along with zero bail for many criminals seems to have caused a lot of offenders to become repeat offenders, as well as the public's perception that law enforcement are not doing their jobs.
What do you think had the biggest impact on law enforcement this year? Complete the box below to share your thoughts.
What do you think had the biggest impact on law enforcement this year?