Top 5 LE game changers of 2020
In a year that brought relentless challenges, these are the five events the P1 team and our readership viewed as having the most significant impact
---
By Police1 Staff
For all the difficulties LEOs faced in the 2010s, nothing could have prepared cops for the deluge of challenges that made 2020 so relentless. From the COVID-19 pandemic to the George Floyd protests, we asked our readers to help us weigh in on the events that had the most impact on the law enforcement profession this year.
Here are the five biggest game changers of 2020: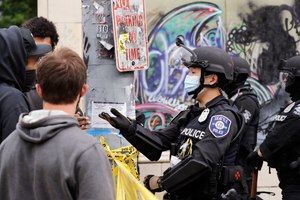 1. The COVID-19 pandemic
It should come as no surprise that the COVID-19 pandemic leads this list. Though the crisis touched us all, it put a particular strain on front-line workers. Tragically, COVID-19 is the number one cause of police line-of-duty deaths this year, and it has left a number of complicated issues in its wake – from questions around death benefits to long-term concerns regarding the health of COVID survivors and the potential decades-long impact on generational leadership across law enforcement, fire and EMS.
One of the hottest topics among our readership this year was hazard pay, compounded by a nationwide PPE shortage that, 10 months into the pandemic, has yet to be abated. When we polled our readers earlier in 2020, 92% of respondents said LEOs should get hazard pay, but breaking down what that actually looks like, as well as how to define a "hazard" in an already dangerous profession, made the issue anything but clear-cut. One of the most popular solutions our readers suggested was tax-free pay for the months that officers are working during the crisis, similar to combat pay in the military. For those who argued that COVID-19 presented a threat above what officers usually face on the job, many cited the danger of exposing their families to the virus.
"Our local FOP tried to get it, we got hit with the 'hazard pay is already part of your salary' line from the brass," PhillyBlue85 wrote. "I already accept that I may have to make the ultimate sacrifice during the performance of my duty, but my family shouldn't be a part of that sacrifice."
Other readers were more concerned about the long-term effects of COVID-19 and its potential impact on their ability to work in the profession long after the pandemic has subsided.
"How about instead of paying me hazard pay, you put this virus and others we are exposed to on our worker's compensation list to allow us to get treatment and future medical care, and be a presumptive cause for a potential medical retirement if one of these viruses affects me to the point I can no longer work," Jason Jones said.
While some agencies have implemented forms of hazard pay in the months since the severity of the crisis became clear, many PDs have not.
The pandemic also dramatically impacted the way police officers interacted with the community.
On the one hand, it presented incredible opportunities for positive outreach. Throughout the year, LEOs made headlines for acts of kindness ranging from throwing birthday parades for kids stuck in quarantine, assisting overworked parents with their children's schooling through online educational videos, and helping the most vulnerable stock up on much-needed supplies.
On the other hand, police officers were put in the unenviable position of enforcing shelter-in-place orders, mask mandates and other pandemic-related public health protocols. One of the stories that generated the most heated discussion on Police1 this year was the arrest of an Idaho mother who refused to vacate a public playground that had been closed due to shelter-in-place orders, and our readership was sharply divided on where the line on enforcement should be drawn.
As we enter 2021 with a slow vaccine rollout that is likely to last until at least the third quarter of the year, all while battling a third wave of the virus that already has some states issuing new stay-at-home orders, the struggles with enforcement, officer safety and numerous other challenges are unlikely to be alleviated any time soon. And the emergence of COVID-19 vaccines has created another complication: Should LEOs be first in line to receive it? And should agencies require LEOs to get a jab?
2. The George Floyd protests
The massive protests sparked by the in-custody death of George Floyd hit every part of the country this summer and even spread internationally. News of the death garnered widespread condemnation from police chiefs and other law enforcement leaders, and saw many LEOs participating in the protests – from kneeling with activists to marching alongside them. These novel, boundary-breaking acts of solidarity during the mass gatherings were another hot topic for our readers this year, some of whom viewed the actions as a positive way to humanize the badge and engage in de-escalation. Others, while empathetic to the protests, raised impartiality and officer safety concerns.
"I do not think any officer should kneel or march in uniform – we are supposed to be impartial and professional. Kneeling not only is a huge officer safety risk, but sends confusing messages of culpability/shame/guilt/remorse/etc. I will empathize, listen, be compassionate, hug and safeguard, but I will not kneel, bow, or march. That crosses a line we should not cross. Re-read the law enforcement code of ethics you swore to when your badge was pinned – it's pretty clear on this matter," Jason Jones wrote.
Some of the unrest led to battles between federal and local law enforcement over how to carry out enforcement. There were arguably no higher-profile examples of this than the CHOP zone in Seattle and the months-long protests in Portland, where local officials sparred with the Trump administration over sending federal forces into the cities.   
The Floyd protests also sparked the Defund the Police movement, perhaps the most notable development given the potential long-term implications. It has resulted in a national dialogue focused on issues as wide-ranging as duty to intervene policies, qualified immunity, removing SROs from schools and ending anti-crime units. It also has many cities examining police officers' roles in duties such as traffic enforcement and responding to social-work oriented issues like mental health calls.
No matter which of these changes end up eventually materializing, there's little doubt that a fundamental shift in what law enforcement looks like this decade – and beyond – is brewing.
3. The election of Joe Biden
A new administration inevitably has an impact on policing, and while it's hard to make concrete predictions on what comes next, President-elect Joe Biden will undoubtedly take a different approach to many issues than his predecessor.
P1 columnists Tim Dees and Joel Shults recently broke down what that could mean for law enforcement in terms of COVID-19 vaccine distribution, COVID-19 benefits, PTSD coverage, grants funding, training standards, and the opioid crisis. You can find the analysis here and here.  
4. Bail reform and crime spikes
Much attention has been paid to bail reform in major cities in recent years, and 2020 saw some pushback from leaders in places like New York and California, where blame for spikes in crime was placed squarely on bail reform rules established both prior to the pandemic and as a direct result of it. NYC Mayor Bill de Blasio pointed to data he said showed many suspects who went free under these reforms ended up committing major crimes, though others have questioned those claims. NYC ended up rolling back some of their bail reform as a result, even as other cities expanded their bail reform efforts in part to battle the COVID-19 crisis in corrections.
Bail reform is undoubtedly a complex, hotly contested issue, and working out the kinks is likely to stretch on far beyond the new year.
5. Red flag law abuse
Our columnists predicted last year that red flag laws, which give law enforcement the ability to take a person's firearms if they're accused of being a danger to themselves or others, could potentially be used against police officers.
This year, that exact scenario played out in Colorado. One of our most popular stories of 2020 was about a woman who attempted, but ultimately failed, to target a university cop because of his involvement in a fatal on-duty shooting that occurred in 2017.
As more states adopt red flag laws, potential targeting of LEOs isn't the only concern. P1 Columnists Dick Fairburn and Mike Wood break down some of the other issues here.
What do you think had the biggest impact on law enforcement this year? Email us your take.