Black Lives Matter protest turns into barbecue with police
Protest organizers and the city's police chief gathered together to have an open discussion
---
By Police1 Staff
WICHITA, Kan. — A planned Black Lives Matter protest in Wichita turned into a barbecue with cops and the community.
According to the Wichita Eagle, after organizers of the protest met with Police Chief Gordon Ramsay, they decided to plan a barbecue instead of a march.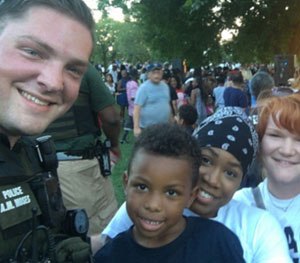 Food brought people together in hope that an open dialogue would help break racial barriers and build trust between officers and community members.
Lt. Travis Rakestraw sat down at a table with a black man, a white man and a Hispanic man. 
"I don't think it's a conscious effort," Rakestraw said, when asked by the Eagle why biases sometimes persist. "I don't think anybody does it intentionally, but we fill in the gaps with life experiences, what we read in the paper, and we start to view people as a generalization instead of understanding people as individuals."
The three men said they were surprised by the discussion with Rakestraw and encouraged that the officer cared about what they were saying and thought about the same issues. 
Rakestraw said, from the police perspective, the conversation held at the cookout felt more productive than many of the protests he's seen across the nation. 
As the night went on, the discussions moved to a larger public forum where hundreds lined up to ask Police Chief Ramsay questions. 
"If you feel mistreated, I want to know about it," Ramsay said.
Many Wichitans praised Ramsay for holding the event, and several members said that in all of the years in Wichita, they couldn't remember a police chief coming out in the community like this.