Ala. executes man convicted in killing of 3 police officers
The U.S. Supreme Court issued a temporary stay to consider last-minute appeals and then denied the inmate's petitions
---
Joseph Wilkinson
New York Daily News
BIRMINGHAM, Ala. — Alabama executed Nathaniel Woods on Thursday night despite thousands of people arguing for Woods' innocence.
Woods, 44, was pronounced dead at 9:01 p.m. Central time, AL.com reported. He was killed by lethal injection.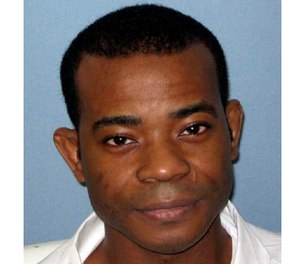 Woods was originally scheduled for execution three hours earlier, but the Supreme Court ordered a temporary stay at 5:30 p.m., just 30 minutes before Woods was supposed to die, according to ABC News. However, the court lifted the stay at around 8 p.m.
Woods had already called his family and friends and ordered his last meal when the stay first came through, ABC News reported. Justice Clarence Thomas had signed the temporary order, but later also signed off on the denial of Woods' last-ditch appeal.
In 2005, Woods was convicted of capital murder in the killings of three Birmingham, Ala., police officers. The jury also voted 10-2 in favor of sentencing Woods to death.
The officers, Carlos Owen, Harley Chisholm and Charles Bennett, were killed a year earlier while executing a search warrant on a suspected crack house. Woods and another man, Kerry Spencer, were inside and charged with their deaths.
The two men were tried and convicted separately, but at his trial, Spencer confessed to killing all three officers and also shooting a fourth.
Woods had appealed his conviction, saying that his lawyers had misinformed him, that they had rejected a plea deal that would have sentenced Woods to 20 to 25 years and also had missed earlier appeal dates.
Prosecutors argued that Woods and Spencer lured the officers into a trap, but Spencer denied that theory even after confessing to the murders. Spencer is on death row currently, but his execution date has not yet been set.
Alabama Gov. Kay Ivey denied Woods' request for clemency.
Thousands of people rallied to Woods' cause, asking Ivey to reconsider and step in to prevent Woods' execution. They continued those calls following the Supreme Court's denial Thursday.
Ivey released a statement after Woods' execution, in which she said "the evidence showed that Woods was an integral participant in the intentional murder of these three officers" and that "he taunted the officers and lured them into his apartment, where he knew they would met by gunfire."
After the stay was lifted Thursday night, the sister of Chisholm released a statement to The Appeal saying she did not think Woods was guilty, urging Ivey to reassess her decision and writing, "My conscience will not let me live with this if he dies. I beg you to have mercy on him."
In addition to Spencer's confession, Woods' supporters have pointed out that Woods did not have a gun at the scene and that prosecutors provided slim physical evidence for their ambush theory. Woods himself consistently maintained his innocence.
Nearly 100,000 people had signed a change.org petition professing Woods' innocence as of Thursday night, and noted criminal justice reform advocate Kim Kardashian West tweeted her support. Martin Luther King III also defended Woods and praised the initial emergency stay on Twitter.
Woods was the first man executed in Alabama this year and the 67th since the state reinstated the death penalty in 1976.
McClatchy-Tribune News Service