Deadly force: Lessons from Kyle Dinkheller, Ferguson and 4 years without a fatal OIS
A series of articles exploring police use of deadly force contain useful takeaways for street cops and police leaders alike
---
By Police1 Staff
A recently published series of informative, objective long-form articles exploring the use of deadly force contain some great takeaways for street cops and police leaders alike.
It may come as a surprise to some, but the series "The trigger and the choice" was published by STATE, the digital magazine from CNN Politics. Before you click away, we have broken down the series below, which is worth reading in full (promise). Editor Steven Sloan notes that the writer "interviewed dozens of officers and law enforcement experts to better understand what goes through a cop's mind when they're weighing whether to shoot."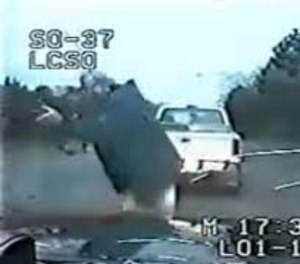 Part 1
In "The Endless Death of Kyle Dinkheller," journalist Thomas Lake takes an in-depth look at the circumstances and ripple effects of a line-of-duty death that most, if not all, cops are already painfully aware of: the murder of Deputy Kyle Dinkheller. Some key points from the analysis:
How high-profile police-involved scandals in the early '90s – like the Ruby Ridge, Waco and Rodney King incidents – as well as added internal pressure from Dinkheller's department may have played a factor in his deadly hesitation to use lethal force.
How the footage, captured on a dash camera the department had only recently acquired, affected Dinkheller's colleagues and his father.
The effect the infamous footage has had on law enforcement training in the decades following the shooting.
Two decades later, a traffic stop on a country road is still teaching police officers about deadly force – and the cost of hesitation. http://cnn.it/2feRSx6

Posted by CNN Politics on Friday, August 4, 2017
Part 2
In "Ferguson, Affected," Lake explores issues tied to the aftermath of the fatal shooting of Michael Brown on a local and national level. Some key points from the analysis:
The effect high-profile use-of-force incidents have on a community's willingness to call 911 in times of trouble, and what that means for a city's crime rate.
The department's struggle to rebuild their force – which lost a third of its cops in the months following the shooting – and troubling issues police recruiters are seeing in some applicants.
The potential impact "de-policing" has on crime rates, with particular attention paid to traffic stops.
After the 2014 killing of Michael Brown, Ferguson confronts a policing dilemma | STATE magazine: http://cnn.it/2uhNOia

Posted by CNN Politics on Monday, August 7, 2017
Part 3
The final part, "City of Good Neighbors," may be of the most interest to cops and law enforcement leaders. It's a profile of the police department in Buffalo, New York, a city which, despite averaging about 50 homicides a year, didn't have a single fatal officer-involved shooting between December 2012 and May 2017 (albeit with some close calls, and some incidents that put officers at considerable risk of harm). Lake dives into the PD's policing strategy, which includes:  
Partnerships with community members to reduce violence.
Keeping recruits local. Applicants can't even take the police exam unless they live in Buffalo, and officers are required to reside in the city at least seven years after being hired.
Leadership that hasn't been behind a desk their whole career. The department's top cop started his career on the streets, which has helped earn him credibility with his officers.
While the department's "streak" is difficult to pin to any one thing (luck, of course, could be a factor), and some of the incidents and tactics described read as downright dangerous, there's plenty in the profile worth exploring and potentially adopting in your agency.
The officers of the Buffalo Police Department went more than four years and 2 million calls with a fatal shooting. What did they do right? The latest from STATE magazine: http://cnn.it/2vxLJCt

Posted by CNN Politics on Monday, August 7, 2017
Take a look at the series and tell us what you think in the comments below.