NLEOMF honors Ohio sheriff in exotic animal escape
Muskingum County Sheriff Matt Lutz has been named Officer of the Month for January by the National Law Enforcement Officers Memorial Fund
---
Associated Press
ZANESVILLE, Ohio — A national police group is honoring the Ohio sheriff who led the October big-game hunt after the owner of dozens of exotic animals released them and then killed himself.
The Zanesville Times Recorder reports Muskingum County Sheriff Matt Lutz (loots) has been named Officer of the Month for January by the National Law Enforcement Officers Memorial Fund. The group maintains a national police memorial in Washington, D.C., where Lutz will receive his award in May.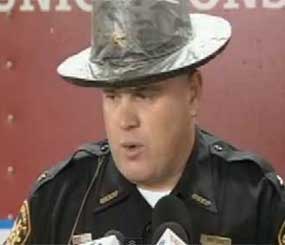 A member of the awards panel says Lutz addressed within a very short time a unique situation that posed a risk to himself and his officers.

Deputies were forced to kill 48 wild animals including bears, lions and endangered Bengal tigers.
Lutz says he couldn't be more pleased by the award.
Copyright 2011 Associated Press