5 things to know about the Vidocq Society
The society, which was founded in 1990, is a members-only club in Philadelphia; the group focuses their efforts on solving cold case homicides
---
There are currently 250,000 unsolved murder cases in the United States. To add to that grim statistic, that number increases by an additional 6,000 each year, according to data from the FBI's Uniformed Crime Report.  
Detectives work on these cold cases tirelessly, sometimes going an entire career without solving one. However, there have been many breakthroughs in recent years – thanks to advancements in DNA technology.
For instance, detectives were finally able to identify 8-year-old Kelly Prosser's killer in July 2020. Prosser's cold case, which was nearly four decades old, was closed after police used a new genealogical testing technique. Detectives worked with a genealogy company and used DNA from the crime scene to identify a suspect.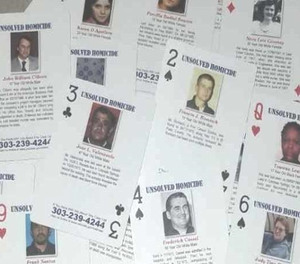 After establishing a family tree, police cracked the case by using samples of the suspect's living relatives' DNA. The killer was identified as Harold Warren Jarrell, who died in 1996.
This technique was also used in one of the most high-profile cold cases last year – the identification of Joseph James DeAngelo Jr., California's Golden State Killer. Similar to Prosser's case, police used DNA from crime scenes to find a distant relative of DeAngelo's and that eventually led detectives to their primary suspect. DeAngelo, whose crime spree began in the 1970s, has since plead guilty to 13 murders and admitted to nearly 50 rapes.
But even with these advancements in DNA testing and genetic genealogy, most cold cases remain unsolved. That's where the not-so-secret Vidocq Society comes into play. The society, which was founded in 1990, is a members-only club in Philadelphia. The group focuses their efforts on solving cold case homicides.
Here are five things to know about the Vidocq Society and the role they play in solving cold cases.
1.The society is named after Eugène François Vidocq, a French criminal-turned-detective.
Vidocq spent time in prison (mainly for petty offenses). After leaving prison, he became a police spy and informer. Because of his time spent living among criminals, he was good at catching them. He seemed to always know what they were thinking and what their next move would be.
In 1811, Vidocq organized the Brigade de la Sûreté (Security Brigade) – a plainclothes unit that consisted of 28 detectives, all of which were former criminals.
A year later, the brigade was moved to a security police unit under the Prefecture of Police. And in 1813, Napoléon Bonaparte made the brigade a state security police force – now called the Sûreté Nationale, what many call the inspiration for the FBI.
Vidocq, who's considered to be the father of modern criminal investigation, introduced:
Record keeping
Criminalistics, and
The science of ballistics.
He was also the first to make foot/shoe impressions by using the plaster of paris casting technique. And, if being named the father of modern criminal investigation isn't impressive enough, he has also been deemed as the world's greatest detective. After all, he was the first private detective.
2. The Vidocq Society was founded by three forensic experts.
The society, which was founded in 1990, was created by:
William Fleisher, a former Philadelphia officer and FBI agent

Frank Bender, a Philadelphia-based forensic sculptor
Richard Walter, a prison psychologist
Fleisher continues to serve as commissioner of the society. However, Walter left the society in 2016 and Bender died in 2011.
3. The society has 82 members (one for each year of Vidocq's life), who act as confidential consultants to police agencies.
Members of the society include:
Profilers

Criminologists
Forensic scientists
Medical examiners
Active and retired LE officers
Prosecutors
Polygraph examiners
Membership is not open to the public.
If you're unable to become a member, the society does have special members, who have law enforcement or forensic science experience. You can contact the society if you're interested in assisting them with cold cases.
4. Police departments can request assistance from the society – free of charge.
The Vidocq Society is a 501c(3) nonprofit organization, meaning all 82 members volunteer their time and aren't compensated for their work.
The society only becomes involved in a cold case investigation if an agency requests their assistance. This assistance is provided at no cost to the investigating agency.
It's important to note that the society doesn't conduct independent investigations. An investigation always remains under full control of the agency who requests assistance.
5. The society doesn't seek public recognition for their work, but they have been instrumental in solving hundreds of crimes.
The society, whose members present cold cases for review at monthly luncheon meetings in Philadelphia, will only consider cases that meet the following criteria:
The cold case must be more than two years old
Victims cannot have been involved in any criminal activity, and
The case must be presented formally by a law enforcement agency (they do not work directly with victims' family members or friends).
The Vidocq Society solved their first case in 1991, which exonerated Derrick Carlock, who was wrongly accused in the murder of William Huey Cox, a Little Rock, Arkansas, restaurant manager. They were also involved in solving the murder of Terri Brooks, a night manager of a Pennsylvania-area restaurant who was killed in 1984 by her boyfriend. The case was solved in 1999.
Another case that was submitted to the society for review involved the 1984 murder of Deborah Wilson, a Drexel University student – a private university based in Philadelphia. Society members suggested the murderer was someone with a foot fetish after recognizing shoes and socks were missing from Wilson's body. This later led to the arrest and conviction of David Dickson in 1995, who had a history of stealing women's shoes and socks.
Another notable case: Walter and Bender, two of the society's founders, busted John List: a New Jersey man who had been at large for nearly 18 years after fatally shooting his wife, mother and three children in 1971.
Bender helped imagine List's aging face and Walter profiled List, suggesting he would be remarried, living no further than 300 miles from the crime scene and would still be wearing his infamous horn-rimmed glasses. List was arrested in Virginia (it only took 11 days to find him), where he was living under an assumed name as a married accountant – still donning his horn-rimmed glasses.
Later that year, Walter, Bender and Fleisher (the third society's founder) met for the first time, where they discussed the idea of talking about cold cases over lunch to see if they could solve them. And the rest, as they say, is history.
The society has also been involved in the Boy in the Box investigation, an unsolved case of a boy who was found dead in a JC Penney Box in 1957. The boy, who has become known as "America's unknown child," was around four to six years old at the time of his death.
One of the first officers on scene, Sam Weinstein, later became a Vidocq Society member, where he hoped fresh eyes on the case would help him identify the boy. Police have yet to successfully identify him. It is the longest open cold case at the Philadelphia Police Department.
Learn more
Leveraging forensic genetic genealogy to solve cold cases
Policing Matters Podcast: Solving cold cases
10 mysterious police cases that are still unsolved
Policing Matters Podcast: Using DNA evidence in police investigations
How new DNA technologies are changing criminal investigations
Arrest of suspect in 1973 murder shows how emerging techniques help crack cold cases
The untold story of how the Golden State Killer was found: A covert operation and private DNA
Ore. police make arrest in 21-year-old homicide by matching DNA on public genealogy site