Fewer than 1% of Denver's cops, firefighters quit over vaccine mandate, data shows
As of last week, compliance among the police, fire and sheriff's departments exceeded 97%
---
By Elise Schmelzer
The Denver Post
DENVER — Few of Denver's police officers, sheriff's deputies and firefighters quit their jobs over the city's COVID-19 vaccine mandate, new Department of Public Safety data shows.
Fifteen police officers, seven sheriff's deputies and five firefighters resigned or retired because of the vaccine mandate, according to city data. Those former employees specifically cited the vaccine mandate in their resignation or retirement letters.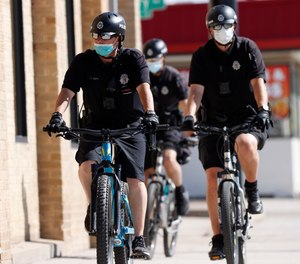 That's less than 1% of the three agencies' 3,224 sworn staff members.
The mandate announced Aug. 2 by Mayor Michael Hancock required all city employees to be fully vaccinated by Sept. 30.
That requirement prompted the Denver police union to issue a statement that said its members "can be trusted with their personal decisions." Seven Denver police officers on Sept. 23 sued the city, alleging the mandate was government overreach, but a Denver District Court judge the following week dismissed the lawsuit.
Disciplinary meetings are scheduled for 34 more public safety employees for vaccine mandate non-compliance — 21 sheriff's deputies, six firefighters, four police officers, two employees in the Department of Public Safety's administrative office and one 911 worker.
[RELATED: Union survey: Some San Diego cops would consider leaving if there was a vaccine mandate]
Employees who refuse to get the vaccine under any circumstances will be fired, city officials said. Others will receive a 10-day unpaid suspension. If they are still out of compliance at the end of that suspension, they will be fired.
Even if all 34 employees are dismissed over the vaccine mandate, the total loss of 61 employees represents approximately 1.5% of the Department of Safety's 4,038 staff members.
Vaccination rates in the city's public safety agencies rose after the mandate was implemented, city data shows. Seventy percent of the Denver Sheriff Department, 88% of the Denver Fire Department and 75% of the Denver Police Department were in compliance with the mandate on Sept. 17, meaning they submitted proof of vaccination or acquired an exemption.
As of Oct. 8, compliance in all three agencies exceeded 97%, city data shows.
(c)2021 The Denver Post
McClatchy-Tribune News Service