How police departments can increase efficiency in a time of crisis
Many agencies still require sworn officers to perform tasks that could be handled equally well by others
---
By Ellwood Cushman
The COVID-19 pandemic has led to increasing demands on public safety agencies. The situation is complicated by the fact that some percentage of normal staff are not available due to their own illness or exposure. 
Agencies must identify options for the most effective use of staffing and resources. This is also an opportunity to test some strategies that may continue to improve service delivery after the crisis is over.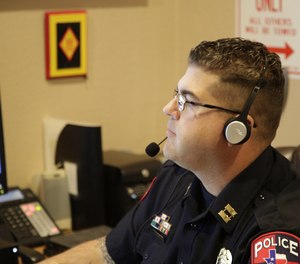 Deploy sworn officers in visible positions
For law enforcement agencies, armed, sworn police officers must be used primarily for tasks that only they can do. Other tasks that may have traditionally been part of their responsibility should be done, to the extent possible, by others. 
Having officers with available patrol time so that they are visible in the community provides reassurance to the community and some level of crime deterrence. Non-sworn employees typically earn less and are less costly in terms of their equipment (both vehicles and personal equipment) and the amount, level and quantity of training required. Some non-sworn employees and volunteers may enthusiastically embrace the opportunity to perform these new tasks.
Agencies may also need to adjust how they respond to traditional calls for service, given that the pandemic is changing the landscape in terms of the types and volume of incidents needing police service, and may also require agencies to perform additional tasks, such as protecting resources and facilities and enforcing emergency orders. 
Assess your resource pool
It is important to assess the resources available to redeploy. These typically will include:
Existing non-sworn personnel: Some agencies already have non-sworn personnel (e.g., community service officers) who perform some duties formerly done by sworn officers. The responsibilities of these employees can potentially be expanded to further free up sworn officers. Agencies that do not have them should seriously consider creating such positions. 
Civilian volunteers: Many agencies already use volunteers, who have been screened to some degree depending on their assignment, to perform routine tasks such as filing and data entry to more complex tasks. With additional training (and perhaps a more comprehensive background check) the responsibilities of these individuals can be expanded, depending on their abilities and experience.
Reserve officers: Depending on their training, state laws and bargaining unit provisions, the use of reserve officers can be expanded for tasks where they don't need to be directly under the supervision of a sworn officer. They can certainly be called into service to augment the number of sworn officers available to respond to incidents and calls and can assist in protecting resources when needed.
Retired officers and other employees: Retired officers, who already have investigative training and experience, could be recruited as volunteers (or be temporarily hired back) to perform such tasks as taking telephone reports and performing investigations that don't require field contacts that would necessitate being armed. In some cases, recently retired officers may be able to become recertified and able to perform as sworn officers. Other non-sworn retirees, such as those who worked as dispatchers, call-takers, records specialists and in computer-related assignments, might also be willing to volunteer or be hired back to assist the agency. 
ASSESS TASKS TO BE REDISTRIBUTED
Tasks that can be redistributed include the following:
Telephone reporting: Appropriately trained non-sworn personnel can take telephone reports, assisted by checklists to ensure that they document essential elements of the offense(s) involved.
Field investigations: Some field investigations can be done by appropriately trained non-sworn personnel. For example, traffic crashes that don't involve serious injury or death can adequately be investigated and reported by non-sworn personnel. (In many jurisdictions, non-sworn personnel would not have the authority to issue a citation. If necessary for a serious traffic crime, a sworn officer could be summoned or could follow up later with enforcement.) Even a relatively serious crime such as a residential burglary could be investigated, and evidence collected, by a properly trained non-sworn employee. And some person crimes that don't require specialized investigative training (such as a simple physical assault) can be investigated by someone other than a sworn officer.
Follow-up investigations: Witnesses and, in some minor cases, even suspects can be interviewed by phone by someone with appropriate training. Again, checklists can be used to assist less-experienced interviewers to ensure that all relevant information is obtained. Having these contacts done on a recorded phone line, or otherwise recorded, will provide documentation of what was said and done.  Investigations requiring computer work, such as is needed for investigations of financial crimes, can be effectively done by non-sworn personnel. 
Many agencies still require sworn officers to perform tasks that could be handled equally well by others, including non-sworn employees and even volunteers. In these challenging times, transferring some traditional responsibilities from sworn officers to others will help increase the availability of sworn officers. This is a good time to implement those strategies and to determine the ones that will allow agencies to better serve their communities after the COVID-19 pandemic.
---
About the author
Ellwood Cushman serves on the legal team at Lexipol. He is a retired lieutenant of the Eugene (Oregon) Police Department with 25 years of law enforcement experience, including serving as a patrol watch commander, K-9 handler and supervisor, and SWAT supervisor. He has a bachelor's degree and a master's degree from the University of Oregon.