3 arrested for burning Las Vegas police car during protest
The three men are in federal custody facing federal arson-related charges
---
Ricardo Torres-Cortez
Las Vegas Sun
LAS VEGAS — Instead of dispersing after the downtown Las Vegas protest was declared unlawful late Saturday, three men stuck around to set a Metro Police vehicle on fire.
Four days later, the Las Vegas trio were in FBI custody, facing federal arson-related charges, according to the office of the U.S. attorney for the district of Nevada.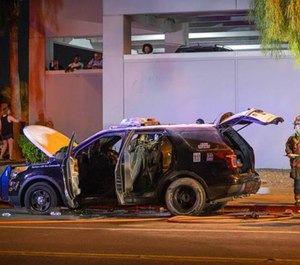 They are Tyree Walker, 23, Devarian Haynes, 23, and Ricardo Densmore, 24. Video of the crime, shot from up-close, and their own social media posts helped authorities quickly identify them, according to a complaint.
The arrests come as the federal government has vowed to crack down on opportunistic crimes from suspects who embed themselves into mostly peaceful protests following George Floyd's death at the hands of Minneapolis police.
This week a counterterrorism task force also arrested three other men who were self-described members of the "Boogaloo" movement, made up of right-wing extremists vying to spark a second civil war.
They'd been bent on taking advantage of Floyd's protests to fuel chaos and confusion to incite riots. They were taken into custody about 2 miles from the protest, before they could make their way in with weapons and materials for Molotov cocktails.
After Saturday's downtown march, the protest fractured into multiple factions. Police resorted to tear gas to disperse the crowd after a few people hurled rocks, bottles and flares at them.
Walker, Haynes and Densmore took advantage of the disorder and spotted Metro cruisers on 9th Street and Carson Avenue shortly after midnight Sunday. The complaint said they could be heard discussing plans to ignite marked vehicles.
Police say one of the men arrested Wednesday allegedly shot the video posted on social media that showed the other two pouring a flammable liquid into the patrol SUV through a missing window, lighting an object and dropping the gas inside.
They're each facing one count of arson and one count of conspiracy to commit arson, according to the complaint. Further information of their arrests wasn't provided, but the complaint said each admitted to the alleged crimes.
They are scheduled to make their initial appearance Friday before a federal magistrate in Las Vegas. It's not clear if they have lawyers or will be appointed one.
"Agitators who are using the camouflage of lawful protests to commit violence against law enforcement will be prosecuted," said Nicholas Trutanich, U.S. attorney for the district of Nevada, in a news release. "Violence places protesters, first responders, and bystanders in danger, and steals focus away from the messages that peaceful protesters are striving to deliver."
"Any individual that is engaging in an act of arson is engaging in extremely dangerous behavior," said Special Agent in Charge Patrick Gorman with the Bureau of Alcohol, Tobacco, Firearms and Explosives, in the release. "In addition to the destruction of property, acts of arson put the lives of the public at great risk. ATF takes these acts of violence very seriously and is working alongside our local, state, and federal law enforcement partners to protect the public and uphold the rule of law. We will continue to work diligently to ensure the safety of the community and prevent incidents like this from occurring."
Police officials have conceded that the vast majority of protesters have exercised their First Amendment rights peacefully, demanding justice for Floyd and other black Americans killed by police.
But some have tried to hijack the movement and have turned protests into playgrounds to commit crime. More than two dozen Metro officers have been injured in the clashes, including Officer Shay Mikalonis, 29, who was critically wounded when he was shot in the face at the tail end of Monday's protest as he was helping make an arrest.
"Over the last few days, these protests start out peacefully, with all the good intentions for significant change to spark the conversation" about police-community relations, Clark County Deputy Chief James Seebok said earlier this week.
But, he said, as the nights have progressed, bad actors who stick around have perpetuated violent acts and destruction. "These criminals are trying to leverage these peaceful demonstrations to their advantage," Seebok said.
"We're seeing them armed with bats, with axes, with glass cutters so they can cause damage to structures," he said. "And the rocks that they're throwing, they're not the kind that you would skip across a lake. Instead, these are chunks of asphalt, chunks of cinderblock that cause significant damage or harm."
There have also been protesters trying to police the criminal behavior. In another video from Saturday, a woman who earlier in the night pleaded with other participants to not harass police and stay on the sidewalk during a march, could be seen pleading with rioters who were kicking and breaking the glass at a downtown courthouse.
McClatchy-Tribune News Service