IACP Quick Take: The thin blue line meets the red cross
With increasing public expectation that police officers will render care on scene, what is the interface of law enforcement and prehospital care?
---
PHILADELPHIA – Recently questions have been raised about the medical response of law enforcement to subjects of officer-involved shootings (OIS) in the immediate aftermath of use-of-force encounters. A failure to render appropriate and timely aid to these individuals has been featured in several lawsuits and settlements.
Rochester Police Department's Medical Director Matthew Sztajnkrycer analyzed OIS events captured on video to examine in real time the frequency, nature and appropriateness of care provided prior to EMS arrival. 
At the 124th annual International Association of Chiefs of Police Conference, Dr.  Sztajnkrycer presented the findings of his study – as well as other research around police delivery of medical care – highlighting training and practice gaps, and how police departments can develop an evidence-based medical response for these events.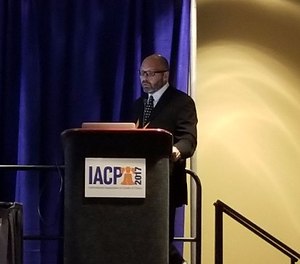 Memorable quotes
Here are some of the most memorable quotes from the presentation: 
"There is an increasing public expectation that law enforcement officers will render aid, but no policies clearly articulate what that means."
"I am on the side of the line officer who puts their life at risk." 
"We really undersell the good deeds we do in regard to what the police are doing on the street to deliver medical care."
4 key take-aways
Here is a synopsis of the key points Dr. Sztajnkrycer made during his presentation.  
1. For the majority of medical calls, cops arrive first.
While the traditional role of law enforcement at a medical event is to support EMS, ensure scene safety and stabilize the situation, a number of studies indicate that police officers are first to arrive on scene 70 percent of the time, Sztajnkrycer said. Even when EMS arrives on the scene, there may be delays in patient care depending on the tactical situation. 
"This reality means that law enforcement officers are increasingly seen as a key component of the chain of out-of-hospital care," he said.
2. We have to determine the type of calls officers respond to in order to develop training.
It is hard to make recommendations on what police officers should be doing, when we know very little about the type of medical care cops are currently providing. 
According to NEMSIS – a national database used to store EMS data from the U.S. states and territories – in 2014, there were 34,699 records that documented police officers provided medical care prior to EMS arrival, which equates to nearly 100 episodes per day.
Sztajnkrycer estimates that these numbers are actually a huge underrepresentation as EMS providers may not always document who provided care prior to their arrival. 
Out of those calls, law enforcement responded to more trauma than medical calls. Cops also attend to a high number of assault, overdose and sudden cardiac arrest calls. Multiple patient incidents also have high tallies for police officer response.
3. What should be in a police officer's medical kit?
Rendering aid to subjects serves another purpose, as the repeated delivery of care will enable police officers to retain muscle memory and be better equipped to help other officers when they sustain an injury. The Israel Defense Forces state you need three tourniquet applications per month in order to be combat effective, Sztajnkrycer said.
Part of being combat-ready involves knowing what equipment you have on hand. Just like you would do an equipment check at the start of your shift, you should also be aware not only of the medical supplies in the trunk of your patrol car, but also how to use them. 
Sztajnkrycer says officers should consider the following: 
Have a first-aid kit – not just some 4x4 gauze – and keep gloves on your belt
Carry a tourniquet
Understand how you lose fine motor skills when under stress, which can make opening medical packages a daunting task
Look at the ergonomics of your medical kit – are the items you would need in a life-threatening situation clearly identified and immediately at hand?
4. Scene safety is always the priority.
Captain Frank Butler – best known as the driving force of Tactical Combat Casualty Care – said, "Good medicine often was bad tactics. And, bad tactics get people killed." 
Sztajnkrycer reminded the audience that scene safety is always an officer's first concern, and that the law enforcement priorities of life are:
Victims
Innocent bystanders
Fire/EMS
Law enforcement
Suspect
Learn more
First 5 minutes of tragedy: Casualty care training all cops should have
Why police need to train to use and carry an IFAK