Multi-agency, sex-sting operation targets online predators
Operation Relentless Guardian was conducted by law enforcement officers clandestinely posing as preteen and teenage girls in Internet chat rooms and on gaming apps
---
The Richland County Sheriff's Department (RCSD) led a successful sting operation in South Carolina, August 5-10, targeting online sexual predators – "monsters" as Richland County Sheriff Leon Lott refers to them – and those soliciting prostitution.
The sexual predator-prostitution sting was a five-day, multi-agency operation that led to the issuance of 28 warrants, including 14 arrested for prostitution, five arrested for solicitation of or sexual exploitation of a minor, and nine still at-large.
Dubbed Relentless Guardian, the operation was conducted by law enforcement officers clandestinely posing as preteen and teenage girls in Internet chat rooms and on gaming apps. The child-sex predators, also known as "travelers," because they travel from one area to the next in search of victims – often crossing state lines – began with the predators communicating online with persons whom they believed were girls between the ages of 11 and 14.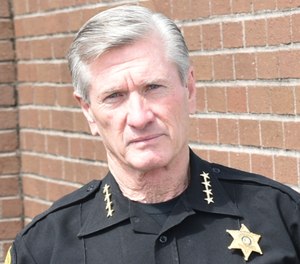 According to RCSD officials, suspects will often share pictures of themselves or request pictures. Suspects then travel to what they believe is a young girl's home when the child's parents are supposedly away. The trap is then set.
"The predators won't meet any young girls," Lott said. "They'll meet us. The problem is, these monsters do this as a matter of course. This is not their first time."
Nor is Relentless Guardian the first operation led by RCSD and conducted by the South Carolina Internet Crimes Against Children (ICAC) Task Force. Last year, RCSD led another such-operation dubbed Full Armor in which 38 were arrested (18 persons suspected of being child predators and another 20 for prostitution).
ICAC is composed of RCSD – under the operational direction of RCSD Senior Investigator Melissa Perry – the U.S. Marshal's Service, the U.S. Secret Service, the U.S. Dept. of Homeland Security, the S.C. Attorney General's office, the U.S. Attorney for South Carolina and other involved police departments or sheriff's offices within the state.
During the latest operation, local agencies in addition to RCSD included the Greenville County Sheriff's Office, the Horry County Sheriff's Office, the York County Sheriff's Office, the Marion County Sheriff's Office, the Bishopville Police Deptartment, the Orangeburg County Sheriff's Office, the Aiken County Sheriff's Office and the Mount Pleasant Police Dept.
"The FBI is involved only if suspects cross state lines," Captain Maria Yturria said, director of RCSD's public information office.
According to Yturria, though the FBI was not directly involved in the operation, the cases of those suspects who travelled from other states like Georgia and Florida will be turned over to federal prosecutors.
"Relentless Guardian, like operation Full Armor in July 2018, was very successful," Lott said. "And it is still an ongoing effort."
"Since our operation last year, ICAC has also conducted operations in Greenville, Myrtle Beach, down in the Lowcountry and elsewhere," Yturria said.
Among those nabbed in Relentless Guardian so far are former South Carolina DOT commissioner John Hardee, who was attempting to solicit a prostitute, and former Deputy Derek Vandenham, who was immediately fired after his arrest.
"That was something that made me sick to my stomach to know that one of my deputies that I trusted and we put out here in this community was one of these monsters. This was one of the most disgusting things that I've had to deal with was to have a deputy do something like this," Lott said in a press conference last week.