Mo. K-9 dies two days after fall from parking garage
K-9 Argo was one of two police dogs for the Normandy Police Department
---
By Christine Byers
St. Louis Post-Dispatch
NORMANDY, Mo. — Dozens of area police dogs and their handlers along with officers and firefighters said good-bye Wednesday to a 3-year-old German shepherd named Argo who died from injuries he suffered while on duty.
Normandy Officer Matt Miller and his dog Argo had just finished an accident investigation along Interstate 70 on Sunday when a hail storm moved in. Miller sought shelter inside a parking garage on the University of Missouri-St. Louis campus as officers in his department typically do to avoid damage to their cars, said Sgt. Tim Conner, Normandy canine supervisor.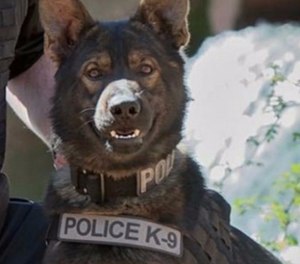 Miller believes the storm spooked Argo, and he let the dog out of his car to calm him down. Suddenly, the dog ran toward a wall where hail could be heard slamming on the other side. The wall deceivingly looked to be level with the ground but was actually about four stories above ground, Conner said.
"We don't know if he tried to jump the wall thinking someone was over there or just to see what was over there," Conner said. "But that's like being hit by a car-head on at 40 mph."
Initially, vets told Miller that Argo suffered some broken ribs, a broken leg and a possibly punctured lung. He appeared to be improving, even standing on his back legs with his paws on a table at one point, Conner said. But his internal injuries worsened and he died about 10 minutes after his handler left him Tuesday night, Conner said.
Miller transferred to the Normandy police department in December 2016 after serving with Argo in Ferguson for about six months.
Argo could track suspects, search for drugs or other evidence and search buildings. He was most known for alerting officers to $150,000 inside a vehicle during a traffic stop because the money smelled of narcotics, Conner said.
He was one of two Normandy police dogs. Officers brought the department's second dog, Toma, who started in March, to see Argo's body Wednesday to say her goodbyes.
"She's been whimpering ever since," Conner said. "The idea is to let her see him so she knows and it gives her some closure," Conner said.
A line of police and fire trucks escorted Argo's remains from a vet's office in Manchester to Baue Funeral Home at St. Charles Memorial Gardens on Wednesday. Some fire departments hung American flags from their ladders above overpasses along the route, much as they do during funerals for fallen first responders or veterans.
Dispatchers then gave Argo a final call out at the funeral home.
Normandy's police canine unit is paid for by donations. A GoFundMe account started to pay for Argo's medical expenses reached about $4,400 Wednesday.
The department plans to start raising money to get another dog, which can cost as much as $16,000, Conner said.
Conner said Miller is devastated by the death of his partner, as is the entire 31-officer department in north St. Louis County.
"These dogs are like our kids, and unfortunately we see them more than our families sometimes," he said. "They fearlessly go into those dark places that we don't want to go.
"Without fear."
©2017 the St. Louis Post-Dispatch
McClatchy-Tribune News Service