Off-duty Chicago cop shot outside home was set to retire
Duty Death: Michael Bailey - [Chicago, Illinois]
---
By Frank Main, Mark Konkol, Fran Spielman, and Kim Janssen
The Chicago Sun Times
Police Officer Michael Bailey was less than a month away from retirement when he ended an overnight shift guarding the mayor's home early Sunday morning.
The 62-year-old had recently developed a routine: He'd park outside his South Side home, lock his bulletproof vest in the trunk and wipe down the shiny black Buick Regal he'd bought just three weeks ago to celebrate the quieter life he was about to enjoy.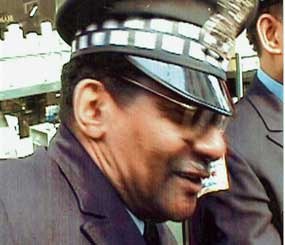 He never got the chance.
Gunned down in an apparent botched robbery just steps from his front door as he cleaned his car in the 7400 block of South Evans at 6 a.m., the devoted father of three is the third Chicago Police officer to be shot dead since May 19 and the latest victim of the worst two-month run of fatal gun violence against the city's police in 40 years.
"His daughter came running out of the house, saying, 'Daddy's been shot!' " said Ryane Cook, who lives across the street from the Bailey family and was awakened by the sound of gunshots.
As Bailey lay bleeding through his police uniform, Cook struggled unsuccessfully to find his friend's pulse. Bailey was declared dead less than an hour later at Northwestern Memorial Hospital.
Detectives Sunday night were hunting Bailey's killer, who escaped without the Buick police think he may have been trying to steal. Police did not provide a description of the suspect or suspects.
Bailey managed to fire his service weapon at the gunman, but it's unclear whether anyone was wounded, sources said. Bailey's son ran from the family home with another of Bailey's guns, shouting, "My father has been shot," but it's also unclear whether the son fired any shots or how many people were involved in the attempted holdup, the sources said.
Mayor Daley described the slaying as "absolutely outrageous." He paid tribute to the officer who'd been protecting him hours earlier as "a good man," saying he knew Bailey and that his death was "a tragic, stunning reminder of the senseless violence that stalks too many of our neighborhoods."
Just last Thursday, a memorial service honored Officer Thor Soderberg, who was shot to death July 7 in a struggle outside a police station in Englewood. And May 19, Officer Thomas Wortham IV was off duty when three men tried to steal his motorcycle outside his parents' home in the Chatham neighborhood, officials said. Suspects in both shootings have been charged with murder.
At least 40 people were shot in Chicago between 5 p.m. Friday and 10 p.m. Sunday, officials said.
Bailey -- a 20-year veteran whose daughter is a Chicago Police cadet -- was assigned to the downtown Central District and was not a regular member of the mayor's official security detail, sources said. He was due to retire Aug. 14, when he would have reached the mandatory retirement age of 63.
Evidence technicians Sunday afternoon dusted the Buick for prints in front of stunned onlookers.
Three guns, including the suspected murder weapon, were recovered at the scene, sources said.
Neighbors who knew Bailey as "Big Mike," the vice president of the block club, said he was committed to protecting the Park Manor community.
"Big Mike was the guy who kept this block straight," said Safia Malik. "As long as you stayed away from the front of his house and off the grass, you were OK.
"This neighborhood has fallen. This is random violence -- everybody knew who Big Mike was."
Another neighbor, Lillian Nix, said it was no longer strange to be awakened by gunfire: "Ten years ago it would be unusual, but now there's often shots in the morning and even in the middle of the day."
Bailey's cousin Orah Mahon said Bailey could have chosen to "run away" to a safer neighborhood, "but he stayed here because he wanted to help."
And Capt. Joe Boisso -- Bailey's supervisor -- said Bailey was a proud cop who had mixed feelings on retirement. "He said: 'I really don't want to go,' " but ultimately was looking forward to having more time with his family, the captain said.
A tai chi devotee who taught classes, he'd give his boss advice on his posture, Boisso said. "He gave me a 12-by-12 piece of wood and told me to put it on my head, and when I can walk around without this falling off, my posture was in line,'' Boisso recalled, laughing.
"It's still kind of hard to believe that he's never going to be back.''
"That you would shoot a policeman in uniform outside his own house . . . it's scary.''
Bailey's longtime pal Stephanie Tatum, who works as a sexual-violence educator, was among those struggling to understand the murder. She described him as a "great person" and "a Zen master."
"I don't believe it. You never think it would have happened," Tatum said. "He made it this long. They are just killing cops like they are crazy."
Rosemary Sobol, Cheryl V. Jackson, Francine Knowles, and Sally Ho contributed to this report.
Copyright 2010 Chicago Sun-Times, Inc.