3 ex-Pa. officers get 5 years of probation in 8-year-old's shooting death
The officers were returning fire at a vehicle that was shooting at them when they unintentionally struck the girl with a stray bullet that flew into a crowd
---
By Maryclaire Dale
Associated Press
PHILADELPHIA  — Three fired police officers who pleaded guilty to misdemeanor charges in the death of an 8-year-old girl killed when they opened fire outside a high school football game near Philadelphia have been sentenced to five years of probation — the first 11 months of it on house arrest.
Former Sharon Hill officers Brian Devaney, Devon Smith and Sean Dolan had each pleaded guilty to 10 counts of reckless endangerment. Authorities said they could not determine which officer fired the shot that killed Fanta Bility on Aug. 27, 2021.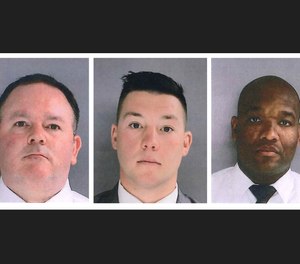 An investigation found the officers negligently fired 25 shots at a car they mistakenly thought was involved in gunfire that broke out as spectators left the football game in 2021.
Bility had attended the game at Academy Park High School with her mother and an older sister who was grazed by a bullet. In all, four people were hit by police gunfire that sped past the car.
The sentencing Friday capped an emotional 90-minute hearing during which the defendants spoke directly to the extended family, who had immigrated to the U.S. to seek safety from war-torn Liberia.
Smith, 35, a native of Jamaica, said he had met Fanta and her brother at a playground when they were playing basketball one afternoon, and later spoke with her several times as he patrolled the area. The family said the boy no longer wants to go to the playground in the wake of his sister's death.
"She would come up to my vehicle, we would stand there and talk," Smith told the family as he offered condolences and an apology.
"She would express to me that she felt good whenever I'm working," he continued. "I am a father of three. I can't imagine the pain and agony you feel every day."
The family said several siblings are dealing with survivors' guilt, and that their still-evolving grief takes many forms. Still, they accepted the officers' apologies and extended forgiveness, staying behind in court for a few moments afterward to hug the three men and wish them well.
"The conduct that placed me before your honor was a split-second decision," Devaney, 43, who had been a school resource officer at Academy Park since 2013, told the judge. He said he wasn't scheduled to work that night, but wanted to see the students set to return to school that fall after pandemic-related closures.
Dolan, 26, had joined the Sharon Hill department just weeks earlier after graduating from the state police academy. He now installs heating and air conditioning systems, his lawyer said.
"I was trying the best I could to do the right thing, and came up short. For that I am truly sorry," said Dolan, who, like Devaney, comes from a family of police officers.
District Attorney Jack Stollsteimer had charged two teens who engaged in gunfire a block away — which prompted the police response — with the child's death. Those charges were later dropped. After a grand jury investigation, the officers were instead charged with voluntary and involuntary manslaughter along with the endangerment counts.
The reckless endangerment charges carried a maximum term of up to two years in prison on each count in Pennsylvania. Devaney was not wearing a body camera that night, and the other two officers did not turn their cameras on, investigators found.
The November plea agreements that dismissed the more serious charges came after consultations with the Bility family. Fanta died in the arms of her mother, Tenneh Kromah.
The family said it was important that the officers be held accountable for the girl's death and the trauma they experienced witnessing it. They have a federal lawsuit pending against the defendants and the Sharon Hill police department.