La. man accused of killing US marshal dies
Deputy U.S. Marshal Josie Wells died Tuesday in a shootout while trying to arrest the fugitive
---
Associated Press
BATON ROUGE, La. — An official says the man accused of killing a deputy U.S. marshal in a Louisiana shootout has died.
Shane Evans of the East Baton Rouge Parish Coroner's Office tells The Associated Press that 31-year-old Jamie D. Croom died early Wednesday morning.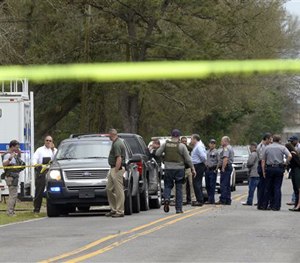 Deputy U.S. Marshal Josie Wells died Tuesday in a shootout on the outskirts of Baton Rouge while trying to arrest Croom.
Croom was hit in the shootout and taken to a hospital. Officials say he was wanted in the Feb. 20 shooting deaths of two siblings outside a nightclub in New Roads, about 20 miles from Baton Rouge.
Wells was 27 and assigned to an office in Mississippi.
The last time a deputy marshal was killed in the line of duty in the U.S. was 2011.
Copyright 2015 The Associated Press
Copyright Associated Press. All rights reserved. This material may not be published, broadcast, rewritten, or redistributed.