Man pleads not guilty to killing La. officer
Authorities say man managed to get his cuffed hands from behind him to the front and shoot the officer
---
By Kevin McGill
Associated Press
NEW ORLEANS — A man who police say shot and killed a New Orleans officer despite being handcuffed in the back of a police vehicle while being taken to jail pleaded not guilty Monday.
Travis Boys, 33, appeared before Judge Karen K. Herman to enter a plea in the death of Officer Daryle Holloway. Boys wore a black bulletproof vest over orange coveralls and was flanked by two Orleans Parish sheriff's deputies as he sat and waited for his turn to enter a plea.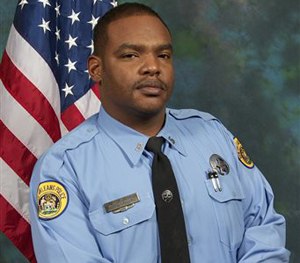 Boys did not speak during the brief hearing.
Police are still investigating what happened on the morning of June 20 when Boys was being transported from a precinct to central lock-up by Holloway.
Authorities say Boys managed to get his cuffed hands from behind him to the front and shoot the officer. They are investigating where Boys got the gun and have said it was not the officer's weapon. Boys then managed to crawl into the front seat and escape the vehicle, police say.
Boys was caught a day later after an intense manhunt, still wearing his broken handcuffs.
District Attorney Leon Cannizzaro has rarely asked for the death penalty since taking office in 2008 but is pushing for the death penalty in this case.
Following Holloway's shooting, there has been an outpouring of support for an officer who was widely praised for his sense of humor and connections with the community.
But there also have been questions about how a man who'd been arrested and frisked managed to get a gun in the back of a police vehicle, shoot and kill an officer and then elude authorities for 24 hours.
Boys' family released a statement of sympathy for Holloway Sunday and thanking the dead man's family for their support. During an earlier memorial service for Holloway, his mother had asked the crowd to pray for Boys' family.
"We cannot imagine the sorrow and heartache we know Officer Holloway's family and children must be feeling, and we are deeply sorry for their loss. We are very moved by the grace of Officer Holloway's mother to ask the community to hold us in its prayers," said the statement released through Boys' public defender on Sunday.
Copyright 2015 The Associated Press