Rapid Response: Roadway incidents are a hot zone for police, fire and EMS
Multiple roadway LODDs in early 2020 are tragic reminders of the importance of time, distance and shielding to reduce hot zone risk
---
The 'routine' nature of traffic stops and accident response obscures the fact that roadway operations are inherently dangerous for law enforcement officers. Reducing the risk associated with LE roadway ops starts with understanding the problem and incorporating the latest technology and research to improve response. Watch this on-demand free webinar in which Lexipol's Gordon Graham and a panel of experts detail how your agency can take steps to make the roads safer for officers. Click here to view.
What happened: Multiple public safety professionals have been killed while responding to roadway incidents in the first two weeks of 2020. Paramedic Supervisor Matt C. Smelser, 44, was killed on Interstate 70 on January 6 in Pennsylvania while attending to an injured person. Smelser was struck by a tractor-trailer shortly after exiting an ambulance. This was a different incident than the widely reported multiple vehicle collision that killed five people and injured at least 60 on the Pennsylvania turnpike early that same morning.
Police officer Nicholas Reyna, 27, and Lt. David Eric Hill, 39, a firefighter/paramedic, were killed and another firefighter/paramedic was injured as they worked the scene of a crash in icy conditions on January 11 in North Lubbock, Texas. The injured firefighter/paramedic is reported to be in critical condition. The three responders were struck by a vehicle coming from the opposite direction that crossed the median.
On January 12, a police officer was critically injured after an intoxicated driver struck his vehicle. The officer was inside his cruiser, assisting with traffic control for storm damage clean-up when the cruiser was struck. The officer is reported to have sustained a concussion, fractured pelvis and fractured tailbone.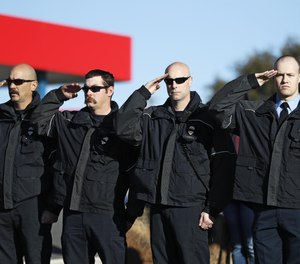 An off-duty Los Angeles County Sheriff's Department detective, Amber Leist, 41, was struck by a vehicle on January 12. Leist was returning to her vehicle after helping an elderly woman who had fallen in the street safely across the street. She died of her injuries after being transported to a nearby hospital.
Why it's significant: Each of these incidents is an unspeakable tragedy for the family, friends and colleagues of each person killed. Taken together, they are a consequential reminder of the dangers of working on the roadway, on- or off-duty, inside a vehicle or out in the elements.
Smelser was the first EMS provider killed in the line of duty in 2020. Hill also has the unfortunate distinction of being the first firefighter LODD in 2020. Officer Reyna is already the third police officer LODD of the year. There is much we still don't know about these incidents and our thoughts are with the family, friends and colleagues as they mourn their losses.
Top takeaways: Firefighter/paramedic Steve Whitehead has repeatedly said, "The roadway is the most dangerous environment" for EMS providers, as well as firefighters, police officers, tow truck operators, construction workers and stranded motorists. Each of these LODDs is a terrible reminder of that danger and should cause all of us to take a moment to honor their life and service by reviewing how to reduce the risk to ourselves and others when responding to a vehicle collision or other roadway incident through time, distance and shielding:
1. MINIMIZE ON-SCENE TIME
As you approach the scene, pre-plan with your partner based on dispatch information, scene reports from other responders, and what you are able to see, hear or smell to spend as little time as possible on or adjacent to the road. Make every action urgent and purposeful until you are able to move out of the hot zone by exiting the freeway.
2. MAXIMIZE DISTANCE FROM MOVING VEHICLES
Learn and adapt the principles of traffic incident management to your jurisdiction. One of the most important actions is upstream notification of drivers that they are approaching a vehicle collision. Signs and vehicles need to urgently and repeatedly warn drivers to move over and slow down.
Once at the incident, perform all duties as far from the centerline as conditions allow. Drunk or distracted drivers, traveling too fast for conditions, often over-correct their steering and braking, losing control of their vehicle. Once the driver loses control, any person or vehicle in their path is at risk of being struck.
3. MAXIMIZE SHIELDING FROM ALL VEHICLES
If a blocking apparatus is available, park downstream of that apparatus. Two or three blocking apparatus might be even better. Use what's available to you.
Don't forget or overlook the risk from vehicles in the opposite direction of the travel lane. Rubbernecking changes the flow and speed of traffic, causing drivers to make poor decisions, act abruptly or slow their speed too late.
It's better to be in your vehicle – police cruiser, fire apparatus or ambulance – with the motor running and seat belts on, than standing on or near the road. If your vehicle is part of a multi-vehicle pileup, keep your engine running so if you are struck, airbags might still deploy. Direct Good Samaritans back to their vehicles as soon as possible.
Wear or use all department-issued PPE, such as highly visible outerwear, but expect it to provide you limited actual protection. Being visible from 500 feet matters little to a hydroplaning vehicle moving at 70 miles per hour.
What's next: The roadway is always a hot zone, even when traffic is light and conditions are ideal. Physics, weather, driver sobriety, driver distraction and common sense are working against you. Be purposeful and urgent in your actions to reduce the risk with time, distance and shielding.