Off-duty Ohio 'supercop' kills robber
---
By Sarena McRae and Patrick O'Donnell
The Plain Dealer
CLEVELAND, Ohio — A 35-year veteran Cleveland police officer known by neighbors as Supercop shot and killed a man suspected of robbing a KeyBank on Wednesday afternoon on the city's near West Side.
The officer, James Simone, 60, was off-duty when he happened upon the robbery, chased the suspect and shot him as he attempted to escape.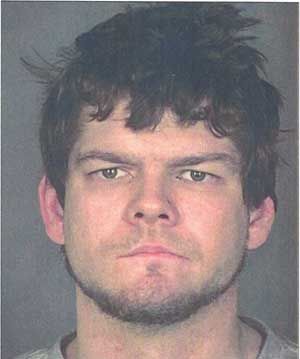 This image, supplied by the Cleveland Poilice Department, shows a Dec. 12, 2001, mugshot of Robert Hackworth, 35, who was shot and killed Wednesday, July 9 in Cleveland by a 35-year police veteran James Simone, 60, known as "Supercop."
(AP Photo/Cleveland Police)
The 35-year-old suspect, Robert Hackworth, who lived on a nearby street, died at the scene.
"I don't know what the officer saw, what the officer was confronted with," police spokesman Thomas Stacho said. "Certainly, he felt the need to use deadly force. He acted heroically. This was an officer off-duty by himself who confronted a male who had just robbed a bank."
Simone has been involved in at least 10 shootings in his years on the force, has been shot himself and has been injured when his cruiser was hit during a stop.
He has been named patrolman of the year and awarded a medal of valor, in addition to being honored by Mothers Against Drunk Driving for issuing dozens of citations.
Simone, who is known around the neighborhood, had walked into the bank in a strip mall on Fulton Road at Memphis Avenue about 3:30 p.m. to cash his paycheck when bank staff informed him they had just been robbed.
After seeing a man running from the bank, Simone chased him on foot as he headed south on West 52nd Street.
A woman driving by volunteered to drive Simone as he chased after Hackworth. Steve Loomis, head of Cleveland Police Patrolmen's Association, said a dye pack in the $2,000 Hackworth stole had exploded, making it clear he was fleeing a robbery.
According to Stacho, Hackworth ran a few houses up the block when the car with Simone in it pulled up. Stacho said Simone got out of the car, confronted Hackworth and shot him in his side. Hackworth then drove away in a truck he had waiting. Simone stayed in close pursuit.
Mary Jean Zenda was in her driveway just a few doors down from the shooting. She said Simone pulled up in the car and yelled at the fleeing man.
"He said, 'This is an officer, freeze,' " she said. "He shot while the guy was trying to get in his truck."
Hackworth drove the truck south on West 52nd Street and attempted to turn at the Woburn Avenue intersection, but crashed into a telephone pole. Simone, who was following in the car, stopped and removed him from the truck. Hackworth died at the scene.
The suspect had taken the truck from a local car dealership for a test drive and parked it on West 52nd Street before he went into the bank. It was not severely damaged in the crash.
Police have not recovered a weapon from Hackworth nor the truck, Stacho said. Loomis said the suspect did not show a gun in the bank but threatened that he had one.
Stacho said police believe the suspect was acting alone.
After walking through the chase scene with investigators, Simone left with Loomis and declined to comment.
Loomis said Simone was upset about the shooting, but called it justified because Hackworth was reaching inside the truck. Though a gun was not visible, he said, Simone had no idea what he was reaching for.