Officer killed in SC airport shooting mourned by family, coworkers
Officer Jackson Winkeler is remembered for his dedication and infectious personality
---
Noah Feit
The State
FLORENCE, S.C. — Jackson Winkeler was mourned Monday as a kind and caring person with an infectious personality.
A day after he was killed in the line of duty, the airport public safety officer was remembered by those who knew him.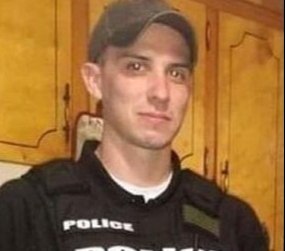 "Officer Jackson Winkeler brought so much joy to our work family," Florence Regional Airport Director Connie Anderson said in a news release. "His contagious laughter and infectious personality had the ability to brighten a room when walking in the door and he will forever impact those of us here at the Florence Regional Airport who had the pleasure of working with him."
Winkeler, 26, was shot Sunday morning during a traffic stop on airport property, South Carolina Law Enforcement Division spokesman Tommy Crosby told The State.
The man suspected in the shooting, James Edward Bell, was arrested by sheriff's deputies, and the 37-year-old is being held at the Florence County Detention Center, according to SLED.
Jail records show Bell is being held for armed robbery with a deadly weapon, but Crosby said more charges are expected to be filed Monday.
Winkeler's sister Adrienne Cook shared her heartbreak in a Facebook post, where she called the shooting "a senseless, heinous act."
"The person who did this took the last son my parents had. Took the last brother I had. Took my kids uncle. Took a friend to many. Took a young man who had such a bright future ahead. An innocent man, just doing his job," Cook said in the post. "My parents have already endured losing one son in 2001 and now they have to go through this all over again."
In addition to his public safety job at the airport, Winkeler was also a member of the Latta Fire Department.
The fire department said on its Facebook page that Winkeler was a brother and "a great person that was loved by everyone that knew him."
Today we lost not only a brother but a great person that was loved by everyone that knew him. Please keep his family and friends in your prayers. Rest easy brother.

Posted by Latta Fire Department on Sunday, January 5, 2020
In another Facebook post, Latta Police Department officer Christy Wilkins Smith expressed shock over the death of a peer.
"I may not have known him as well as others but the short time I did know Jackson Winkeler he was a kind and caring person. He seemed to be loved by so many and will truly be missed. You always had a smile on your face and you made sure to stop and speak when passing through Latta," Smith said in the post. "All of your brothers and sisters in blue are heartbroken and in utter disbelief."
That includes the Florence County Sheriff's Office, which is still mourning the death of Deputy Farrah B. Turner. She was one of two law enforcement officers killed and seven injured in an October 2018 shooting.
Florence Police Officer Terrence Carraway also was killed in that shooting, The State reported.
The sheriff's office said the community is again shocked by an act of violence against law enforcement.
"We ask that the community please keep Jackson Winkeler's family, friends, and coworkers in their prayers as they process what has occurred," the sheriff's office said in a news release. "They have our deepest sympathy and we will be assisting them in any way possible."
Cook also asked for support in the form of prayers — for her family and for justice.
"To know him, was to love him," she said of her brother. "A beautiful soul with the biggest heart. Someone who would give the shirt off of his back to help anyone in need."
The shooting remains under investigation by SLED, and investigators are trying to determine a motive, Crosby said.
Winkeler's death was the first officer-involved shooting in South Carolina in 2020, after 45 incidents were reported in 2019, according to SLED.
McClatchy-Tribune News Service