PRESS RELEASE
Former Superintendent of Chicago Police Department Garry McCarthy Joins SceneDoc Advisory Council
---
Bringing 35 years of major city policing experience, including high-ranking leadership posts at NYPD, Newark PD and Chicago PD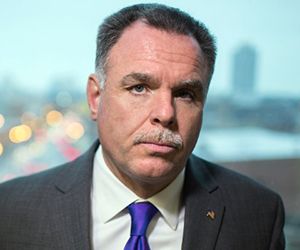 Chicago IL,– SceneDoc, public safety's first all-in-one mobile software for data collection and retrieval, today announces the addition of former Superintendent of Chicago Police Department Garry McCarthy to it's Executive Advisory Council (EAC). Spearheaded by SceneDoc Chairman and CEO Alex Kottoor, the EAC serves to provide industry insight, validate product ideas, and help evolve public safety with the use of the SceneDoc mobile software platform.

"Superintendent McCarthy has had a spectacular career working in some of the most difficult and challenging environments in the country, consistently reducing crime rates at every stop he's made. He is a policeman's policeman, and fully understands the unique challenges faced by front-line officers, supervisors, and executive leadership. We look forward leveraging his experience and expertise as we continue to become the standard in how data is being collected in public safety," said Kottoor.

McCarthy brings 35 years of experience in major city law enforcement, most recently serving as Superintendent of the Chicago Police Department from 2011-2015. Previously he served as Director for Newark Police Department from 2006-2011, under his watch seeing a reduction in murder rates, improvements in efficiency and professionalism, including a 17 percent increase in arrests. Prior to that, he held the rank of Deputy Commissioner of Operations for the New York Police Department, overseeing a reduction in homicide rates while again demonstrating strong leadership as a supervisor while commanding three separate precincts during a five-year period and bringing about significant and positive change.

"Technologies like SceneDoc create real opportunities for police to become far more efficient. And it starts with gathering more and better dots; information is king and critical to intelligence and proactive policing. I have always been a believer that our officers on the front line need access to technology that can help streamline paperwork without the need for laptops and driving back to the station. This by the way, becomes an incredible enabler to community-based policing and directed patrol strategies," said McCarthy.

About SceneDoc

SceneDoc is a smartphone/tablet-based software platform that provides law enforcement and a variety of public safety personnel an extremely secure, accurate and consistent means of documenting crime, accident and other incident scenes. Comprised of a highly configurable mobile application together with cloud-based data backup and administration, SceneDoc is the proven solution-of-choice for governments and enterprises around the globe.

Request more info from SceneDoc
Thank You!