PRESS RELEASE
Flying Cross launches industry's first three-season outerwear garment compatible with external carriers
---
New dutyguard outerwear line offers innovative pullover and modernized duty jacket.
CINCINNATI — Flying Cross announced the release of its new line of outerwear featuring a first-to-market quarter-zip hybrid pullover and a modern version of the classic all-weather duty jacket. The DutyGuard outerwear collection includes the expertly-designed DutyGuard HT (Hybrid Technology) Pullover and the contemporarily constructed DutyGuard ST (Storm Technology) Jacket. Both garments incorporate VaporCore™, powered by 37.5® technology, for regulation of the body's core temperature and offers a solution for common outerwear issues expressed by officers across the nation.  
"For years, duty outerwear has been thought of as a necessity that carries bulk, causing officers to layer and un-layer – simply to address changing temperatures within a single environment," said Angela Milligan, Vice President of Marketing. "Likewise, functional issues have made the use of outerwear less than ideal, especially when wearing external carriers and covers. Not only does VaporCore™ address the temperature regulation issues by enhancing comfort in changing temperatures, but the design and functionality of these two garments were well thought through and field-tested for proven performance."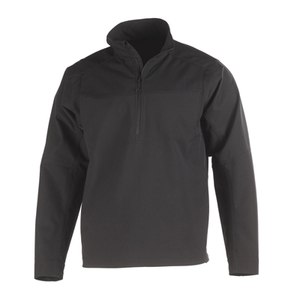 DutyGuard HT (Hybrid Technology) Pullover - The DutyGuard HT Pullover is the first outerwear garment specifically-designed for compatibility with external carriers and vest covers, while still offering essential weather protection. The DutyGuard HT Pullover hybrid design is complete with a waterproof, breathable shell fabric throughout the shoulder and chest area that provides a safeguard from the elements, coupled with knit stretch performance fabric along the torso for comfort under external carriers. This garment also includes uniquely-designed fleece-lined chest pockets, accessible while wearing any external carrier. This feature provides wearers a comfortable, warm pocket to rest their hands while on patrol. The hybrid design is the perfect combination between an outerwear piece and a performance garment.  
DutyGuard ST (Storm Technology) Jacket - The DutyGuard ST Jacket offers the weather protection of a classic duty jacket, reducing the bulkiness often found in traditional outerwear garments. The functionality of the high-performing VaporCore™ fabric technology, along with modern patterning techniques allows this new generation garment to serve as an all-weather outerwear solution. The DutyGuard ST Jacket is a light-weight, waterproof and highly-breathable jacket that can be worn as a standalone rain shell or as part of a layer system with other Flying Cross jackets during cooler months.
The entire DutyGuard outerwear line incorporates VaporCore™, powered by 37.5® Technology which interacts with the body's core temperature, optimizing the personal microclimate level at 37.5°C. This technology keeps the wearer cool, dries five times faster than other performance garments and traps odor throughout the day. VaporCore™ never washes out and is tested to perform at an optimal level close to skin and through multiple outerwear layers. Officer field tests revealed the DutyGuard HT Pullover as having not retained moisture under their external carrier after a long shift; and the wear of the DutyGuard ST to have eliminated clamminess normally experienced in wet and humid climates.
For more information, and to obtain a list of authorized dealers in your area, visit www.flyingcross.com. 

About Flying Cross
Flying Cross is a leader in the design and manufacture of high-quality, precision-crafted uniform apparel for the U.S. Military, Federal and Public Safety markets. Flying Cross is a brand of Fechheimer Brothers Company, which is a subsidiary of the Berkshire Hathaway Company. Flying Cross offers the widest array of stock and custom uniform designs worldwide. Throughout its rich history, Flying Cross has been shaping the way uniforms are made by redefining innovation through function and the use of the most advanced fabric technologies. For more information, visit FlyingCross.com.

Request more info from Flying Cross
Thank You!