Load-bearing vests on display at SHOT Show 2020
Agencies have many choices to select from if considering moving from a duty belt to a load-bearing vest
---
There was a clear winner when university researchers investigated the health benefits of load-bearing vests versus duty belts. You may say goodbye to your belt after you read this article.
One of the most popular articles on Police1 last year detailed how officers who wear their equipment on load-bearing vests experience significantly less hip and lower-back pain. And this article says that the top request to the brass in 2019 was to dump duty belts in favor of load-bearing vests.
There are two main types of load-bearing vests. The first to market were tactical vests designed for SWAT and other teams that needed to carry dozens of heavy specialty tools such as rifle magazines, flashbangs and much more. These vests are covered top to bottom and front to back with MOLLE loops that allow them to be infinitely customized.
The second major type of load-bearing vests are designed to match an officer's underlying uniform in style and color and usually have a smooth back, a false-button front with standard uniform pockets up top, and 2-3 rows of MOLLE loops at the bottom. Some uniform load-bearing vests open at the front using a zipper, Velcro or both behind the false buttons, while others open at the side. Even when a uniform load-bearing vest opens in front, it only opens to an armor carrier underneath, which has a one-piece panel to protect the officer's torso.
While there are a few companies that sell uniform load-bearing vests that cannot carry armor panels, most are designed to carry soft armor panels from the same manufacturer so that the net weight carried by an officer is roughly the same. Most uniform load-bearing vests also have pockets for rifle plates. In many cases, armor panels can be moved from an existing carrier to a new load-bearing vest, providing the same protection. This means that agencies can make a transition to load-bearing vests without buying new armor, although some may want to open bids to move to a different manufacturer.
One important point is to match the carrier material to your uniform material to prevent color shift when they fade differently from sunlight or laundering. Following are some of the load-bearing vest options Police1 saw on display at SHOT Show 2020.
Angel Armor
Angel Armor is known for its QuadCore stretchable cummerbund system with fully adjustable sides and a back-to-front adaptable locking belt cover and the Rise Uniform Carrier (R.U.C.) has the same system. The posts and slots circled in red are magnetic, making it easy to line them up before locking them into place. The vests have 2 or 3 rows of MOLLE on the front, back and sides and larger sizes offer hidden utility pockets on the belt. Internal front and back pockets allow for different sizes of rifle plates.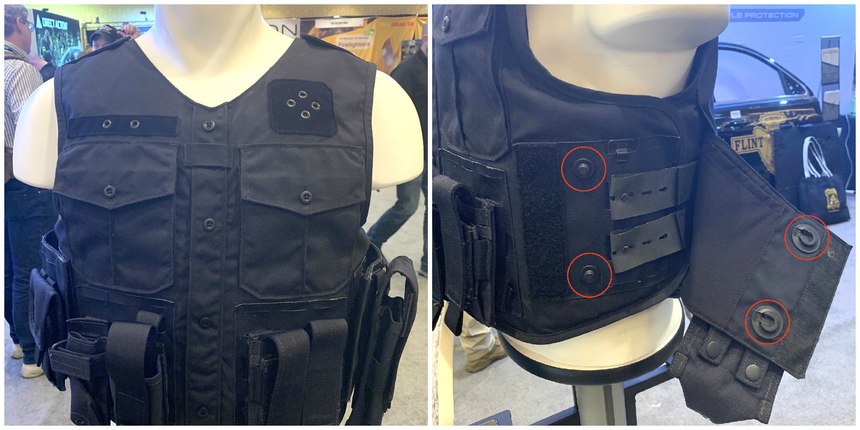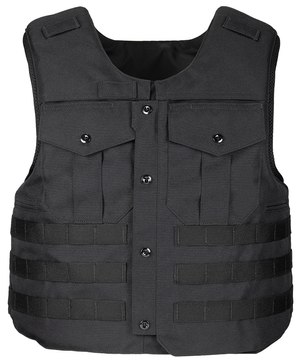 Armor Express
Armor Express offers a handful of dress carriers such as the Dress Vest, Dress Vest GC, and Dress Vest CE. The company's Traverse Dress has an option for 2 or 3 rows of MOLLE, depending on the officer's size, allowing officers to move equipment from their belt to their vest. Armor Express also offers the Hard Core PT for more tactical missions like SWAT, which uses a higher-weight material than the patrol vests for increased load-carrying capability. All have pockets for rifle plates.
The Traverse Dress features dual dress pockets with Velcro closures and hidden accessory pockets behind them. A custom version of the Traverse was done for the NYPD detectives bureau that swaps out the upper pockets for a large "POLICE" banner and has a metallic plastic NYPD badge permanently sealed to the top left side. This vest still retains the 2 or 3 rows of MOLLE.
Armor Express also offers a super-undercover T-shirt carrier and another lightweight vest designed for corrections officers which offers essential puncture protection from prison shanks and spikes.
GH Armor systems
While GH Armor Systems is owned by Safariland, they are separate businesses with different approaches to armor. GH Armor Systems offers six different ballistic panels which vary from value-priced to the more expensive super thin and light multi-threat panels. The company also offers "female-structured" panels, with designed-in cups.
GH Armor Systems sells multiple uniform load-bearing vests; the USC (no MOLLE), USC.M2 (2 rows of MOLLE), USC.M3 (3 rows) and USC.M (4 rows, which also cover the front pockets). All have front and rear internal 5x8 and 8x10 plate pockets, two Velcro-closed upper dress pockets with hidden pockets behind them, mike tabs, an internal cummerbund for secure fit, badge grommets, space for a name tape and are made from 600d polyester.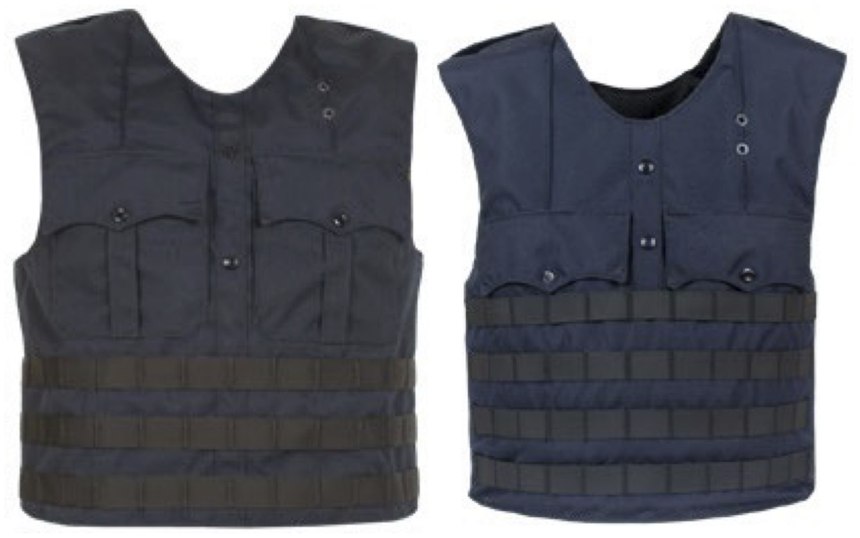 Safariland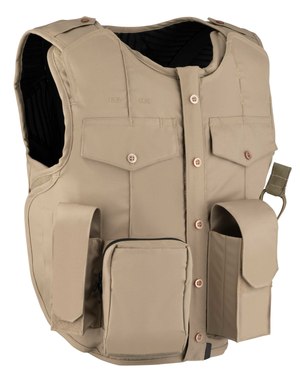 Safariland has several uniform carriers, each tuned to the mission at hand and available in male or female fit. The U1 Pocket is a non-tactical looking, pouch-based carrier available in both right- and left-handed and front- and side-opening versions with an internal cummerbund. The side-opening version offers functional top pockets with Velcro closures. With this carrier, the officer's handgun remains on their belt. The U1-TMW swaps the pouches for 3 rows of MOLLE. Both feature a 10x12 internal pocket for a rifle plate and have two small slotted pockets good for knives or flashlights.
Safariland also developed two custom carriers originally designed for specific agencies; the Bothell and Oregon City and both are available to other agencies. They are overlapped, front-opening load-bearing vests built from 500d Codura fabric. The Oregon City has five rows of MOLLE, flip-down hidden Velcro patch panels above the pockets and the side panels can be extended as officers gain weight before their next fitting. It also has a hydration pouch and internal and external rifle plate carriers. The external carriers are designed for officers who normally don't wear rifle plates allowing loading on the fly when required.
Survival Armor
Survival Armor offers a large selection of ballistic panels. Soft armor can be had in Level II or IIIA ratings. Pictured is the guts of a ballistic panel showing the multiple layers of different materials that stopped an even dozen projectiles from 9mm to a 240gr. .44 magnum.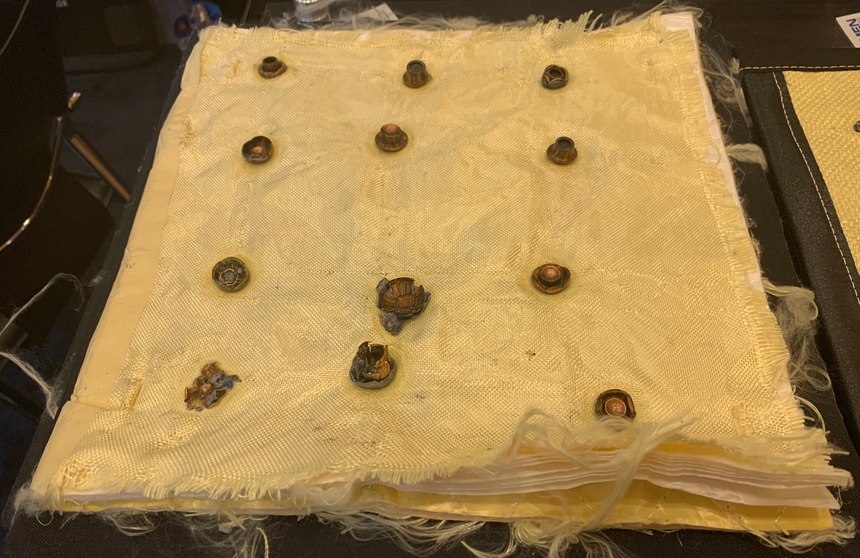 The company's dress uniform carrier features dual dress pockets with Velcro closures and 2-4 rows of MOLLE. The custom RAID vest allows customers to specify which items need to move from belt to vest so that agencies can design and build a custom-fixed pouch configuration.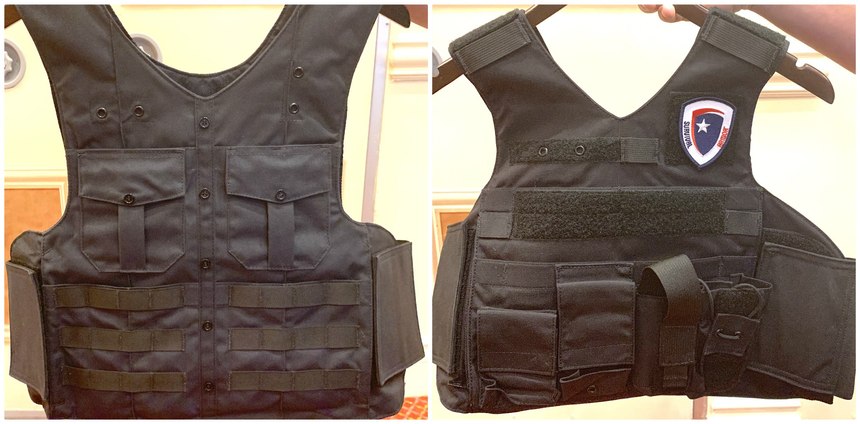 For more information on load-bearing vests or body armor in general, visit the Police1 Body Armor Product Center. The Police1 How to Buy Body Armor ebook is also a great place to begin your agency's next body armor investment.

Request product info from top Police Body Armor companies
Thank You!