PatrolEyes introduces new SC-DV10 wifi body camera
---
ADA, Mich. — PatrolEyes is excited to launch the revolutionary new SC-DV10 WIFI police body camera. Advancements and innovation have catapulted this model to be the lightest and most durable body worn camera built specifically for law enforcement today. Enhanced 1296p super HD video resolution allows the SC-DV10 WIFI to capture every critical detail, while WDR (wide dynamic range) further increases the quality of detail day or night. Thousands of high quality images can be captured with it's 32 megapixel camera and the the ability to snap still images during recording. Spectacular night vision infrared options can automatically give a clear view in any environment at distances up to 32ft. The PatrolEyes SC-DV10 WIFI can be counted on to provide optimal coverage with a 140 degree lens field of view.
"The PatrolEyes SC-DV10 model was built to be the lightest, most durable and user friendly body camera, with the best video and audio quality. The SC-DV10 is extremely easy to use and can record the entire day, states Mike Gramza CEO.
Simplicity of operation makes the SC-DV10 WIFI an ideal companion for any law enforcement official. While in standby mode or turned off, simply press the record button on the camera to start recording. LED indicators and vibration alerts will notify users when recording has started or stopped. Rest assured that no crucial footage will be missed, with a pre and post event recording option. This allows recording 30 seconds prior to the point when the record button is actually pressed, accounting for any brief delay that may occur during critical moments of urgency. All of the data captured will be labeled by time, date and officer ID stamp accurately and safely. Password protection further secures that no data can be tampered with. Seamless review of evidence is capable with the SC-DV10's built in WIFI connection, compatible via smart phone application. Use the app to change settings and customize the device to fit your organization's needs. An included high quality drop-in charging cradle features pogo pin contacts that provide a more reliable connection during charging and data transfer. The optional PatrolEyes 8 camera docking station can streamline this process by allowing for charge and data transfer of multiple devices. While transferring evidence files will have their own unique device ID, log files and video/photo files organized into folders, so you can easily find the data you need. Additional PatrolEyes camera management software can be implemented to expedite the management and transfer of up to 24 SC-DV10 devices simultaneously.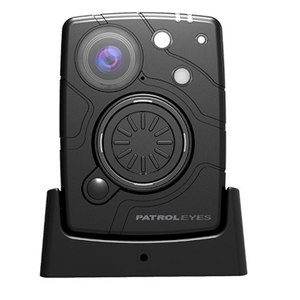 The PatrolEyes SC-DV10 WIFI can more than exceed the shift demands of all law enforcement personnel, with up to 8.5 hours of HD recording time. Large storage space of 32GB can hold hours of high quality video and photo evidence, with the option to double storage space up to 64GB. Additional PatrolEyes Cloud Storage can be used to further store, retain and protect data to adhere to department regulations. Compact design along with a durable drop proof and waterproof outer shell give officers the piece of mind that the camera will function in all elements.
About PatrolEyes
PatrolEyes body cameras by StuntCams are the most innovative cameras designed specifically for police and law enforcement. StuntCams has been an industry leader in the specialty cameras market for years and now has developed the most innovative line of body cameras to date. By paying close attention to each detail the PatrolEyes models by StuntCams are designed to be the most user friendly body cameras with the most advanced features, highest quality components, at the most competitive prices.

Request more info from PatrolEyes
Thank You!