911, what time is it? How smart watches are impacting 911 call centers
911 centers nationwide are struggling with dispatchers temporarily unable to take an inbound emergency call due to calling a 911 hang-up back from a watch
---
Reprinted with permission from IPSA
By Lori Pina
Have you ever tried to find a watch? If not, it is very time-consuming. Dispatching these calls isn't what delays customer service; it is the process of calling back every smart watch-wearing citizen. Although policy varies between 911 call centers, it has the same impact overall, which is a call taker is temporarily unable to take an inbound emergency call due to calling a 911 hang-up back from a watch.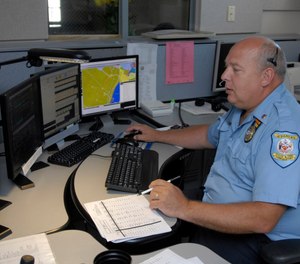 Apple
iWatch and its technology is becoming quite the experience for 911 call centers across the country. If you hold down the side button on the iWatch, it will call 911 with a Wireless Phase 2 location (approximate location of the watch-wearer). For this feature to work, the watch-wearer must be within a Bluetooth connection range to their cell phone or connected to a stronger Wi-Fi.
As the call comes into the 911 call center, it sounds something like this: several voices can be heard in the background, and the call taker is unable to advise if there was a disturbance. However, they have an approximate location (Phase 2).
The call taker will then call back the number associated with the iWatch, and, if lucky, the subscriber will answer and advise their watch called 911 accidentally. If there is no answer, then the call will be forwarded to voicemail. If voicemail is reached, the next step a call taker will implement varies based on call center policy.
Samsung
Samsung technology is entirely different. The smart watch has an SOS feature that will contact up to four people. If the watch-wearer intentionally or unintentionally pushes the side button three times in a row, it will notify up to four people of their approximate location via text message and also provide audio coming from the smart watch. However, no audio will return to the watch (in case the watch-wearer is in an emergency situation). It will continue to update your SOS contacts for up to one hour after with location.
While this is a great function in theory, the functionality has limitations in practice. In theory, the SOS contact would notify law enforcement, fire or medical of the victim's location and advise what is occurring.
However, the 911 call center will receive up to four 911 calls for the same incident, with minimal information. Often, the caller can only advise that their friend pushed an SOS button and give an approximate location.
If the 911 call taker is fortunate enough to find the watch-wearer, they usually discover one of the following:
The individual accidentally sent an SOS call.
The individual was trying to reach a family member that wasn't answering their phone.
A child was playing with the watch.
Unfortunately, most of the time, 911 call takers are unable to find the watch-wearer due to them being in a large crowd, or because the individual just moved on and continued whatever it was they were doing.
Other smart watches
In a 911 call center, we often deal with the Apple or Samsung smart watches but there are other watches that impact the 911 world.
Watches designed for children: The other smart watches use a service such as an alarm company or GPS technology that gets relayed through a parent or guardian. These smart watches tend to be targeted for children and usually have a geofencing technology, which is simply a geographic boundary set up specifically for the watch by the guardian. These smart watches are usually set up around a school, home or park where the child is known to frequent. In a situation involving a missing child or a person with special needs, although a 911 call taker would have to go through a parent or guardian on the account, they could get a decently accurate location for the subject.
Watches designed for the elderly: Smart watches designed primarily for the elderly are usually monitored by an alarm company. When this is the design, the alarm company usually has minimal information, such as the subscriber's address, known medical information and key location. While the alarm company may not be able to give a 911 call taker an accurate phase 2 (approximate location), they may be able to provide medical information that can be relayed to first responders.
Although there are other brands and different types of smart watches on the market, the best practice out there is to be knowledgeable of what your smart watch can do and who you're reaching when utilizing a SOS feature. If it is a third party monitoring the smart watch, such as an alarm company, make sure they know what information you are willing to have released to authorities ahead of time in case of an emergency. In an emergency, seconds make all the difference.
To all smart watch-wearers, figure out what your smart watch can do, so when the seconds matter, 911 call takers aren't wasting minutes to help.
---
About the author
Lori Pina is a lead telecommunicator with the Charlotte Mecklenburg Police Department and a member of the IPSA's 911 Telecommunications Committee. She has been an emergency telecommunicator for the last decade. She began her career with a smaller consolidated agency that dispatched for police, fire and medical and completed all DCI functions. She relocated to Charlotte, North Carolina, in 2014 and subsequently got hired to join CMPD. Pina has been a communications training officer for six years and recently became a lead telecommunicator.

Request product info from top Police Communications companies
Thank You!