PRESS RELEASE
Paladin Debuts Highly Durable, Portable Lighting Solution
---
Now made in the U.S.A., the Paladin Case Light CLU10K provides more durability along with 10,000 lumens of portable light that runs four hours on battery power alone.
ROANOKE, TEXAS – Paladin's unparalleled portable work and scene light was introduced last spring to provide brightness and mobility when it's needed most, and where plugging into an outlet isn't an option. Now, Paladin introduces the new Case Light CLU10K, featuring ultra-durable construction made in the United States of America.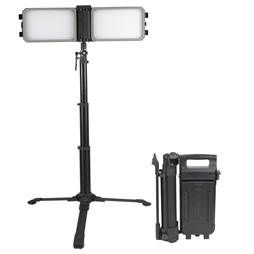 Law enforcement professionals know that emergency situations can be dangerous, especially when dark. At 17.5 pounds and deployable in as little as 15 seconds, the CLU10K is ultra-lightweight and portable so it's ready to go wherever it's needed – for anything from traffic stops and crime scenes to border control and disaster relief – 
providing up to 10,000 lumens of LED light, including a strobe setting, for four hours on battery power alone. 

To increase its durability and water-resistance, Paladin pursued new materials and American manufacturing. Now with a body and light head built from aircraft aluminum, glass-filled polycarbonate, and heavy-duty rubber, the CLU10K can be used in the harshest weather and most extreme temperatures, even withstanding knocks, falls and wet conditions. By eliminating equipment concerns, the focus can remain on the tasks at hand.

"Light exposes hidden dangers to help keep everyone out of harm's way," says Sheriff Tracy Murphree, Paladin consultant and former Texas Ranger. "The ability to quickly and easily turn night into day is critical in law enforcement. At the flip of a switch, CLU10K provides the visibility that's needed to secure a scene or a perimeter and help keep people safer on the job - even in the most remote areas and harsh conditions. That can be life saving."

About Paladin: Paladin, a division of International Development LLC, manufactures innovative vision systems used in industries such as: fire, rescue, law enforcement and construction. Paladin's mission is to provide extraordinary vision so professionals can work more effectively in safer conditions. Products are made in the U.S.A. Paladin is a proud supporter of the National Fallen Firefighters Foundation. For more information about Paladin and its products, visit www.paladinprotect.com.