Streamlight launches TLR-8 A and TLR-8 AG weapon lights at SHOT Show 2020
New lights feature two rear switch position options; each offers colored aiming laser
---
By Police1 Staff
Streamlight Inc. will introduce the TLR-8 A and the TLR-8 A G, featuring red or green aiming lasers, and offering ergonomic rear switch options with either a low or high position to match users' shooting style, at SHOT Show 2020. 
Both lights deliver 500 lumens and feature a rail clamp that attaches and detaches easily from the side of a broad array of compact and full-frame weapons.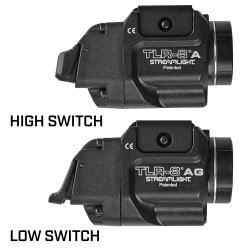 The TLR-8 A and TLR-8 A G feature a power LED that delivers 5,000 candela and 500 lumens over a beam distance of 140 meters. The TLR-8 A offers a 640-660nm red laser to maximize visibility and long-range targeting capability, while the TLR-8 A G features a 510-520nm "Eye Safe" green laser to improve users' ability to focus on targets during daylight hours. Both lights can be deployed in Laser-Only mode to keep the gun on target, in LED-Only mode to provide bright, focused light, or in dual mode, which uses both light sources.
The run time for both lights is 1.5 hours in LED-Only, LED and Laser, and strobe modes. In Laser-Only mode, the TLR-8 A provides a run time of 60 hours, while the TLR-8 A G delivers 11 hours. Each light is energized by a single 3 Volt CR2 lithium battery.
Securely fitting to a broad range of weapons, the new TLR lights feature a one-handed, snap on and tighten interface that keeps hands away from gun muzzles when attaching or detaching them. The lights also include a Safe Off feature, locking them so they cannot be turned on accidentally. A key kit is included to securely fit each light to the broadest array of handguns of any light on the market.
Visit Streamlight in Booth 12562 at SHOT Show 2020.