SHOT Show 2012: MK116 CSAT Rifle from Primary Weapons
---
Firearms companies have long been teaming up with firearms trainers. These partnerships often produce guns built to be better equipped to meet that trainer's specifications. The Thunder Ranch 1911 from Les Baer and the Colt Gunsite Pistol are just two examples.
However, these types of partnerships aren't limited to handguns — we've seen several AR-15 rifles emerge from these collaborative efforts. One such example is the new piston-driven MK116 CSAT Rifle from Primary Weapons.
Located in Idaho, Primary Weapons and is known for making piston ARs as well as a line of very effective muzzle brakes. Paul Howe is a retired U.S. Army Sergeant Major with many years of police and military experience under his belt. Paul is a renowned trainer who owns and operates Combat Shooting and Tactics — CSAT — in Nacogdoches, Texas.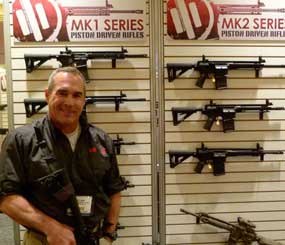 Simple Functionality in a Complete Package
I got the chance to talk with MSG Howe at the 2012 SHOT Show in Las Vegas regarding his newline of rifles. Paul said he was very skeptical at first about the PWS rifle, having had some experience with a piston rifle from another manufacturer. But once he started working with PWS and shooting their rifles, he came to see the benefits of their operating system. He believes the PWS piston system is an improvement over the conventional direct impingement system allowing the rifles internals to remain relatively clean.
He now uses the PWS MK116 CSAT Rifle as his standard-issue training weapon.
The MK116 CSAT Rifle is Paul Howe's idea of what a fighting rifle should be. It is chambered in 5.56 NATO and weighs under seven and a half pounds empty. The gun comes equipped with the excellent Bravo Company Gunfighter Charging Handle, the Viking Tactics adjustable sling, and a Surefire X300 light. The rifle is topped off with a Larue rear sight and Daniel Defense front sight. The rifle and accessories come packed in an Eberlestock pack. The rifle, and its accessories, express Paul's thoughts on simple functionality.
This is a complete package and the rifle is ready to run as delivered.
Just add ammo!