Latest trends in firearms and holsters
The two biggest trends in pistols are red dot sights and higher capacity for concealable firearms
---
For more on the latest trends, visit the PoliceOne SHOT Show 2020 coverage page, where we will feature product roundups and reviews from the largest firearms show in the world, scheduled for January 21-24 in Las Vegas, Nevada.
Starting just a couple of years ago, the two biggest trends in pistols are red dot sights (RDS) and better ergonomics and higher capacity for concealable firearms. As Police1 readers know, many of our columnists encourage concealed carry (CCW) for off-duty and retired cops.
As evidenced by discussions on more than one firearms enthusiast board, RDS-compatible holsters are on backorder from many manufacturers. And worlds collide when concealable firearms, such as the SIG P-365XL, come with a RDS-compatible slide. This leads to holsters designed for CCW, RDS or both.
The biggest problem with RDS is that there is no mounting standard for them, so a slide cut for a Trijicon RMR won't accept a SIG ROMEO1 and vice versa. This lack of a standard forces RDS manufacturers to choose sides when designing their optic. Firearms manufacturers that also make RDS have an advantage because they can sell the whole package. SIG offers the P320 RX pistol with a pre-mounted optic.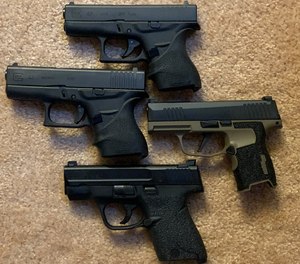 Glock is the first manufacturer to create a slide compatible with multiple RDS mounts by supplying four plates with the Gen4 and above MOS slides. But while Glock sells MOS slides separately in Europe, cops in the USA need to buy a complete firearm. When Aimpoint introduced its Acro P1 RDS, they also announced a handful of firearms adaptor plates, including a Glock MOS-compatible plate.
Concealed carry firearms are accelerating...
Some cops are firearms enthusiasts and always want the latest and greatest. While their agency-issued firearm may stay the same for years, most are welcome to purchase a new off-duty firearm as often as they like. Unfortunately, most basic law enforcement academies do not cover off-duty and back-up gun training. As Warren Wilson points out in this article, there are a lot of reasons to offer such a program to ensure safety all the way around.
Smith and Wesson introduced smaller versions of duty sidearms when the company debuted the M&P shield in 9mm. and .40 in 2012 and followed up with a version in .45 in 2016. But firearms enthusiasts were really excited when the Glock 42 in .380 was announced at SHOT Show 2014 followed by the Glock 43 in 9mm a year later. Just about every deputy in my local sheriff's office had one or the other. Like the M&P Shield, the benefit of these two pistols is that they operate and are field stripped in an identical manner to their on-duty big brothers.
The currently hot CCW is the SIG P365. According to SIG, the company first designed a unique hybrid magazine that could hold 10 rounds (compared to the Glock's 6 rounds and the Shield's 8 rounds), then designed a firearm around it. There is magic afoot because the SIG is the smallest of the bunch.
After the success of the P365, SIG added the P365XL with an extended slide and grip that holds 12 rounds in a flush magazine, and the P365 SAS with a ported barrel and a bullseye fiber sight mounted into the slide rather than sitting on top of it.
...And so are holsters for them
When an officer buys a new off-duty firearm every year, he or she also needs to buy a concealed carry holster to go along with it. Manufacturers are more than happy to oblige.
Holsters are available from companies such as Alien Gear,  Crossbreed, Galco, DeSantis, Gould & Goodrich, and Safariland just to name a few. I also am a fan of the UltiClip to keep my CCW holster discretely in place.
While every cop has their favorite brand and model of holster, buying a new holster every year leads to the well-known problem of "a drawer full of holsters." Alien Gear thinks they have a solution to this problem with its ShapeShift Modular Holster System.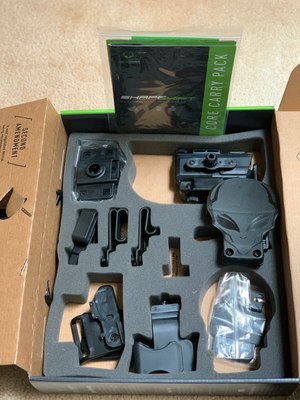 Anyone who has worn a holster knows you need to adapt to it by practicing both quick and stealthy draws, and IWB holsters need to adapt to you by molding to your body. Even if you have always used the same brand and style, a new holster for a new gun still takes time to break in. ShapeShift is a family of breathable neoprene holster "bases" – inside waistband (IWB), appendix carry, outside waistband (OWB) belt slide and OWB paddle – and dozens of firearm-specific holster shells.
To get started, you select left- or right-hand draw and one or more firearms. After a base has broken in to your liking, it takes less than a minute to swap one shell for another. You can carry your 1911 on Monday and your P365 on Tuesday without any additional break in. And when the next hot CCW comes out, a simple shell swap updates your ShapeShift.
The IWB base offers extensive customization with the ability to select the cant of both the firearm on the base and the base on your belt by using different mounting holes for the base and the belt clips. The belt clips are secured by inserting them into the keyed holes and then rotating 180 degrees to lock them into place.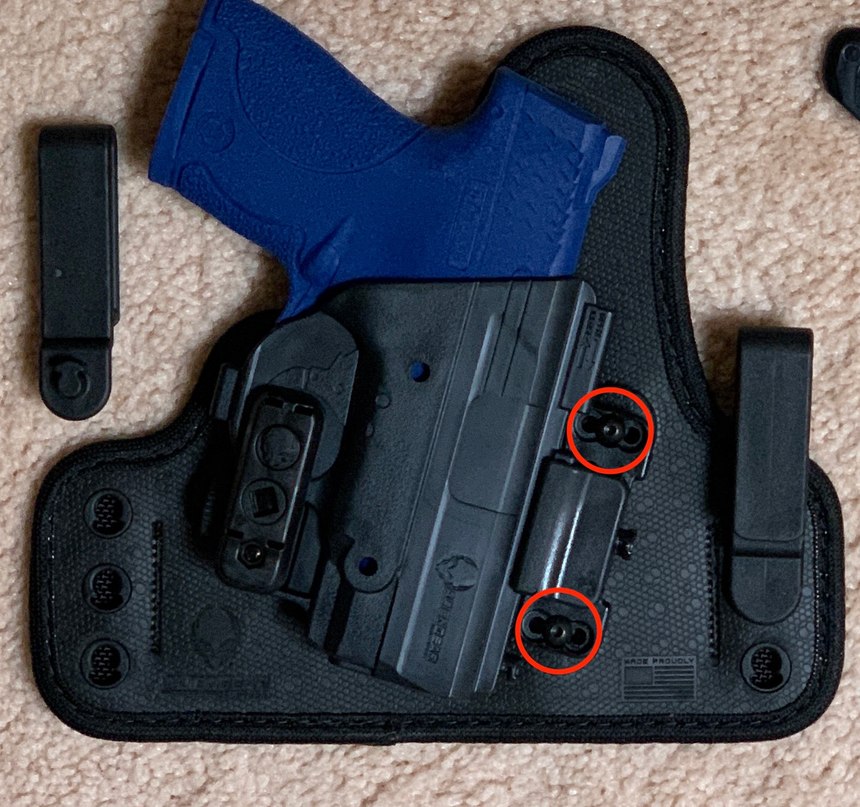 As I said earlier, I am a fan of the UltiClip. While the ShapeShift IWB uses a proprietary belt clip mounting system, once you have settled on the right cant, you can cut holes through the neoprene base and mount UltiClips to it.
Summary
Manufacturers are developing ever-smaller but more capable concealed carry firearms, RDS, RDS-compatible firearms and the holsters to support them. IWB CCW holsters are as personal as underwear and officers need to break in and practice when they buy a new one.
Training is more important than ever. Agencies that don't already offer off-duty and back-up gun training need to start doing so both for safety and legal coverage. Scott Reidy, director of training at SIG Sauer Academy, says officers need a minimum of two full days of training before being let loose with an RDS.
SHOT SHOW 2020
For more on the latest trends, visit the Police1 SHOT Show 2020 coverage page, where we will be reporting from the largest firearms show in the world, scheduled for January 21-24 in Las Vegas, Nevada.
If you are going to SHOT Show, drop by the Police1 booth to say hello, learn how we've secured over $150 million for departments through our Grant Assistance Program, and pick up some P1 swag.

Request product info from top Police Firearms companies
Thank You!