SHOT Show 2016: Crossbreed's new holsters are built for safer concealed carry
While trained and licensed firearms owners and all off-duty LEOs absolutely need to carry, we have a moral responsibility to protect our firearms from misuse
---
In December 2014, a 29-year-old mother was killed when her 2-year-old son grabbed a gun that was in her purse and shot her in an apparent accident. In February 2015, a 3-year-old shot his father and pregnant mother inside a hotel room, again using a gun taken from his mother's purse.
While trained and licensed firearms owners and all off-duty LEOs absolutely need to carry, we have a moral responsibility to protect our firearms from theft and misuse.
Crossbreed has introduced two new members of their modular holster family, the Purse Defender (MSRP $52.95 with holster) and small Purse Defender (MSRP $49.95). The L-shaped Velcro-lined Kydex panel fits securely in your purse or other bag and keeps the gun and purse stabilized. It is available in left or right hand models and can be purchased in a package with your choice of one firearm-specific leather-and-Kydex Handcrafted Modular Holster with a Velcro backing.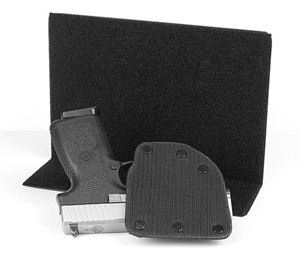 The Pac Mat and mini Pac Mat are similar but are flat so that they can be mounted in a backpack, computer bag, or briefcase.
Other members of the modular holster family include the Belly Band, Bedside Backup holder, Last Ditch, and Modular Mag carriers. The patent-pending Last Ditch is intended to attach to the Velcro portion of an officer's ballistic vest and can be further secured by your vest's elastic closure band.
Just like all Crossbreed holsters, the modular family holsters are designed for specific firearms and retention can be adjusted with a damp cloth and a hair dryer as shown on their website.
While none of these will protect your firearm from theft by a determined individual, they can make it a lot harder for your youngster to grab the gun and take a shot with it.

Request product info from top Police Holsters companies
Thank You!