PRESS RELEASE
EvaClean Inducts New Public Safety Advisor Chief Kevin Molis
---
EvaClean Infection Prevention Solutions teams up with Malden Police Chief Kevin Molis as new Public Safety Advisor to help promote safe environments for officers and communitie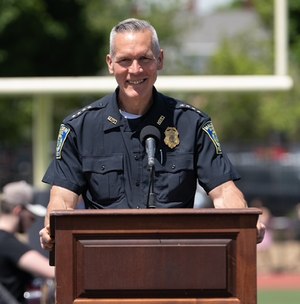 Braintree, MA – October 2022 – Protecting public health and protecting the public's safety are essentially synonymous. Both entail caring for human life. Thus, EvaClean Infection Prevention Solutions made the decision to enhance its advisory board and align with Kevin Molis, Chief of Police for the Malden Massachusetts Police Department (PD), who recently retired after 43 years on the force.
"We are incredibly fortunate to have Chief Molis on our advisory team," said EvaClean CEO Steve Wilson. "He is as passionate about making the world a safer place as we are."
Molis' career in law enforcement is highlighted by many accomplishments. He was the first of a new breed of community police officer assigned to a public high school, where he patrolled 1300 students. Molis spent nine years building awareness of the importance of school safety, identifying at risk juveniles, and stopping trouble before it started. Then he moved to the Malden PD's drug enforcement unit and became part of a new Opioid Task Force to tackle a growing public health crisis. In 2013, Molis was named Chief of Police and for nearly a decade, looked out for the wellness of the entire Malden community until his retirement in mid-2022.
Molis said, "I often asked myself, 'am I doing everything I can to keep a safe environment and protect the public?' Otherwise, I am not living up to my oath and my personal commitment."
This depth of concern is what drew Molis to EvaClean, whose disinfection solutions are specifically designed to make environments safe for inhabitants. Moreover, EvaClean's approach to infection prevention mirrored Molis' own approach to policing—Proactive assessment of emerging threats and early intervention using preventive measures.
"EvaClean's electrostatic delivery system is extremely efficient and the ingredients in their disinfectants don't present harmful effects like other agents, which replace one risk with another," said Molis. "EvaClean provides safer ways to be effective."
As EvaClean's Public Safety Advisor, Chief Molis will focus on promoting safe and effective surface disinfection in public venues and government facilities. He would also like to address the need for safer school environments.
Rich Prinz, EvaClean Global VP of Sales said, "Chief Molis was on the frontlines for many years and faced all types of life-threatening situations like the emergence of the human immunodeficiency virus (HIV/AIDS). He has enormous empathy for human life, which will serve us all well in his role as Public Safety Advisor to EvaClean."
About EvaClean
Originally developed by EarthSafe Chemical Alternatives® in 2016, EvaClean® has become the preeminent solution for safer, more sustainable infection prevention. In addition to a portfolio of advanced electrostatic technologies and EPA approved chemistries with the highest-level kill claims, EvaClean provides customized protocols and training that simplifies processes and improves outcomes. Founder and serial entrepreneur RJ Valentine, together with an exceptional leadership team, built EvaClean into a leading authority on healthier disinfection in all industry sectors worldwide. Learn more at www.evaclean.com and follow us on LinkedIn, Facebook and Twitter.