PRESS RELEASE
National Law Enforcement announces grand opening of museum
---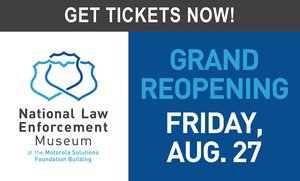 Bring your friends and family to check out the National Law Enforcement Museum! Dedicated solely to American law enforcement, the Museum expands and enriches the relationship between law enforcement and the community by sharing stories of service and sacrifice from across the nation. Through immersive, educational exhibitions and insightful programs, we preserve the history of law enforcement for generations to come.

BUY TICKETS

Our newest exhibit, "Post 9/11: The Evolution of American Law Enforcement," also debuts on August 27th! The Post 9/11 Exhibit will feature the changes law enforcement has seen in intelligence collection, technology, interagency partnerships and information sharing, training and preparation, and community engagement.

DETAILS HERE

About The National Law Enforcement Memorial and Museum

The National Law Enforcement Memorial and Museum, located in Washington, D.C., is dedicated to telling the history of American law enforcement, remembering the fallen and making it safer for those who serve. We show and garner support for the law enforcement profession by permanently recording and appropriately commemorating the service and sacrifice of law enforcement officers on the National Law Enforcement Officers Memorial, the only national memorial to fallen officers in the nation's capital. The adjacent National Law Enforcement Museum tells the story of law enforcement in America through interactive and thought-provoking exhibits and programs.

Visit LawMemorial.org or LawEnforcementMuseum.org for more information.

Request more info from National Law Enforcement Officers Memorial Fund
Thank You!