PRESS RELEASE
Havis Universal Tablet Cradle - Patent Pending
---
Havis New UT-300 Series, the latest in our widely successful Universal Cradles product line, is compatible with numerous 7-9" tablet models, as its designed with ultimate versatility in mind.



Maximize Your Tablet Productivity

The combination of comfort, safety and quality in a truly unique product makes Havis' Universal Tablet Cradle the clear choice.





Configure Your Computing Device Online

Havis docking stations & cradles are available for Apple, Dell, Getac, Lenovo, Microsoft, Panasonic, Samsung and more.




Compatible Tablet Dimensions

Width: 7.00-9.25" (17.8 - 23.5 cm)
Depth: Maximum of 0.79" (2.0 cm)
Height*: Dependent on tablet width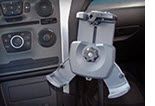 Physical Specifications

Width: 10.1" (26.7 cm) Depth: 7.8" (19.8 cm)
Height: 2.4" (6.1 cm) Weight: 0.6 lbs. (0.3 kg)
Testing: Impact Test - Crash Simulation per SAE J1455
(Forward/Rearward/Side Impact Directions)
Patent: Pending

About Havis
Havis manufactures mobile office solutions for members of public safety, utility and public works, military and government, transportation industries and other mobile professions.

Request more info from Havis
Thank You!