City council delays vote on LAPD robot dog to explore capabilities and criticisms
Opposition has grown, with many critics pointing to problems the NYPD had with their robot dog
---
By Libor Jany
Los Angeles Times
LOS ANGELES — After a lengthy debate, Los Angeles City Council President Paul Krekorian postponed a contentious vote Tuesday on whether to accept the donation of a nearly $280,000 dog-like robot for the LAPD.
"I'd like when it comes back to have the policies that are currently in place before the council as a condition to acceptance of this gift," Krekorian said near the end of Tuesday's discussion.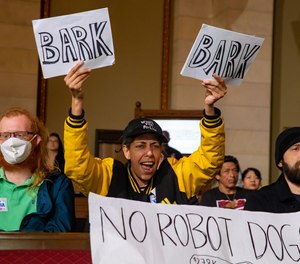 Delaying the vote by 60 days, he said, "would also allow us the opportunity to exhaust every opportunity to have responses to the questions that have been raised about existing deployment capabilities and so forth."
Police officials say that the device, nicknamed Spot, would be deployed only in a limited set of circumstances that require a SWAT team response. Its presence, they argue, would allow authorities to avoid unnecessarily putting officers in harm's way and potentially avoid violent encounters.
Officials said it would be paid for with a donation from the Los Angeles Police Foundation. The city would be on the hook for future maintenance and repairs.
Both the Board of Police Commissioners and the council's public safety committee have approved the move.
But opposition to the robots has grown in the weeks since, with critics pointing to the disastrous deployment of the technology in New York City. Many have questioned the device's public safety implications and worried about the potential for misuse to harm and spy on Black and brown communities.
[RELATED: State your case: Should the NYPD have returned its robot dog?]
Some of those passions spilled into Tuesday's meeting.
Several speakers raised concerns about privacy and data collection during a public comment period.
Later in the meeting, Councilmember Eunisses Hernandez said she worried about future applications despite the insistence of LAPD officials and manufacturer Boston Dynamics that there are no plans to outfit Spot with facial recognition capabilities or weapons.
"This is a product, and products will meet the needs of desires in the future," said Hernandez, a staunch critic of the device who said she plans to vote against the donation. "Why does our Police Department need a piece of equipment that can even have those capabilities in the future? We know that our Black, brown, immigrant communities and our less resourced communities are so often the places where these new technologies are deployed.
Councilmember Traci Park, who voted for the technology on the public safety committee, dismissed the suggestion that the robot would put the department "on a path towards a dystopian, Orwellian future of state surveillance."
©2023 Los Angeles Times.
Visit latimes.com.
Distributed by Tribune Content Agency, LLC.
EARLIER: City council to vote on LAPD robot dog donation despite criticisms
McClatchy-Tribune News Service