PRESS RELEASE
The National Tactical Officers Association (NTOA) opens registration for its 2023 Law Enforcement Operations Conference and Trade Show in Aurora, CO Aug. 27 – Sept. 1, 2023
---
Colorado Springs, Colo., — The National Tactical Officers Association's (NTOA) 40th Annual Law Enforcement Operations Conference and Trade Show will be held in a very special place this year! The Gaylord Rockies Resort & Convention Center in Aurora, Colorado, will host our 40th annual conference on August 27 – September 1, 2023, and we are excited to welcome attendees and their families to this spectacular location.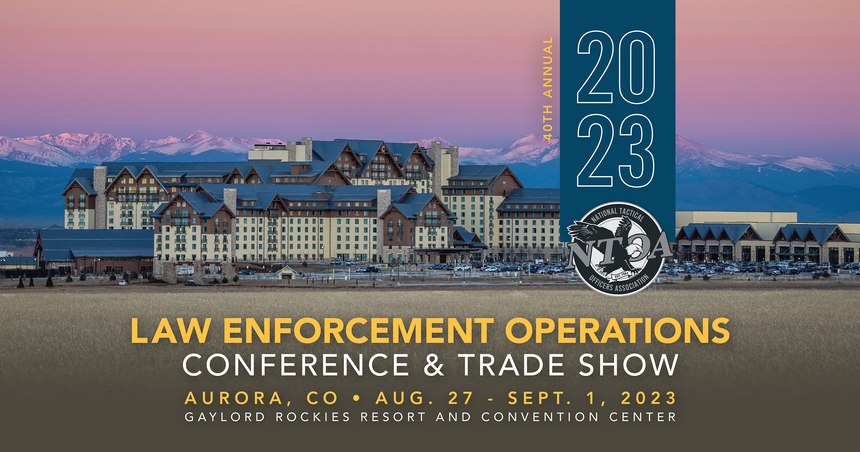 Standing at the edge of the Front Range, Gaylord Rockies Resort & Convention Center showcases Colorado's alpine charm. From Arapahoe Springs Water Park, to an exciting lineup of family-friendly activities and entertainment, there's something for the entire family to enjoy. The beautiful Grand Lodge offers stunning mountain views, five delicious restaurants, bars, a world-class spa and a state-of-the-art fitness center.
As always, this conference will offer an outstanding six-day event featuring more than 100 seminars and incident debriefs that will provide meaningful and high-quality training to help enhance your tactics, leadership and professionalism.
Hundreds of vendors will present the latest in law enforcement technology at our two-day trade show.
This event is the perfect opportunity to refocus and remind ourselves why we in law enforcement do what we do. So, come to our conference to learn and network with your peers, while taking in all the grandeur this mountain resort has to offer!
For more information on the National Tactical Officers Association, visit ntoa.org or call 800-279-9127. Join the NTOA today and start receiving the benefits of better training and stay on top of the ever-changing and challenging world of law enforcement.
About the National Tactical Officers Association
The mission of the NTOA is to enhance the performance and professional status of law enforcement personnel by providing a credible and proven training resource as well as a forum for the development of tactics and information exchange. The association's ultimate goal is to improve public safety and domestic security through training, education and tactical excellence. www.ntoa.org.

Request more info from National Tactical Officers Association
Thank You!