PRESS RELEASE
CPS Energy and Mission Critical Partners collaborate on successful land mobile radio system upgrade
---
New Project 25-compliant regional system dramatically improves communications for San Antonio and Bexar County field personnel, including multiple public-safety agencies
STATE COLLEGE, Pa. — CPS Energy and Mission Critical Partners (MCP) announced today the completion of the Alamo Area Regional Radio System (AARRS), an event marked by the cutover of the final agencies that are joining the system.
MCP was hired by CPS Energy — an electrical and gas utility owned by the city of San Antonio that provides service to the city and portions of seven adjoining counties — to support the procurement and implementation of a new Project 25 (P25), Phase 2 land mobile radio (LMR) system to replace three legacy LMR systems that had become obsolete.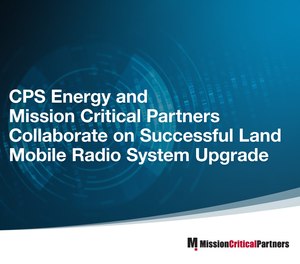 "Field personnel — especially emergency responders — need clear, strong, and reliable communications at all times, wherever they are located at any given moment," said Darrin Reilly, MCP's president and chief executive officer. "We're proud to have played a role in executing an important system upgrade that delivers this vital capability."
One legacy system was owned and operated by CPS Energy. The other two systems were owned by the city and used by its police and fire departments and the sheriff's office, county fire departments, and smaller public safety agencies within the county. The legacy systems all suffered from similar issues, with the most significant including:
Inadequate coverage, i.e., the ability of field personnel to access the system regardless of where they were located.
Inadequate capacity, i.e., the ability of field responders to access the system simultaneously whenever it was necessary.
Inadequate reliability, which largely is a function of the legacy systems reaching end of life. According to the National Public Safety Telecommunications Council (NPSTC), public-safety radio systems should offer uptime of 99.999 percent.
  Specific support provided by MCP during the project includes:
A comprehensive assessment of the legacy systems, which resulted in recommendations about the new radio system, particularly concerning system design
Development of technical specifications for the system
Oversight of all construction and equipment installation, system staging, testing, and implementation
Development of service-level agreements with the selected vendor
Field testing of radio coverage in more than 20,000 1/4-mile and 1/8-mile grids
Assisting with radio cutover, programming, and user training
Returning, replacing, or removing dozens of existing bidirectional amplifiers used in underground areas
The result is a regional P25, Phase 2 system owned and operated jointly by the city, county, and CPS Energy. Seventeen new tower sites were built, bringing the total to 28, which increased the coverage footprint, but, more importantly, resulted in coverage that far exceeds the minimum threshold set for public-safety agencies.
According to Rudy D. Garza, president and chief executive officer of CPS Energy, this radio system partnership shows how local governmental entities can work together to improve regional infrastructure.
"By collaborating with our city and agency partners, we have upgraded technology, created more efficiencies, and increased the reliability of our communications system," Garza said. "Now CPS Energy and our partners can request help from each other in times of critical need without worrying about connection issues. I am proud of the role CPS Energy has played in implementing this radio system that will allow us to better serve our community."
An added benefit is that all agencies now are on the same system, which delivers interoperable communications — critical during multijurisdictional incidents — without needing patches, which are time-consuming and often inadequate and unreliable.
CPS Energy was the first to cutover to the new system, followed by city and county agencies, then by the smaller agencies within Bexar County and the city's water system. MCP will continue to support the project through 2023, primarily helping radio technicians improve their processes and better understand the intricacies and nuances of P25 systems.
About Mission Critical Partners (MCP)
Mission Critical Partners (MCP) is a leading provider of data integration, consulting, network, and cybersecurity solutions specializing in transforming mission-critical communications networks into integrated ecosystems that improve outcomes in the public safety, justice, healthcare, transportation, and utility markets. Our comprehensive experience and vendor-agnostic approach helps us develop modernized solutions for our clients to maximize value and create optimal efficiency while mitigating risk. Additional information and career opportunities are available at www.MissionCriticalPartners.com

Request more info from Mission Critical Partners
Thank You!