Top duty optic options for LEOs
The challenge is choosing from the many quality duty-grade optics for pistols and/or rifles
---

By Jerrod Fraley for Police1 BrandFocus
The days of only having one clear front runner optic manufacturer are long gone. Nowadays, law enforcement officers have multiple choices for quality duty-grade optics to mount on either (or both) their duty pistols and/or their duty rifles. Below are some of the industry-leading optic companies and some examples of their top duty grade optics for law enforcement officers.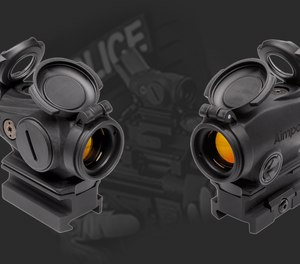 EOTECH
EOTECH has long been producing professional duty grade optics trusted by both the military and law enforcement. Since 1996, their Holographic Weapon Sights (HWS) have been designed, developed and manufactured in the United States. EOTECH chooses to focus on the quality of their products as they continue to innovate and grow, refining their best products and developing new and improved options.
The EOTECH EXPS3 could quite possibly be one of the best CQB optics on the market. The new design uses a single CR123 lithium battery, reducing required rail space to just 2 ¾ inches. Its large tubeless window provides an unlimited field of view from any angle or distance without parallax concerns, allowing for faster and more accurate target acquisition in any CQB environment. It comes with its standard reticle, a 65MOA ring with a 1MOA aiming dot and three side-mounted buttons to let you turn night vision on and off and scroll through 30 brightness settings. Because this optic is designed to be waterproof, fog-proof, dust-proof, and made from super durable MIL-Spec aluminum, it is able to withstand some of the most intense punishment and weather conditions imaginable.
If you find yourself needing to transition from a CQB environment to a mid-range target engagement, consider pairing your optic with their G33 Magnifier with Quick Switch to Side Mount. This rugged, streamlined option allows for split-second transitioning from 1X to 3X magnification with its Quick Switch to Side (STS) Mount. This is their third generation of L3 magnifiers offering more eye relief and toolless windage/elevation adjustments. The new G33 magnifier is shorter and lighter than the G23, and also retro-fits to all current EOTECH HWS models.
When considering a long-range option from EOTECH, consider their VUDU 1-10 x 28 FFP Riflescope LE5 Cross-Hair MRAD Reticle. This scope offers a robust 34-mm, one-piece aircraft-grade aluminum tube anodized for extreme durability. It also has nitrogen gas purging to prevent internal fogging during use within the operating temperature ranges. The VUDU LE5 incorporates the iconic EOTECH illuminated speed ring along with a hashmarked inner crosshair reticle that uses MRAD subtension lines for ranging holdovers and wind compensations. 
TRIJICON
Trijicon has been an industry leader and standard in the optics arena for more than four decades since their inception in 1981. They continue to innovate and provide top-of-the-line optics to both the military and law enforcement personnel, wherever precision aiming solutions are required to protect freedom.
When it comes to the most well-known, household-named pistol-mounted optic, the "RMR" comes to mind.  The Trijicon RMR Type 2 RM06 is a pistol-mounted optic designed to be as durable as the legendary Trijicon ACOG. The RM06 is an LED optic powered by a CR2032 lithium battery, housed in rugged forged aluminum, with easy-to-use windage/elevation adjustment buttons. It comes with a 3.25MOA dot, eight available brightness settings and an auto or manual brightness adjustment setting.
The Trijicon ACOG 4x32 Scope is the long-range counterpart to the CQB driven RMR, and it incorporates dual illumination technology using a combination of fiber optics and self-luminous tritium, allowing the aiming point to always be illuminated without the use of batteries. The ACOG is made from military-grade aluminum alloy, is waterproof up to 30 m, and is nitrogen infused to prevent internal fogging. This optic is rugged, dependable and battle-proven. It utilizes Trijicon's exclusive "Bindon Aiming Concept" (BAC), allowing for a both-eyes-open aiming method that uses scope magnification for quicker target acquisition in any light.
AIMPOINT
Another incredibly well-known name in and around the military, law enforcement and SWAT world for setting high standards is Aimpoint. Since 1974, Aimpoint has been revolutionizing red dot optic technology.
The Aimpoint Duty RDS is a compact, high-grade reflex optic designed to meet the demanding needs of the modern law enforcement officer. It offers a parallax-free 2MOA dot in a pressure-forged aluminum alloy housing to provide incredible durability. The optic uses a single CR2032 lithium battery, and is vibration- and shock-resistant, as well as waterproof and submersible up to 80 feet. The Aimpoint Duty RDS is also fully compatible with all generations of night vision devices.
If you're looking for a patrol rifle optic that is always on and always ready, the Aimpoint PRO may be your choice. This optic sports a parallax-free 2MOA red dot in a hard-anodized 30-mm tube that is ideal for maximum accuracy at any distance under any condition. This optic is extremely rugged and ideal for all real-world conditions and is waterproof up to 150 feet. The Aimpoint PRO operates on one 3V lithium battery and has a 50,000 hour battery life (over five years of continual use).
Aimpoint has recently released its Acro P-2, a fully enclosed emitter optic which incorporates a 3.5MOA red dot from an improved LED emitter coupled with a higher capacity CR2032 battery to provide a 50,000-hour constant-on lifespan. Designed to endure the physical forces generated by semi-auto pistols, this Acro P-2 was built to withstand the extreme shock, vibration, temperatures and material stresses generated by firing over 20,000 rounds.
Leupold
Another well-known red dot sight in the law enforcement and military world is the Leupold Deltapoint Pro. This is an optic designed for those who don't just demand speed but depend on it. Whether it's on the battlefield or on the range, the Deltapoint Pro can take on whatever it's presented with.
The Leupold Deltapoint Pro is available in a 2.5MOA or a 6MOA red dot and is housed in aircraft-grade aluminum made to endure the most intense abuse. It has eight brightness settings and a very large window for two-eye-open target focus and acquisition. Leupold has developed Motion Sensor Technology (MST) to extend battery life by automatically deactivating illuminated reticles after five minutes of inactivity but reactivating instantly as soon as motion is detected. This optic showcases Leupold's waterproof and fogproof technology using advanced internal gases and sealing methods designed to withstand extreme temperatures, elevation changes and shocks.
Holosun
Quickly becoming the most frequently talked about optic brand in recent years is Holosun Technologies. Established in 2013, Holosun Technologies is one of the optic industry's most successful manufacturers, committed to creating innovative optic and laser/IR technologies at extremely competitive prices.
If you're looking for a "cover-all" optic to address any application at an incredibly affordable price, consider the Holosun 507C. This optic features their 50,000 hours of battery life, standard in all of their lines of optics, as well as their Solar Failsafe design and their "Shake Awake" technology. The Holosun 507C also utilizes their parallax-free multi-reticle system, which employs either a 2MOA dot or a 32MOA circle.
If you're looking for a pistol-mounted red dot that requires no battery and adjusts instantaneously to any and all environmental lighting changes, the Holosun SCS (Solar Charging Sight) must be considered. This optic is a direct attachment optic for full-size Glock MOS systems offering the lowest-profile deck height to be used in conjunction with standard-height iron sights. The Holosun SCS combines solar power, rechargeable power storage and an auto-adjusting reticle brightness system with override function to potentially operate indefinitely in any lighting condition. This optic also offers Holosun's multi-reticle system, a 2MOA dot or a 32MOA circle, in a titanium housing for extreme durability.
While there may be other options available to law enforcement officers, these are some of the most battle-proven duty-grade optics on the market.
About the author
Jerrod Fraley is an active-duty patrol officer in Ohio. His assignments have included patrol, detective, FTO, regional SWAT team member and training coordinator, as well as serving as a member of his department's training staff. In addition to his primary duties, he is also a member of the (Ohio Tactical Officers Association) Red Team Instructor Cadre, where he teaches basic and advance SWAT and firearms courses across the state.
Request information from OfficerStore.com
Thank You!