PRESS RELEASE
Learn to Limit Dogs as a Distraction or Threat When on the Job with Management of Aggressive Canines for Law Enforcement
---
Finally a book that teaches officers how to interact safely with domesticated canines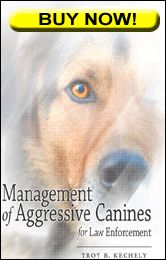 Management of Aggressive Canines for Law Enforcement is the first book of its kind to address the important topic of human/canine interactions specifically for law enforcement.
Officers in tense situations need quick and effective methods to assess dog behavior and employ handling options.  These solutions need to be within the accepted use-of-force parameters which are becoming more and more stringent.
This book gives officers a working knowledge of dogs and suggests situation-appropriate actions.  The text provides detailed explanations of such topics as:
• Canine instinct driven behavior
• Canine communications
• Canine aggression
• Mitigation methods for patrol officers
• Mitigation methods for tactical operations
• Bite incidents
• Handling of dogs
• Training options to help officers be more comfortable around dogs.
With this book, Kechely bridges the gap between the extremes of both sides of the human/canine world.  His focus is not to save all dogs but ensure that officers can safely remove the dog as a distracting factor when interacting with humans, because humans are the main threat to officers.
This compact (8.5"x5.5") book easily rides in your patrol bag for quick reference. With over 100 pages of detail packed information it is an invaluable reference for law enforcement who may encounter dogs.
"This is an excellent book, a very important book, with direct application to any law enforcement agency. In America today, people simply "love" their dogs. Their dogs are members of their families. Their dogs are their kids! Thus, being able to interact intelligently and appropriately with their dogs can be a vital skill. And this book is the key to learning and applying that vital skill." - Lt. Col. Dave Grossman (Author of On Combat and On Killing).
The book originally sales for $24.95 (includes shipping), however for Police1 members the price is only $19.99, plus free shipping in the U.S. Order online at www.think-dog.com and use promo code: P1MACLE at checkout. If you have any questions, please contact thinkdogconsulting@gmail.com.