Why one state LEO training commission chose VirTra for its simulation program
Compatibility with an array of weapons makes the experience more realistic and provides better memory transfer for officers in training
---
Sponsored by VirTra
By Rachel Zoch for Police1 BrandFocus
Creating and maintaining a training program that successfully accommodates a wide variety of agencies, weapons and scenarios is no small task. The Washington State Criminal Justice Training Commission, which runs police academies to train new recruits for law enforcement agencies throughout the state, as well as instructing seasoned officers and police trainers, uses the VirTra simulation system to train nearly 6,000 individuals each year.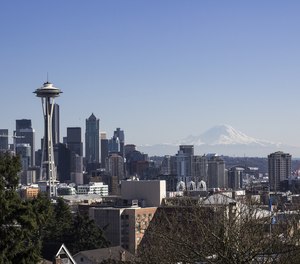 Police1 talked with training specialist and use-of-force expert Todd Brophy, who is second in command of the Commission's firearms program, about why the training center chose the VirTra system and how they use the simulator.
Compatibility a key factor in system upgrade
The Washington State Criminal Justice Training Commission had been using simulation training in its curriculum for two decades but needed to upgrade their outdated system. They wanted both a system that would last just as long to maximize the investment, and more importantly, a system that could accommodate the multitude of agencies and weaponry they serve.
"What made us choose VirTra was the options it had that would enhance what we were currently doing," said Brophy. "We saw there was a lot more application, more realism and opportunity to integrate some of the stuff we saw coming related to force option from verbal de-escalation all the way through lethal force."
He spent a year and a half researching different equipment and products for compatibility with the different firearms and less lethal options being issued by all the municipalities and all the counties across the state.
"VirTra allowed us to select all those different options and have those available in our training scenarios for those individuals when they came in so that there would be transfer learning with their own weapon, their own equipment, so it would all match up," said Brophy. "We're essentially allowing them to operate the same equipment that they would be issued from their agencies."
Compatibility is a big deal, he says, because using the same equipment – without having to make adaptations that make the experience less realistic – provides better memory transfer for the trainees. The upgrade also brought the addition of recoil, something they were not able to do with their previous simulator.
"This system has recoil in it, so they are having to deal with things like recoil management when they are firing the weapons. In more stressful situations, they are also having to wear all the tools on their belt," said Brophy. "One of the benefits of the VirTra 300 is that it has provided a safe environment to incorporate belt training. Recruits are encouraged to carry all their belt tools during the sessions. The concept is that the sooner and more frequently we can get the students accessing different tools – firearm, radio, etc. – the increased familiarization with tool location and acquisition will help the recruit generalize their tool selection skills."
Training with the VirTra system provides the recruits with a realistic environment that includes appropriate cues to practice using all the tools on their belt, as well as verbal communication and environmental awareness, he added. He also says the recruits are asking for more simulation, and to incorporate it earlier in the training program.
"We are looking forward to potentially incorporating the scenes into the recruit's final testing process in patrol tactics," said Brophy. "So now they are being exposed to making different decisions and justifying those decisions in more realistic situations."
Realistic scenarios test decision-making
One of the main goals for the academy is presenting students with realistic or real-life situations where they have to make decisions, as opposed to a "cold" testing methodology – testing a single skill in a very controlled situation with few outside stressors. Brophy says VirTra allows them to do this in a way that promotes both realism and safety during the training exercises.
"The VirTra system allowed for us to open up the environment, so to speak, and to have people move around and point guns without worrying about them muzzling somebody or hurting somebody in that process," he said. "It gets them thinking about possibilities that are out there and makes them have to apply a gamut of skills instead of one specific skill."
Trainers can control the progression of stimuli in each exercise – what the exposure is and when that exposure happens – and then assess the choices made during those exercises to provide feedback in real time or immediately after action to enhance the learning process.
"At the recruit level, we are seeing whether the officers are making good or poor decisions with force selections. We are seeing them incorporate verbal skills as well as having to operate the radio and do some of the other stuff they have to do on the job, so they are getting exposed to the kinds of multitasks that they are expected to do while they are on the road," said Brophy. "On the other side of it, they have to go through and articulate what happened after the fact, when we do the debriefs, and also justify to the instructors why they made the decisions they made."
Simulation training allows students to make mistakes in a safe environment, which can prevent mistakes in the field, says Brophy.
"It allows for those mistakes to happen and get corrected before they are a problem for the agencies that we train for," he said, "and really that's a huge piece of why we implemented this. We want to improve the training in a way that's going to allow for those better choices down the road."

Request information from VirTra
Thank You!