How technology is integrated into armored vehicles
Technology is advancing the communication and data-gathering capabilities of armored vehicles
---
By James Careless, P1 Contributor
Not so long ago, police armored vehicles were all about brute force and little else.
"I remember our department's first armored vehicle," said Captain Ron Taig, investigative division commander at the Livonia (MI) Police Department (part of Metro Detroit), instructor at Tactical Encounters, Inc. and a 30-plus year police veteran. "It was an old Patriot military vehicle that came with a PREP (handheld) radio, and not much else."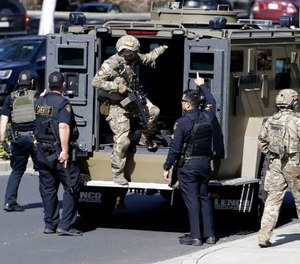 Today, things have changed at the Livonia PD – and definitely for the better when it comes to armored vehicles equipped with advanced technology onboard.
"We now have cutting-edge quality armored vehicles," said Taig. "As a result, we've gone from having really no technology onboard to having an infrared camera for detecting and tracking body heat outside; night vision cameras for seeing in the dark; and sensors on the vehicle to test air quality for toxic substances. We have computers onboard with navigation systems; we've just come so far."
If this isn't enough, the Livonia PD's armored vehicles can remotely control robots, sending them "to safely occupy perimeter positions where we couldn't put operators without risking harm to officers," said Taig. "These machines range from small reconnaissance robots to our larger ICOR-type robots for delivering chemical agents and going into unsecured areas where previously we could only send human operators."
That's not all: "Our armored vehicles can connect to real-time footage from overhead drones to get layouts and observations of things that we could never see before," said Taig. "This gives us tremendous situational awareness of what is happening outside, even though we are inside an armored vehicle."
The vehicles also serve as mobile "protective walls" for advancing officers, protecting them from hostile fire as they close in on active incident scenes.
Taken as a whole, the broad range of technologies supported by the Livonia PD's armored vehicles allows the department to diffuse dangerous situations more effectively, with less harm to officers and the general public.
This was certainly the case earlier this year, when a hostage incident at a local bank was resolved with the robbery suspect eventually surrendering to police, and the four hostages being released unharmed.
"To accurately observe the area using our robots and drones, as viewed inside an armored vehicle, made things so much safer for everyone," said Taig. "In this case, we were able to do our job better, ending the hostage-taking and apprehending the suspect without anyone getting hurt. To have eyes on your people when they are calling in their positions also eliminates the risk of blue-on-blue crossfire."
Today, Taig cannot imagine dealing with serious incidents without access to one or more modern, well-equipped armored vehicles on site.
"If you have more than one armored vehicle in your fleet, the vehicles could be used to block in a vehicle that you do not want to go mobile," he told Police1. "We had a suicidal subject stopped in his vehicle in an extremely busy intersection during rush hour. We closed all traffic and were afraid a pursuit could start. So we blocked in the vehicle on both sides with our armor vehicles and sent a robot up to the vehicle to deploy chemical agent into the car. This ended with a peaceful surrender of the suspect. The vehicle was pinched in and could not flee."
"We have also used our armored vehicles to search open air areas where we could drive and look for an armed violator while our operators were inside of the armored car," Taig added. "Obviously, areas had to be searched on foot, but the armored vehicles allowed us to cover a bulk of the ground protected inside the mobile shield. In the past, that ground all had to be taken on foot. We have also used our vehicles to hold perimeter positions during call-outs for a wide variety of calls"
The bottom line? "Armored vehicles save lives, no doubt about it," Taig concluded. "You need to have one or more technologically advanced armored vehicles in your police department's fleet to deal with threats safely and effectively while keeping casualties to a minimum."
---
About the Author
James Careless is a freelance writer with extensive experience covering computer technologies and law enforcement topics.