Nev. PD offers up to $40K bonus for lateral recruits
The bonus includes a one-time relocation allowance and a hiring incentive for honorably discharged military members or active members of the National Guard or Reserves
---
By Sarah Calams
Police1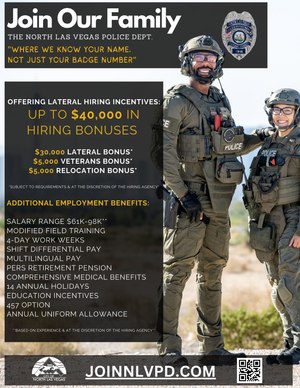 NORTH LAS VEGAS, Nev. — Police departments around the U.S. have been offering incentives for existing officers, lateral transfers and potential recruits to help close the gap of officer shortages. In Nevada, the North Las Vegas Police Department is hoping a big-dollar bonus is enough to incentivize and attract lateral recruits.
The department's latest incentives mean a lateral transfer could earn up to a $40,000 bonus from the department, according to the city's press release.
The latest offer includes:
$30,000 bonus for lateral officers
$5,000 one-time relocation allowance for new hires from outside of the Las Vegas Valley
$5,000 hiring incentive for honorably discharged military members or active members of the National Guard and Reserves
The department also listed other employment benefits, including: a salary range of $61,000 to $98,000 depending on experience, four-day work week, multilingual pay, modified field training, 14 annual holidays, shift differential pay, PERS retirement pension, medical benefits, education incentives, 457 option and an annual uniform allowance.
NEXT: 10 lateral transfer signing bonuses that caught our eye