NYPD gets 900 new recruits amid budget cuts, pandemic
The new officers are the first to join the department since 530 entered the academy in January
---
By Jonathan Sarabia and Rocco Parascandola
New York Daily News
NEW YORK — The NYPD, its headcount sapped by budget cuts and a surge in retirements, got a boost to its ranks Monday when 900 new recruits were sworn in at the Police Academy in College Point, Queens.
The new officers are the first to join the department since 530 entered the academy in January. One class was canceled because of the pandemic, the other due to the $1 billion budget cut that followed weeks of protests in the wake of George Floyd's killing at the hands of Minneapoli cops.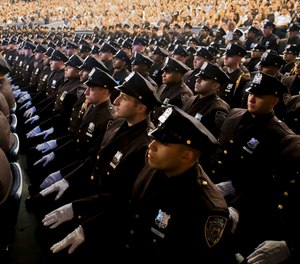 At a time of soaring gun violence in New York, the new class bring the department's head count to about 35,100, a 5% drop from the 36,900 at this time in 2019.
Police Commissioner Dermot Shea didn't sugarcoat the challenges that lie ahead.
"You are also entering the police profession at a very difficult time, a time of uncertainty," he told the recruits Monday as they sat six feet apart at their graduation ceremony. "There's a national conversation going on right now, about what police should look like. I would say to you don't be defensive about it."
"You'll be challenged in ways you never anticipated — don't be afraid to fail."
Shea offered up two pieces of advice: Treat everyone you deal with as you would a member of your family and "never, never, ever underestimate the impact you will have on people that are calling you who have no one else to call."
"You could literally change people's lives," he added.
It'll be six months before the recruits hit the streets full-time, though they will spend some of their training at precincts around the city and could assist with crowd control at major events.
Police said 177 of the recruits are foreign-born and that 27 languages other than English are spoken by the new class, which also includes 214 women.
NEXT: Did it stick? Evaluating police training effectiveness
(c)2020 New York Daily News
McClatchy-Tribune News Service