Why ILEETA is a must-attend event for police trainers
With more than 150 sessions to pick from, the ILEETA conference will change the lives of the people you train
---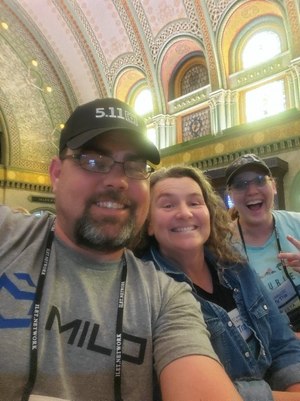 The 2022 International Law Enforcement Educators and Trainers Association (ILEETA) Conference featured some of the most talented and motivational instructors in law enforcement. With more than 150 sessions to pick from, there is something for everyone, as well as 100+ vendors showing off everything from firearms and firearm accessories to clothing, duty belt gear, training mats and interactive training simulators.
A WARM WELCOME
The St. Louis Metropolitan Police Department welcomed ILEETA Conference attendees to the Union Station Hotel by committing academy cadets to assist with setup, rolling out the defensive tactics mats, stuffing gift bags and donating the use of their live-fire range.
Most attendees arrived at the hotel Sunday afternoon before the conference officially began. Kicking things off was a fundraising raffle and silent auction for the Jessica & Kelli Uhl Memorial Foundation. On November 23, 2007, the sisters were killed by an officer traveling at an estimated 126 mph reportedly while using his mobile data computer and talking on a cell phone. Jessica and Kelli's mother, Kim Schlau, now works closely with Below 100 and travels around the country speaking with recruit classes and officers about the dangers of unnecessarily high speed and distracted driving.
ILEETA Executive Director Harvey Hedden started things off Monday morning at the opening ceremonies addressing the logistics of navigating such a large event. Deputy Executive Director Brain Willis gave a motivational talk about how knowledge isn't necessarily power. Instead, knowledge is potential. Brian is a terrific speaker, and the opening ceremonies are always worth attending just to hear him speak.
I was honored to be named by the previous award winners as the 2022 ILEETA Trainer of the Year. I stand on the shoulders of giants. Throughout my career, I have followed and admired many of the past award winners and am honored to have been selected.
EMERSON HOUR
One of the highlights of the ILEETA Conference each year is The Emerson Hour. The Emerson Hour is a dynamic 60-minute program featuring six premier trainers. Ralph Waldo Emerson was known to greet friends with the question, "What has become clear to you since we last met?" Each Emerson Hour speaker has nine minutes to answer this question without the use of PowerPoint, video, or any other visual aids. Participants are kept a secret with only the moderator, Joe Willis, aware of who will be speaking. This year, Mike Huth, Dan Greene, Antonio Zarzoza, Adam Kinakin, Jeff McGill and Graham Tinius spoke. Each delivered an emotional and thought-provoking presentation challenging each of us to be better.
ILEETA EDUCATIONAL SESSIONS
Here's some of the highlights from the sessions I attended at ILEETA 2022.
Tactical yoga: First on my list of must-do classes was Traci Ciepiela's "Tactical Yoga." This class was just what I needed to loosen things up for the rest of the week. This class focused on improving the health of your knees, back, and neck. She brought several alternative methods of improving health such as pain-relieving oils, red light therapy, and spiky massage balls used to target tight muscles. For more information on how yoga can help improve the health of police officers, contact Traci at tciepiela723@yahoo.com.
Practice what you suck at: That same afternoon, we were on the SLMPD range presenting a live-fire class called "Practice what you suck at!" Most instructors and shooters tend to practice the skills at which they excel rather than practicing their weaknesses. Needless to say, most of the class was shot strong hand or weak hand only.
Recognizing threats and patterns of movement in firearms assaults: This course, taught by Joe Ferrera, used data from several studies to perform a task analysis to determine the types of firearms training needed to best prepare officers to prevail. Let's just say it was obvious that proximity negates skill in a vast majority of deadly force encounters. For more information, email Joe@DefensiveTactics.com.
The scoop on the OODA loop: Many officers are familiar with John Boyd's OODA loop, but most think of it as a diagram demonstrating a perception/action sequence. Boyd considered the Orientation phase the most important part of the loop. Duane Wolfe's class on OODA took a deep dive into the Orientation phase components, how they affect officers and trainers, and gave suggestions on using them to increase performance and officer safety. If you're looking to develop a better understanding of the OODA loop, contact Duane Wolfe at policejitsu@gmail.com.
Officer-involved shootings: Noted author and expert Kevin Davis presented a class asking whether agencies are ready to handle officer-involved shootings. Sadly, many police agencies have not revisited their officer-involved shooting policies nor upped their game in terms of advanced training on use of force investigations. Kevin believes OIS investigations must be "system" designed by identifying and incorporating stakeholders in the process. Investigators, police administrators, police associations and unions, prosecutors and civil liability teams must meet to plan the investigative process to eliminate winging it. Kevin believes professional training on use of force investigations can prepare an agency for the ramifications of OIS incidents. Kevin can be contacted at https://kd-forcetraining.com.
Female shooters: Chrystal Fletcher's class on female shooters was designed to get instructors to think about the differences in how men and women think, learn and function in society and on the range. Biological differences extend beyond the obvious and have a direct impact on equipment choices and shooting techniques. She also explored the emotional and psychological responses some may have due to past firearm training experiences. Contact Chrystal at Chrystal@CombativeFirearms.com.
Training on the edge: In this class, Jason Der explored how learning occurs by pushing or altering the edges of our knowledge. He presented ways to use Transformative Learning Theory to push the boundaries of knowledge in new or existing training programs. Case studies and scenarios were used to discuss the different steps for creating and capturing learning. This class created a lot of audience involvement and really challenged our perceptions of how we learn. Jason can be contacted at deputyjd@gmail.com.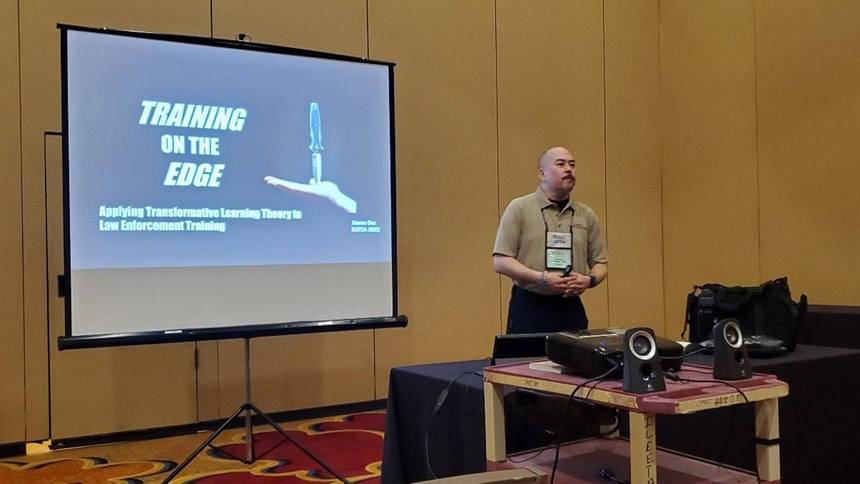 Creating courage in the thin blue line: In this thought-provoking session, Chief Tim Barfield spoke about how cowardly leadership failures from command staff, city administrators, politicians, the media and even officers have forced us to address the leadership vacuum that exists across all parts of society. This class was about developing the moral courage to lead. Challenge yourself to be part of the solution and find out more by contacting Chief Barfield at tbarfield@villageofwellington.com.
Cinematic PowerPoint design: Antonio Zarzoza aka Instructor Z wowed the audience with his talents during his class demonstrating several ways to make PowerPoint presentations more appealing. Antonio is on a mission to help instructors design presentations in a manner that engages the emotional appeal of the audience using five conventions of cinema. He demonstrated how slides can be layered using video, motion and text to capture attention. Instructor Z can be contacted through the University of Texas Advanced Law Enforcement Training Center at antonio.zarzoza@utrgv.edu.
Slide design skills for the real world: According to instructor Dan Fraser, PowerPoint entices you to fill each slide with a title and bullet points. He wants instructors to resist the urge to use a bunch of text. Instead, try to fill each slide with a meaningful image that supports your message. Stick to one idea per slide, and use color, contrast, and size to get the audience looking where you want. You can follow Dan on Instagram or check him out at www.kickasspresentationsbook.com.
Conclusion
As I've said before, the ILEETA Conference is the single best training event of the year, and this year's event was no exception. There were non-stop training opportunities from the time you arrive at the hotel to the time you leave to return home. It's safe to say that everyone left this year's conference exhausted, but I'm confident it also recharged everyone's batteries and motivated attendees to continue improving.
If you're a law enforcement educator or trainer, you owe it to yourself, the people you train and your department to join ILEETA and attend the 2023 ILEETA Conference. It's an amazing event that can change the lives of the people we train. Click here to learn more.