SHOT Show 2020 Preview: New gear and gadgets on display
Get a glimpse of some of the LE products that will debut at the largest event of its kind in the world
---
SHOT Show 2020 is scheduled for January 21-24 in Las Vegas, Nevada. Every year Police1 reviews the newest firearms, protective equipment and tactical technologies for law enforcement and SWAT on display at the largest event of its kind in the world. Check out our roundup of some of those items:
Scope-mounted camera
Originally developed for hunters to share their experience with their friends along for the trek, the TACTACAM camera can be mounted onto a Picatinny rail system or clamped directly to a barrel and supports image stabilization with (1:1), 3x and 8x zoom and slo-mo at 240 fps.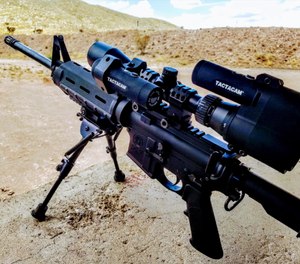 With the Film Through Scope (FTS) adapter, the shooter can share their view through most rifle scopes. The FTS comes with seven plastic adaptor rings that will fit most scopes with a circular eyepiece, which means that it is not compatible with many non-circular CQB, RDS, ACOG or night vision scopes.
Once in place, the FTS adaptor is locked to the scope with two hex screws without marring the scope housing. When properly secured, the system won't be moving around, even after multiple shots on rifles up to a .50 BMG. Some scopes may need to be moved forward on the firearm to retain existing eye relief.
Using a custom USB-rechargeable battery, the IP66-rated, 4K ultra HD camera offers 2.5 hours of operation, recording audio and video on a 128GB microSD and/or streaming it to an app running on an iOS or Android device using password-protected WiFi.
TACTACAM is working with as-yet-unnamed agencies to extend the transmission distance and forward the stream to a command post. But even without an extended range, the TACTACAM is perfect for shot spotters and for missions and training exercises where the recorded video can be used for a hot wash.
A handheld remote can control power and recording for five cameras up to 100 ft away.
The TACTACAM app supports embedding a "red dot" and a timestamp into the video. TACTACAM can be seen at SHOT Show 2020 in Booth 1753.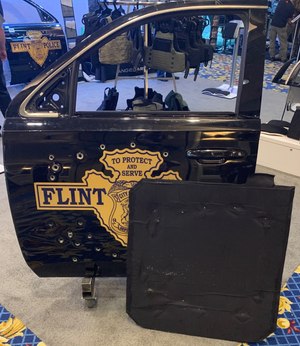 Boxes for phones, armor for people
Many LEOs rely on Otterbox cases to keep their mobile devices safe. The company was founded in 1998 by Curt and Nancy Richardson as a manufacturer of water-resistant boxes for electronic devices. Their sons, Josh and JC, asked what they could do to protect law enforcement officers just as good as their parent's products protect electronics, and in 2013 the two founded Angel Armor.
With vehicle assassinations of LEOs in the news, Angel Armor will be introducing its AVAIL III+ Ballistic Door Panels at SHOT 2020. These panels protect against NIJ Level III rifle threats with additional protection against special threats. Angel Armor can be seen at SHOT Show 2020 in Booth 7511.
Ammo Storage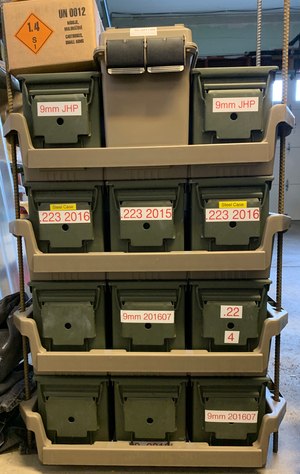 While not nearly as sexy as many products at the SHOT Show, keeping your ammo safe and dry is a must, and the MTM Case-Guard products are perfect for cops to use at home.
Three types of stacking ammo can trays are designed to hold either standard military surplus metal 30 and 50 cal ammo cans or their own plastic 50 cal locking ammo cans. Holes on each corner of the trays allow for the insertion of 3/8" rebar to help hold the trays in place, letting you stack up thousands of rounds of ammo. MTM Case-Gard is family owned and operated and manufactures all of its products in Dayton Ohio. You can see their products at SHOT Show in Booth 16120.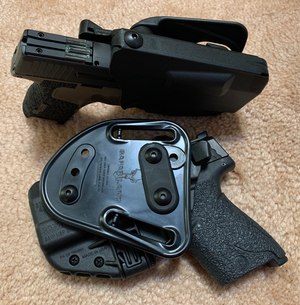 Active retention CCW holsters
In 2018, a dance-floor backflip made the news when an LEO in a Denver bar had his firearm fly out of his holster – and he accidentally shot a patron while retrieving it. Safariland has a solution for breakdance aficionados everywhere with its ALS (automatic locking system) series of thumb-release active retention holsters.
The Safariland Model 7371 7TS ALS holsters are specifically designed for popular sub-compact firearms, such as the Glock 42/43, Smith & Wesson M&P Shield, SIG P365 and many more. With struggles for cops' firearms on the rise, you may want to use an active retention holster for off-duty or undercover use. You can visit Safariland at SHOT Show in Booth 12762.
Weather meters for LEOs
Whether completing an incident report in the office or trying to take a long-range shot, weather data is important to cops. Using an all-in-one weather device that can link to a smartphone app can make either mission easier. Kestrel Ballistics offers over a dozen types of pocket wind meters (anemometer), each designed for a specific mission, and all designed and manufactured in the USA.
Within seconds of arriving at a scene, police, SWAT, special operations and first response personnel can gather the weather data they need quickly and accurately. Lower-cost models can provide fool-proof documentation of all historical data in the field, making incident report preparation a snap.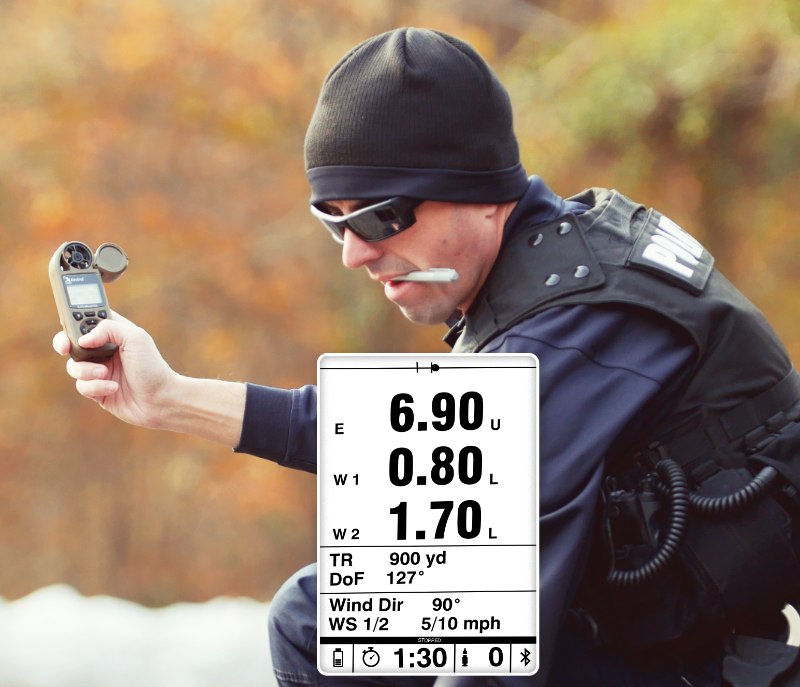 Snipers know that when shooting long range, changes in distance, air density and wind have a big impact on where their bullet will hit. The Kestrel 5700 ballistic series is designed for precise targeting using specific loads. The base model combines onsite environmental measurements with a G1/G7 ballistics solver with a large library of independently tested bullet data, while the Ruger and Hornady versions have built-in libraries tailored to their specific firearms and loads. The Hornady version includes the 4DOF trajectory solutions library in addition to the G1/G7 ballistics solver. Bullet drop data from your own firearm/load combination over multiple distances can be input to increase accuracy even further. If you already have a Kestrel 5000 series meter, firmware upgrades are available to add these advanced features to it. Kestrel can be seen at SHOT Show in Booth 3246.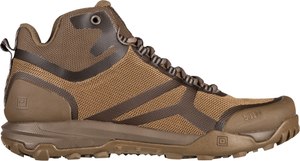 Boots on the ground
In addition to dozens of other new products, 5.11 Tactical will be showing off its A.T.L.A.S. (all-terrain load assistance system) footwear available in trainer, mid and boot heights. All models feature 3D molded thermoplastic rubber toe and heel protection, welded mesh uppers, high traction outsole and the 5.11 axle torsion board, a fiberglass-reinforced composite shank molded into the sole. The 8" boot has a polishable toe and is available in no-zip or with a YKK side zipper and locking ankle eyelet. Visit 5.11 Tactical at SHOT Show in Booth 13162.
If you are going to SHOT Show, also drop by the Police1 booth to say hello, learn how we've secured over $150 million for departments through our Grant Assistance Program, and pick up some P1 swag.