Rapid Response: 1 critical lesson from the ISIS-inspired attack on a Philly cop
There is one very significant yet simple takeaway from this incident which requires our attention and consideration: shot doesn't equal dead — the will to win is a potentially life-saving force
---
What Happened: In a sudden ambush, a Philadelphia police officer was shot multiple times late Thursday by an attacker who later said he had pledged loyalty to the Islamic State, also known as ISIS and ISIL. The assailant — identified as Edward Archer — used a gun stolen from police in the assassination attempt conducted "in the name of Islam."
Despite being struck by multiple rounds (according to initial reports, three gunshots to the arm), Officer Jesse Hartnett not only survived the attack, he was able to get out of his vehicle, chase the suspect, and return fire, wounding his attacker. Other officers later apprehended Archer, who was treated at the hospital and released into police custody. 
Hartnett is reportedly in stable condition and his father, Robert Hartnett, said his son was "in good spirits." Having just shot a terrorist who tried to kill you can have that effect.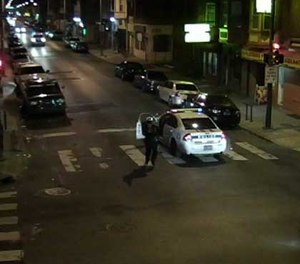 Why it's Significant: The tactic — used countless times overseas — to attack police in the name of jihad has hit American soil. Despite the fact that Philadelphia Mayor Jim Kenney said Archer's "abhorrent" and "terrible" actions had "nothing to do with being a Muslim or following the Islamic faith," we know better. 
So does the mayor's newly appointed Police Commissioner. Richard Ross said at a news conference that Archer said that he targeted police because "he believes they enforce laws that are contrary to the Koran," according to the Washington Post. 
Jihadi rhetoric in online videos — as well as in recruiting / how-to magazines like Inspire and Dabiq — has for some time called for attacks on military and police. In fact, the latest issue of Dabiq contains the following passage: 
"You must strike the soldiers, patrons, and troops of the tawāghīt. Strike their police, security, and intelligence members, as well as their treacherous agents. Ruin their sleep. Embitter their lives for them and busy them with themselves. …kill them in any manner possible."
The military has already come under attack on our shores several times from self-radicalized jihadis, and now police are being targeted. Unprovoked ambush attacks such as this one can come from all manner of attacker, but clearly there is now a new threat to be cognizant of. 
The good news in all of this — aside from the obvious fact that Officer Hartnett will be okay — is that the attacker failed. Probably the worst thing for a jihadi is failure. 
Top Takeaways: There is one very significant yet simple takeaway from this incident which requires our attention and consideration: shot doesn't equal dead — the will to win is a potentially life-saving force.
This case once again offers stark evidence that surviving an attack depends in large part on what's happening between your ears, and what you've got between your solar plexus and your spine. In coming weeks we will likely learn more about the number and nature of Officer Hartnett's injuries, but regardless of where he was struck, this cop clearly used his training and his willpower to not only survive, but prevail in the fight.
We've seen multiple times an officer's mindset, training, and determination being critical factors for staying in the fight. Officer Steven Hough took a round to the face, got up, scrambled for cover, and instinctively began combat breathing. As he later wrote on Police1, "I was calm and focused." 
Sergeant Mark Chesnut was shot in right arm, through his left wrist and hand, and into his right side between his vest panels, angling down into his abdomen. Despite these horrific wounds, Chesnut was able to get his right hand on the gear shift and left left hand on the wheel, gunning his unit backwards out of the fray. As he later told Police1, "I didn't know if I was going to die or not, but I absolutely wouldn't close my eyes on that ambulance ride."
Lieutenant Brian Murphy was shot 15 times while responding to the shooting rampage at a Sikh Temple and was able to crawl away on his elbows, survive, and even return to active duty. He later described what was going through his head: "My wife and I had tickets to go on vacation in Florida, and I was thinking, 'We're not going to Florida anytime soon, and she's gonna be pissed."
We have similar stories from James Van Alstine, Jared Reston, Marcus Young, and others. 
Police1 Columnist Dick Fairburn evaluated this incident perfectly when he said, "Last night in Philadelphia we saw the best possible outcome from an extremely dangerous ambush attack. The ambush attacker scored at least three serious wounds on Officer Jesse Hartnett, yet in less than ten seconds from the first shot, Officer Hartnett was returning fire and chasing down his assailant. Press reports suggest the officer also logged three hits — on a running target while himself running — after taking serious wounds. Here is our example for counter-ambush response!"
What's Next: Two things will happen with certainty. Weak politicians will ignore this attack's connection to radical Islamic terrorism — in fact, they probably won't even utter those words. And when he is fully recovered, we at Police1 will reach out to give Officer Hartnett the opportunity to talk about his experience in this incident, if he wishes. In the meantime we wish Officer Hartnett a speedy recovery, and we salute him for his excellence. 
Further Reading:
"I got shot in the face": How I survived and healed
Cop shot 15 times at Sikh Temple says, 'Never give up'
Shot 5 times, a sergeant reflects on lessons learned
'They're gonna kill you': One warrior's will to win