IACP Quick Take: 6 NHTSA lessons from investigating ADAS vehicle collisions
An increasing number of vehicles have automated driver assistant systems and NHTSA investigates collisions when those systems don't perform as expected
---
CHICAGO – The levels of automated driver assistant systems (ADAS) and the lessons NHTSA has learned from crash investigations involving cars with varying levels of driver automation were described to police chiefs and crash scene investigations by John Brophy, Chief, Crash Investigation Division, NHTSA at IACP 2019.
Brophy primed attendees with definitions for levels of driving automation, as well as describing the basic systems already available in many vehicles. As a starting point, self-driving is a misnomer as there are no truly self-driving cars on the road today. Rather ADAS is the array of technology, like adaptive cruise control, that assists drivers with vehicle operation.
Memorable quotes on ADAS crash investigations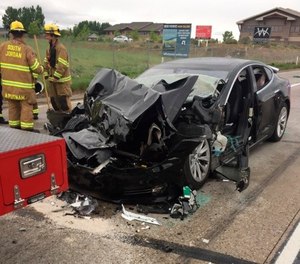 Here are three memorable quotes from Brophy on NHTSA crash investigations of vehicles with automated driver assistance systems.
"NHTSA is a safety agency, not a criminal investigation agency. We regulate the vehicles and work for the executive branch. NTSB works for Congress in an oversight role."
"We are interested in follow-up on any crash that involves an automated driver assistance system that was reported as 'in use' at the time of the crash."
"If a vehicle has a camera it has a potential for many other advanced driver assistance systems."
Top takeaways on self-driving vehicle investigations
NHTSA investigates more than 4,000 crashers per year. To date, NHTSA has investigated 20 ADAS cases and published an investigation report for three of the cases.
1. NHTSA looks at vehicles from a regulatory perspective
NHTSA's primary concern is the vehicle and not the driver's behavior at the time of the crash. Brophy clarified NHTSA's role and discussed that crash avoidance technology, like lane departure warnings, is commonplace and works as intended most of the time. NHTSA doesn't receive reports of when the technology works as it should but is keen to hear about cases where vehicle technology didn't work as intended.
NHTSA investigations focus on these areas and the relative level of automation:
Accelerating and braking;
Steering;
Monitoring the driving environment;
Fall back to a minimal risk condition.
These variables can exist on a continuum of automation levels from no automation to full automation. All vehicles on the road today, even the vehicles marketed with "auto-pilot" or "co-pilot" features, are SAE levels 0, 1, and 2 requiring driver attention.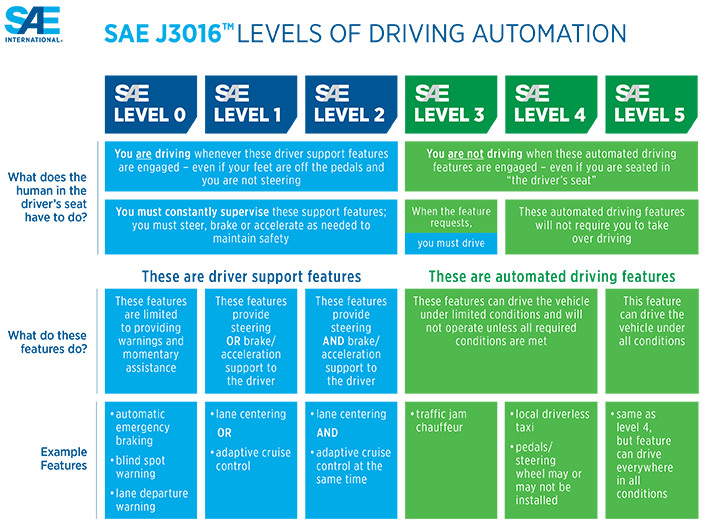 2. Vehicles have an increasing array of on-board technology
Brophy outlined the dozens of advanced driver assistance systems (ADAS) available in vehicles and the array of interventions and controls that cameras, radar and sonar sensors are responsible for performing. An investigator's work is complicated by the types of technology, brand-specific names for features that exist in multiple vehicle models and variable driver awareness of how the features are supposed to work.
"People misunderstand how these features are supposed to work," Brophy said.
Brophy shared a short video of an ADAS-equipped vehicle mapping its surrounding scene of people, vehicles, lane markings and other traffic furniture. The complexity of mapping from multiple sensors requires a high amount of on-board computing power.
3. Lessons learned in NHTSA investigations
Brophy summarized the lessons NHTSA has learned so far from crash investigations when ADAS didn't perform as expected:
Drivers rely too much on technology;
Drivers don't remain engaged;
Cross traffic and pedestrian detection needs work;
Sudden movements are not handled well;
Adaptive cruise control does what it's programmed to do;
Limitations of vehicles when relying solely on camera and radar.
4. Report to NHTSA crashes when ADAS didn't perform as expected
Police crash investigators should contact NTHSA to report crashes when ADAS didn't perform as expected to prevent a collision or injury. This includes vehicles with automated cruise control and lane centering that crash because of a system failure.
One of Brophy's final points was that some vehicle manufacturers receive the vehicle data from the vehicle before the vehicle operator has even dialed 9-1-1. He also encouraged departments to make sure their PIO is ready to answer press inquiries about self-driving cars and refer the media to available info about ADAS and levels of automation.
Learn more about vehicle collision investigation
In addition to reading NHTSA crash investigation reports, learn more about vehicle technology and vehicle collision investigation in these Police1 articles.