Report details 2016 Baton Rouge ambush attack, video shows gunman stalking LEOs
Gavin Long, 29, had searched for personal information of two officers involved in the fatal shooting of Alton Sterling
---
By Glenn E. Rice
The Kansas City Star
BATON ROUGE, La. — A Kansas City man who went on a shooting rampage killing three law enforcement officers last summer in Baton Rouge, La., left a detailed suicide note, a new report on the shooting reveals.
Gavin Long, 29, had also searched for personal information of two officers involved in a separate fatal shooting of a black man whose death ignited civil unrest.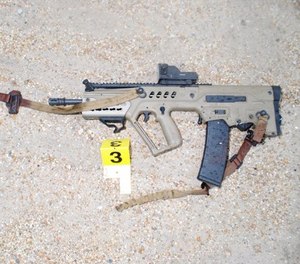 Long appeared to have not used the information he collected during an internet search of the officers involved the videotaped shooting death of Alton Sterling by Baton Rouge police. Authorities said Long traveled to Baton Rouge to engage law enforcement in a shootout. After killing three officers, he was fatally shot by tactical officers.
The suicide note found in the rental car Long drove to Louisiana said, "I know I will be vilified by the media & police, unfortunately, I see my actions as a necessary evil that I do not wish to partake in, nor do I enjoy partaking in. But must partake in, in order to create substantial change within America's police force, and judicial system."
Additional details and video of the shooting were released Friday by the East Baton Rouge Parish District Attorney's office, which investigated the shooting and the determined that the officers who fatally shot Long were justified in their actions.
Baton Rouge police officers Montrell Jackson and Matthew Gerald along with East Baton Rouge Sheriff's deputy Brad Garafola were gunned down during the July 17 fatal gun battle.
The 26-page report from District Attorney Hillar C. Moore III provided a detailed account of how Long ambushed the three law enforcement officers by happenstance outside a convenience store. The office also released video surveillance that captured the incident.
Long, who had served five years in the U.S. Marines, was heavily armed, wore a bullet resistant vest and had used different types of ammunition. He had received training as a rifleman as a Marines.
An autopsy report concluded that Long had 45 separate gunshot wounds to various parts of his body. The toxicology report revealed that Long had methamphetamine and alcohol in his system when he died.
Investigators found a laptop, cell phone as well as a semi-automatic rifle, two backpacks, live ammunition and other personal items inside a white, rented Chevrolet Malibu.
Long used the laptop to search for the addresses, phone numbers, and biographical information of the two Baton Rouge police officers involved in the July 5 shooting of Alton Sterling.
Federal prosecutors recently announced there wasn't enough evidence to file civil rights charges against the officers who did the shooting, Blane Salamoni and Howie Lake II.
Moore said they found nothing to show that Long used the information he searched on the two officers.
Long also wrote in the suicide note, "...I must bring the same destruction that bad cops continue to inflict upon my people, upon bad cops as well as good cops in hopes that the good cops (which are the majority) will be able to stand together to enact justice & punishment against bad cops b/c right now the police force & current judicial system is not doing so."
In his report, Long had a printout of a passage from an Islamic holy book that referenced seeking forgiveness and a prayer passage that indicates repeating the prayer and dying on the same day guarantees the person will go to paradise.
Moore concluded the suicide note along with the printout supported evidence that Long's attack on the officers was premeditated and he did not plan to survive.
Report OIS Gavin Long by Ed Praetorian on Scribd
McClatchy-Tribune News Service