Gunman sentenced to up to 60 years in prison for 2019 killing of Detroit police officer
A plea deal dismisses charges for the death of one other person and sends JuJuan Parks to prison for the deaths of Officer Rasheen McClain and Nathaniel Loyd
---
By Kara Berg
The Detroit News
DETROIT — A Detroit man was sentenced Wednesday to 46 to 60 years in prison for the fatal shootings of a Detroit police officer and two other men in the span of four days in 2019.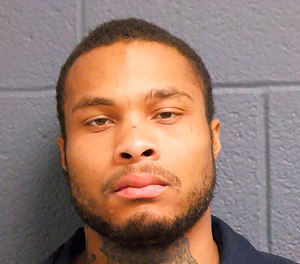 JuJuan Parks, 32, pleaded guilty to two counts of second-degree murder in connection with the unrelated deaths of Detroit Police Officer Rasheen McClain and Nathaniel Loyd. Charges connected to the death of Dontez Calhoun were dismissed as a part of a plea deal.
The plea agreement was made in consultation with the families of all the victims, Wayne County Assistant Prosecutor Matthew Penney said during Parks' sentencing Wednesday.
Penney read a letter written by McClain's widow, Heidi McClain, who was present during the sentencing but did not speak. In the letter, Heidi McClain said Parks violently took away an amazing person from his family, friends and community and gave her a "lifetime sentence of pain and grief."
"I will never understand or accept how a person can be so evil with so much hate in their heart that they can take a person's life," Heidi McClain wrote.
[PREVIOUS: Hundreds mourn slain Detroit police officer, 'an American hero']
Heidi McClain said she has struggled to move forward after her husband's death. She had to retire from her job because she couldn't function, and there are days where she doesn't feel she can go on, she wrote. When she is able to fall asleep, she sometimes wakes up praying her husband's death was a nightmare.
"My husband was a damn good police officer. He was caring thoughtful and would've done anything for anyone," Heidi McClain wrote.
Evan Callahan, Parks' attorney, said he believes his client is "extremely remorseful" for his actions. Callahan said he seeks forgiveness from the families of the three men he killed.
Parks declined to say anything before he was sentenced.
Wayne County Circuit Court Judge Christopher Blount said Parks' spirit is now "eternally tied to the spirits of Mr. McClain, Mr. Loyd and Mr. Calhoun."
"You definitely engaged in behavior where you took more from society than you gave," Blount said. "For those three people, there's no new children to be born, there's no new memories for them to create. ... There are no new loves to have, no new laughter to enjoy.
"It is upon you to find in your spirit and your heart a way to redeem yourself."
Police said Parks' obsession with a girl sparked a two-week shooting rampage.
McClain, 46, was shot at a home Nov. 20, 2019, on Wyoming Avenue near Chippewa Avenue on Detroit's northwest side while he and three other officers responded to a report of a home invasion. He and the other officers went inside a house after they were told a man with a rifle was hiding inside.
The officers checked the top two floors of the house and were halfway down the basement stairs when they were shot at with a Russian-made SKS semi-automatic carbine rifle, police said.
McClain was shot in the neck and his partner, Phillippe Batoum-Bisse, was shot in the ankle. Parks was wounded after the two other officers saw him running from the house and exchanged fire with him, police said. He was arrested a block away.
After the shooting, Wayne County Prosecutor Kym Worthy said McClain's death and the wounding of his partner are "heart-wrenching and very emotional for all of us," especially McClain's loved ones.
Loyd was killed Nov. 17, 2019, and Calhoun was killed Nov. 18, 2019, according to MLive. Calhoun was fatally shot as he and another man sat inside a car in the area of the 3200 block of Harding Street, police said.
(c)2023 The Detroit News
Visit The Detroit News at www.detnews.com
Distributed by Tribune Content Agency, LLC.
EARLIER: Man charged in fatal shooting of Detroit police officer
McClatchy-Tribune News Service