Wash. officer aids vulnerable citizens as pandemic makes resources hard to access
Officer Richie Plunkett works on the front line with homeless and disadvantaged individuals to help them get resources during COVID-19
---
Emma Epperly
The Spokesman-Review
SPOKANE, Wash. — Richie Plunkett, a downtown neighborhood resource officer with the Spokane Police Department, usually focuses on solving problems by being "proactive."
But preparing for the COVID-19 pandemic was nearly impossible.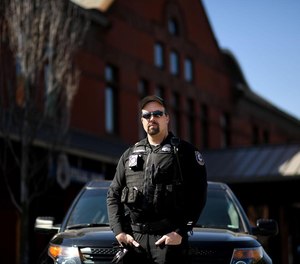 With nearly all business shuttered and most people remaining home, Plunkett said, many of those who are still downtown are struggling.
"Over the past couple weeks I've turned into more of a social worker than a police officer," Plunkett said.
Plunkett grew up in Las Vegas and played football at University of Nevada-Las Vegas. After spending years playing on a team, becoming a cop was a perfect continuation. Being part of the police department tapped into many of the team aspects of playing sports, like working together.
He was a police officer in Kent, Washington, for five years before moving to Spokane a few years ago.
Plunkett now teaches crisis intervention techniques at the police academy and works the streets downtown.
Neighborhood resource officers are tasked with tracking the pulse on the area they serve. For Plunkett, that often means working with homeless shelters and behavioral health specialists.
"While working in the downtown corridor, we have a lot of crime but we also have a lot of people who need assistance," Plunkett said.
With the pandemic, many of the resources Plunkett helps people access aren't operating like usual. Community Court is closed, shelters are operating with reduced capacity, and behavioral health services are operating via phone.
"A lot of people right now have been pushed out of shelters due to social distancing and the pandemic," Plunkett said. "They're worried about it, that there's not enough food, that no one is around to help them."
Plunkett is focused on helping people on the streets, sending them to the new shelter at the downtown Spokane Public Library or directing them to safer areas outside.
He tries to point people to places where they can camp or sleep that are out of the way and police are "not going to really go after," Plunkett said.
"It's more, give them warnings, too, most of these people are in a dire situation as it is," Plunkett said.
With Community Court closed, some people Plunkett sees regularly are having trouble making progress getting their lives back on track.
"They're not really sure what to do to keep working towards their goals," Plunkett said.
To remind people that someone out there is trying to help, Plunkett often gives people he sees some basic supplies.
"My wife likes to pack me extra socks, gloves, stuff like that, hand sanitizer, Kleenex," Plunkett said. "So I got certain guys that I try to look out for on the streets, and I like to make sure they're getting these things. They're not feeling left out from society at this point in time."
McClatchy-Tribune News Service